The Making of a Cookbook
Selling the Book Proposal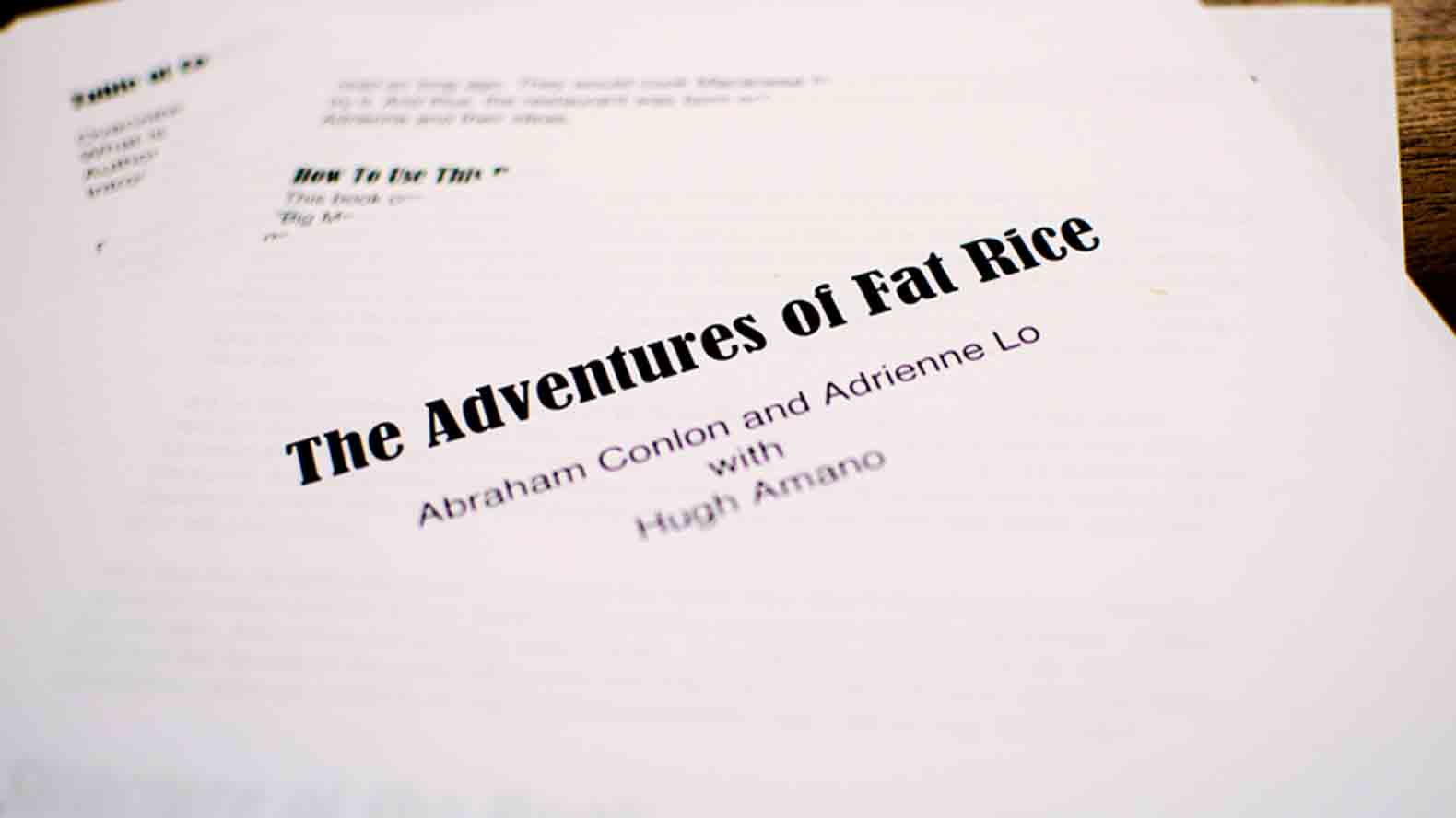 Ten Speed Press started 45 years ago in Berkeley, Calif., by Philip Wood. The company's name derives from the first book Wood published, called Anybody's Bike Book, but their all-time biggest seller is Richard Bolles' job/life self-help book, What Color is Your Parachute? Since that initial success, the company has published a variety of books, and gained a reputation for the quality of its cookbooks, by chefs from Charlie Trotter to Yotam Ottolenghi to David Kinch. Ten Speed was acquired by Random House in 2009, at which point editorial director Aaron Wehner became publisher of the imprint. Wehner has been with Ten Speed since 1997, back when chefs weren't celebrities and cookbooks were less than 20 percent of the house's sales; today, he is the senior vice president overseeing Clarkson Potter, Ten Speed Press and Harmony Books. Earlier this year, Bon Appetit named him one of the seven people who hold in their hands the future of food.
But Wehner is also a guy who simply loves cookbooks, and that's what took him to Chicago in 2014 to the IACP conference. He brought with him Emily Timberlake, an acquisitions editor at Ten Speed who had worked on books for Franklin Barbecue, Smuggler's Cove and Pok Pok.
Collins knew Wehner and Timberlake were coming to Chicago, and even though she didn't have a final book proposal from the Fat Rice team, the IACP conference was her best shot at getting them live and in front of two of the biggest names in cookbook publishing.
"I knew Fat Rice would be of particular interest to them; it's the kind of place they go for," Collins says. "It had a strong historical component, it was about a new part of the world that hasn't been explored in depth."
Getting the editor's buy-in was key for setting the stage for a deal with Ten Speed, where the editor who acquires a book is also the person who shepherds it through the process of getting it published.
"There are two facets of my day-to-day life," Timberlake explains. "The first is acquisitions: scouting and courting potential authors, book ideas, finding holes in the marketplace that we can fill. The second part is more time-consuming; that's actually making the book. Acquiring, editing, commissioning copyedits and proofreads, commissioning photo shoots, working with designers; just getting the damn book made. A lot of houses divide editors into acquisitions editors and production editors, but at Ten Speed, editors do it all. It works for us. When you have one designer, one editor, one production manager, you can do something a little different."
Timberlake was already intrigued by Fat Rice, and was interested in meeting Conlon and Lo.
"I had been reading about Fat Rice since they opened and was definitely interested in them," she says. "For one thing, I had barely heard of Macau, and hadn't eaten anything approaching Macanese food."
Collins emailed Wehner to see if she might arrange for them to eat at Fat Rice, but their schedules were fairly full; they could allocate 45 minutes for a quick brunch. Collins made them a reservation, and told Conlon and Lo that they needed to do whatever was necessary to impress them.
"I told Abe and Adrienne that I cannot begin to explain what heavy hitters Aaron and Emily are," she says. "This is who you need to impress. It was a huge opportunity. We had to cram in as much as possible in 45 minutes. But I knew that after they talked to Abe and Adrienne, they'd see what I saw; the potential for a really unique book."
Conlon and Lo greeted the editors, sent out a few dishes, and talked with them for a few minutes at the end of the short meal. After Wehner and Timberlake left, Conlon texted Collins and said that they seemed super-cool, and that he and Lo had had a great conversation with them.
But when Timberlake and Wehner returned to the hotel, they called Collins themselves, and asked her to meet them in the lobby.
"I had a meeting with Emily scheduled for that afternoon anyway, so I thought something was up," Collins recalls. "Look, Aaron Wehner does not hang out at IACP, especially not in the hotel lobby. He can't even walk through the lobby without a million people grabbing onto him, try to sell him their book. So when I went to meet Emily, and sitting across from her is Aaron, with a scarf wrapped high on his neck and with his back to the room, I knew it. Yeah, that brunch went very well."
"We had this incredible game-changing, gut-busting meal," Timberlake recalls. "We were both totally charmed and taken with it. I'm looking to acquire books that tell a larger story and present food in a cultural context, and Abe and Adrienne are clearly such storytellers. That place is dripping with gravitas; they clearly have something to say. Abe artfully described the influences of all the dishes we had, and I was transfixed. He made the point that traditional Macanese food is disappearing from the face of the planet. They are doing their best to approximate it, but aren't bound to tradition. That, to me, was fascinating. It gave it a sense of urgency; to remind the world of a very specific place and cuisine that might not be here much longer."
"I'm looking to acquire books that tell a larger story, and Abe and Adrienne are clearly such storytellers. That place is dripping with gravitas; they have something to say."
Emily Timberlake, Ten Speed Press
Timberlake's excitement was partially based on the fact that there was a precursor for an Asian restaurant cookbook that was a bit academic, and embraced a high level of difficulty. And that precedent was a bestseller.
"One of the books we had worked on before was Pok Pok with Andy Ricker," she says. We knew it would be successful, but were blown away by how well it sold. It was an uncompromising cookbook; Thai food presented in a way that most Americans are unfamiliar with. Andy broke the mold of what an 'Asian cookbook' could be, and proved that consumers could be interested in something deeper. So when Abe was giving his impassioned pleas on behalf of home cooks, we were thinking, 'Yeah, 10 years ago, the world was not ready for this.' But we have precedent that people want something more."
Collins, Timberlake and Wehner had a tentative but positive conversation about Fat Rice, and the book they hoped to do. Collins recalls, "Later, Emily said to me, 'I'm sure I shouldn't say this to you, but that place is Ten Speed bait. We want this.'"
Writing the Book Proposal
After that encouraging start, Conlon, Lo and Amano got to work writing the full proposal. A book proposal is a lot more than a few ideas on a page. Proposals for cookbooks often take months to write, and can run anywhere from 20 to 50 pages. Here, you describe the book concept, talk about the chef, writer, photographer if there is one on board, and include a table of contents, sample recipes, sample chapters, photos and a competitive analysis of similar books. The point of a proposal is to show the publisher what makes your book different and special and sell the publisher on your point of view, your voice and your idea.
"The proposal outlines the structure," Timberlake says. "It is the dress rehearsal for the actual book."
Collins worked with the Fat Rice team, gave them guidance about what a publisher looked for, and what needed to be in the proposal, which ran 40 pages long, and included a brief history of Macau and its food, a description of how the proposed book would be organized and should be used, identified the target audience, and sample recipes, illustrations and photography.
"There was a lot of back and forth with her about what she needed to sell it," Amano says. "In the proposal, we also discussed what the voice would be and how we think."
"We wanted the writing style to be really informative and relatively serious, but with a light-hearted tone that didn't take it super-seriously; not egghead-y, and not super-casual," Conlon says. "Having those various elements combined is essential to what Fat Rice is."
"We wanted the writing style to be really informative and relatively serious, but with a light-hearted tone that didn't take it super-seriously; not egg-heady, and not super-casual. Having those various elements combined is essential to what Fat Rice is."
Abe Conlon, Fat Rice
They completed the proposal a few months after that brunch. Collins sent it to Timberlake, who then had to sell it to the rest of the team at Ten Speed.
"The process at Ten Speed is that we present to an internal acquisitions group," Timberlake says. "There's a publisher, publishing director, creative director, marketing, publicity, sales, design. We discuss our vision for the book, the subject matter, how many copies we think will sell, the trim size, page count, target audience, what the cost would be, the production value of the book, the bells and whistles. We try to make a lot of these decisions early on in the book's life. Then we present to the executives at Crown Publishing group, assuming both Ten Speed and Crown approve the project, then I make an offer."
"This is when we look at all the factors: the social platform, cost, what is the package, are we going to be able sell it, is it trending, what makes it different," adds Kara Plikaitis, the senior art director at Ten Speed who designed the book. "The publishers are there, but it's a collective. Everyone comes to a consensus whether we'll move forward with an offer."
Timberlake presented her case, and the team was in. Wehner gave her the approval to make an offer to the Fat Rice team.
Negotiating the Deal
By this point, Ten Speed wasn't the only house interested in the book; Collins had sent the proposal out to a few publishing houses she thought would be a good fit for the book, and the response was positive. So while Fat Rice competed against other proposals to get an offer from a publisher, now Ten Speed had to compete against other houses.
"It was kind of surreal," recalls Lo. "Another publisher was really interested, and sent us a mockup of a book. They sounded really excited; it felt great."
"Suddenly, we were essentially being courted by these publishing companies to do this," Conlon says. "It was stressful."
Collins had to handle negotiations, hoping to match the team with a publisher who would understand Abe and Adrienne's vision, and be able to back up its offer with the right design, manufacturing, publicity and marketing. "The response we were getting from publishers was really positive, and I wondered if the book might go to auction," she says.
"I sent the proposal to Emily Wednesday, and she set up a conference call with us for the next day," she says. "Then on Friday, Emily called me to make an offer. It was a kooky phone call; I don't think either of us wanted to be the first one to say a number, so we didn't get anywhere. So I suggested we think on it over the weekend. I knew waiting might make her nervous, but I wanted to gauge how badly she wanted the book. Monday morning, she called with an offer, and I made a counter offer. She hung up and called Aaron, who was boarding a plane at the time. He approved my counter offer while standing on the plane's jet bridge, and Emily called me back with the news. I was thrilled; we both wanted to close the deal."
"In this case, I was really bullish; I knew this was one I wanted," Timberlake says. "We did a pre-emptive offer; an offer that demonstrated that we were positioning it as one of the lead titles on our list. So I made an offer they couldn't refuse. And I did it in my Marlon Brando voice."
"In order to secure a proposal, an editor might make a pre-emptive offer, which means that the agent agrees to take the proposal off the market," Collins explains. "A pre-empt is typically a higher advance than what you might get otherwise, so I always welcome one if it's from the right house and the right editor. The next step was to talk to Abe, Adrienne and Hugh to see what they thought."
For the writing team, getting the offer was both exciting and nerve-racking.
"It was a relief in a way, because now we could start writing the book," Conlon says. "It's wasn't just a pipe dream anymore." He and Lo agreed to the deal, and Collins called Timberlake with the news.
"Emily gave me her cell number and said to call at any hour with Abe and Adrienne's answer," she recalls. "I called her early Tuesday morning as she was walking to the train, and said 'It's all yours!' She was screaming, I was screaming, we were crazy-happy. I emailed the other publishers that had the proposal and told them Ten Speed had bought it in a pre-empt and that the proposal was no longer for sale."
"I was driving to Fat Rice, and on the way, Amy called to tell us, so I put her on speaker phone," Amano says. "She's like, 'Do you guys understand the gravity?' We were like, 'OK, that's great.' Amy was losing it; she was so excited and asked why we weren't more excited. Adrienne isn't very emotive. I was very cautious. Abe was probably pissed it wasn't double." Next