Chefs and Restaurants
Team USA Gets a Ment'or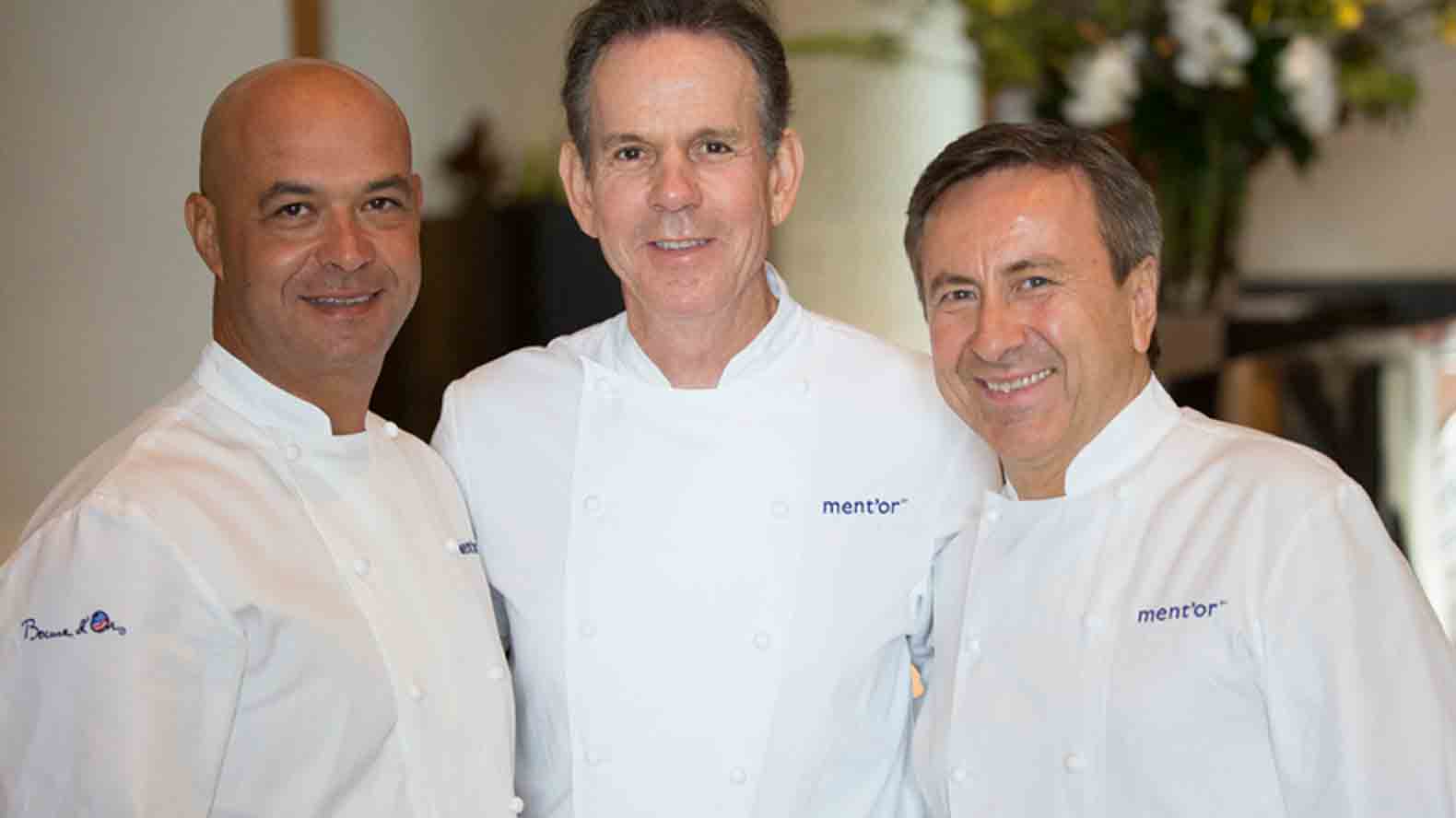 In 2008, Paul Bocuse asked Boulud, Keller and Jérôme to start the Bocuse d'Or USA Foundation (now called the ment'or Culinary Foundation). The mission was to get Team USA to the podium—ideally to take the gold—and offer sponsorships, grants and stages so young American cooks could afford to compete. (Kaysen, who as a competitor before the foundation started, had to raise his own funds, find his own training space and build his own team from the ground up.)
"Paul Bocuse wasn't satisfied that Americans were participating," says Boulud. "He wanted them to win, and was adamant that the only way they could get better was by having better chefs manage that program. It was the perfect timing. We were all together and could really focus."
Keller also didn't hesitate to take on the challenge. "He asked that we bring a U.S. team to the competition and of course, I said 'yes.' You never say 'no' to a chef," he says. "My appreciation and respect for what he's done for our profession is beyond words. Many people don't understand all that he's contributed to the culinary world, beyond France. He's opened doors for chefs, set the standards for fine dining and changed lives."
"From the support standpoint, I think that's what's important about it," Friedman notes. "I don't want to speak for Thomas, but of those three guys, the most interesting involvement to me is Keller. Jérôme is Monsieur Paul's son and Daniel is from Lyon and he apprenticed for Bocuse when he was a kid. But Thomas is American. What I think is interesting is that people like Bocuse were deities to these guys. Thomas is of the generation when the idea of being an American kid with culinary aspirations was sort of a curiosity, and the French were the people who had the knowledge to share. So I think for him to have grown up and attained the position he did in this country and then go over there at the behest of this guy...it's almost impossible to describe what someone like Paul Bocuse meant to someone like Thomas."
Fueled by the efforts of some of the leading chefs in America, the foundation has been successful at fundraising, and broadened its scope to develop young cooks into great chefs, regardless of whether they become potential Bocuse competitors.
"What started as a training program strictly for the Bocuse d'Or competition has evolved to focus on so much more than that, including young chef competitions and a grant program that's awarded more than a half-million dollars to young chefs eager to advance their careers," Keller says. "Ment'or is all about passing down what we've learned and inspiring the next generation of chefs. It's our duty."
"It's about keeping a steady evolution of talent and being able to do something for young chefs that no one did for us," says Boulud. "It's very gratifying to be able to help a young kid dream bigger to get better and one day become the next generation of great chefs." With Young Chef and Commis competitions held throughout the year, ment'or has provided 73 young chefs with stages around the world since it began.
The opportunity to compete in the Young Commis competition last year kept 21-year-old Brendan Scott in the industry.
"The restaurant I was at in San Francisco was abusive and I was burnt out when I left," he says. "I was debating if I wanted to cook, but getting to go to the Bocuse d'Or and seeing that many thousands of people passionate about the same thing I was, I got to focus and was reminded of how passionate the industry is about food. It made me want to get back out there."
Scott won the chance to attend the Bocuse after taking second place in the Young Commis competition. A continuing education grant also allowed him to do stages at Atera, Daniel and The Nomad, and spend time in the kitchens of Blue Hill, Momofuku Ko and Eleven Madison Park. At 21, Scott is now too old to be a Bocuse commis (a commis has to be under the age of 22 at the time of competition), but he hopes to compete one day.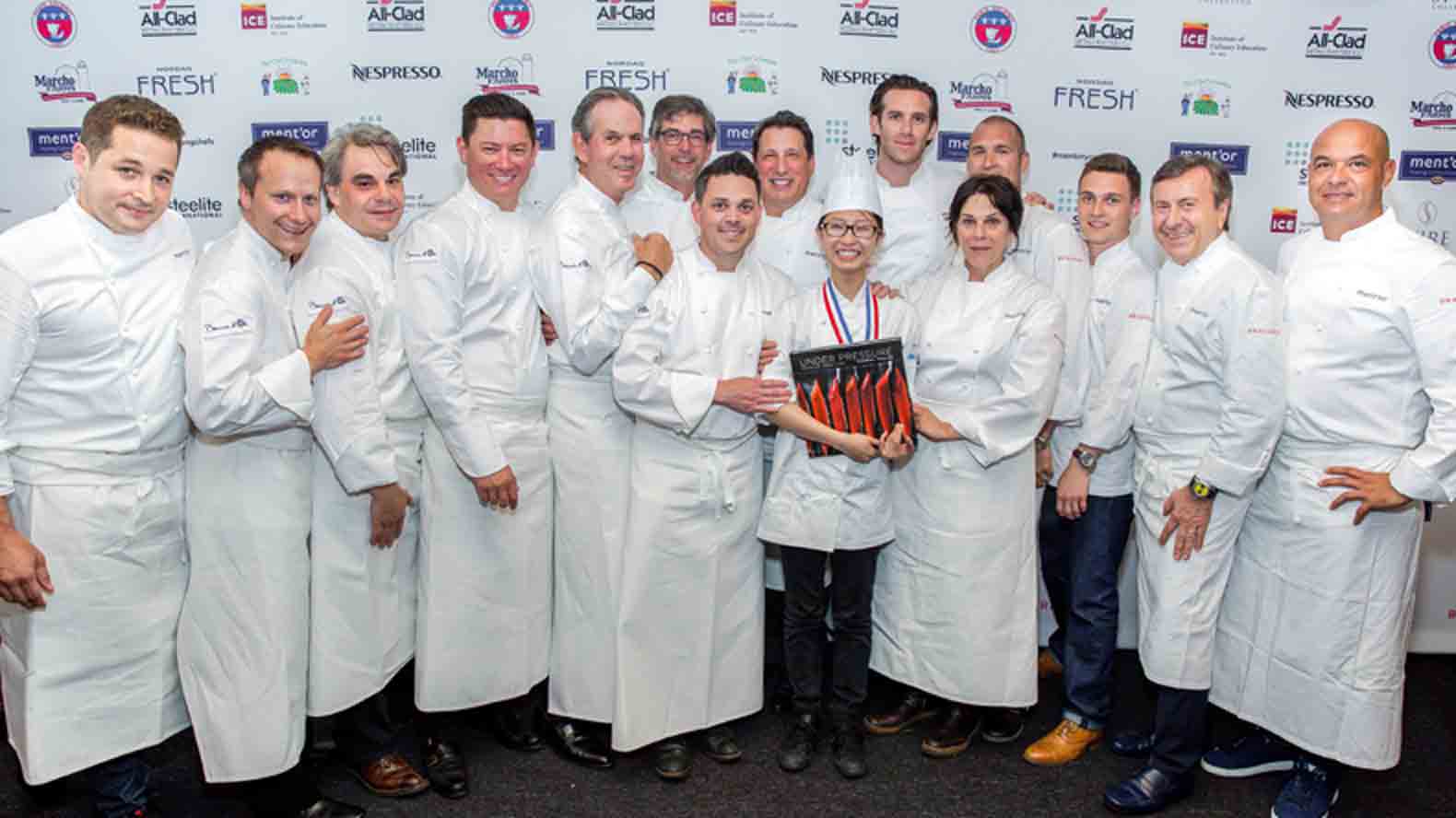 "As someone looking to one day be in that position, it's incredible to see Team USA mount the podium and take first place," he says. "But cooking in a restaurant and in a competition are two different things. They have to find cooks who are looking for a competition setting versus a restaurant setting."
And that setting may not be for everyone. "The junior Bocuse programs are for cooks to figure out if this is something they want to do or not," Scott says. "Maybe it's something they weren't as interested in as they thought, but it's an incredible opportunity if you are."
"The reason we're in this country with a ton of chef-owned restaurants is because of guys like this," says Pandel of the chefs behind ment'or and the program itself. "They broke ground for us. Even the haute cuisine days in France were all based on that conversation with them and if they hadn't continued to push, we'd all become irrelevant in our careers. Our direction would've changed a long time ago had it not been for people who pushed continually from the days of turning the restaurant into something more than just a pit stop." Next