Chefs and Restaurants
How the Bocuse d'Or Began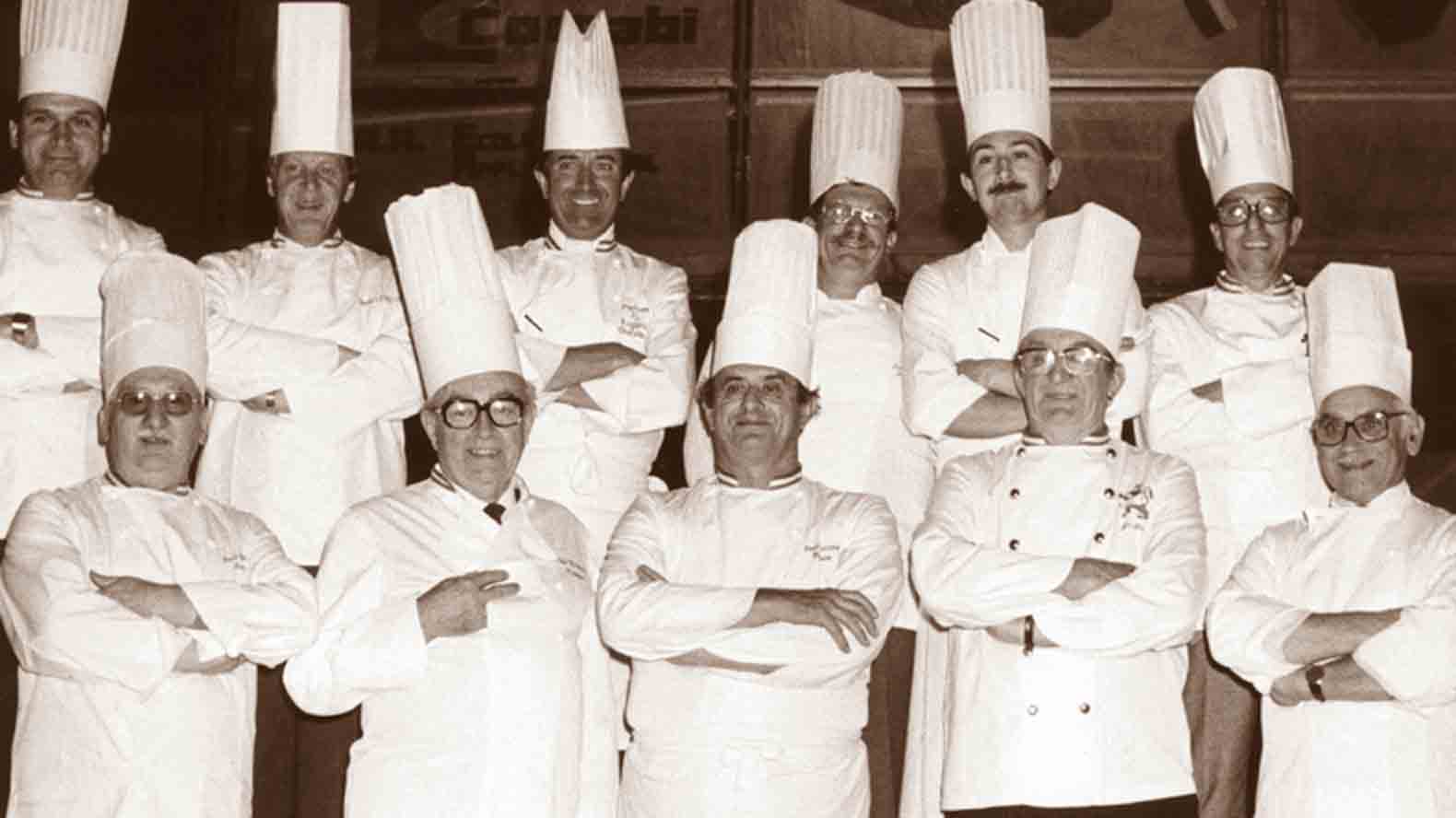 Years before the American flag was raised outside Paul Bocuse's flagship restaurant in Lyon, the chef was a young soldier fighting in World War II. He took a bullet from the Germans, and was sent to an American field hospital for a life-saving blood transfusion. "After that, he felt he had American blood in his veins and from that day on, he felt he owed something to the U.S." says his son Jérôme, now president of the Bocuse d'Or. The elder Bocuse's pride for America and admiration of its culinary scene grew in the late '70s, when he traveled here to try what he considered the best beef and Idaho potatoes in the world.
"My father was traveling all over the world, promoting his cuisine, but was also interested in discovering other cuisines," Jérôme says. "He thought it was important to gather all of those chefs from all of those different countries in Lyon."
In 1987, Bocuse decided to bring global food to Lyon by creating a cooking competition, at which 24 chefs from around the world would create dishes that showed off their country's style and ingredients. There would be bronze, silver and gold medalists, and the dishes—a meat platter and a fish platter—would be judged on taste and presentation (cleanliness of the kitchen and waste would later be taken into account). The jury would be made up of the presidents of each team. "The idea was to discover [other] countries' food," says Jérôme. "But it was hard to get chefs to compete. There was a lot less awareness about what countries were doing unless you traveled and saw what was happening,"
Today, more than 60 countries vie for spots in a venue twice the size as the original, and instead of prepping for just a few weeks, they train as long as two years.
"Things have evolved and now you can more easily see what chefs are doing around the world just by opening your computer," says Jérôme. "So maybe it's lost a little of its original idea, to have this sense of discovery. But it still keeps growing."
That's true. Every year the Bocuse d'Or gets more applicants, supporters, young chefs, advisors, coaches, spectators, and media, so much so that a new, larger arena is in the works for 2019. "I think my father never envisioned the dimension of the event now," Jérôme says.
"Bocuse is a huge innovator, and even though this style of service is very antiquated, this competition was created by somebody ahead of his time. He was the Thomas Keller or the Grant Achatz of his time, and what he did for the industry was huge." Andrew Friedman
"Bocuse is a huge innovator, and even though this style of service is very antiquated, this competition was created by somebody ahead of his time," Friedman notes. "He was the Thomas Keller or the Grant Achatz of his time, and what he did for the industry was huge. This was before TV competition shows, so although the format remains a bit of the past, I think it's very much in keeping with who Bocuse is to continually tweak it."
It's no surprise that it's been Europeans, mostly French, who won the competition. Denmark, Norway and Sweden have also taken top spots nearly every year since the competition started.
"The reason these countries do well over and over is that the past champions tend to stay involved," Friedman says. "So if you're a Norwegian candidate, you have four or five medalists giving you feedback as you're developing your stuff and we never had that before."
While France has taken the gold seven times, and Norway has ranked in the top three nine times, Rasmus Kofoed of Geranium in Copenhagen holds the distinction of being the only chef to place three times—he took the bronze in 2005, silver in 2007 and gold in 2011, as documented in the movie, The World's Finest Chef.
Kofoed says he wasn't inspired to compete in Bocuse until his country took the silver in 1993. "Jens Peter Kolbeck won with his turbot with smoked scallops and beef tenderloin with foie gras and truffle," he says. "I still remember the photo and that kick-started me."
Kofoed says to compete, you have to be "a little crazy and have the passion for gastronomy, and a winning spirit. You need to be a little hungry. It's a challenge and some people don't want to risk it. What if they don't win? What if they get 11th or 12th? Some chefs are a little afraid."
Since his wins, Kofoed has returned to the competition to coach, and enjoyed the increased business at his restaurant.
"Bocuse raises awareness of the chef and the restaurant and introduces both to a new audience of food lovers," he says. "We opened Geranium in the middle of the financial crisis of 2010, and I feel like if it wasn't for my winning in 2011, Geranium might not be in existence today. Winning the gold was unbelievable, but for me it was more about the creative process, and progressing every day to see that you can do something better," he says. "You're developing yourself as a human being and that was the most inspiring and valuable part."
Bocuse has traditionally been dominated by European competitors, mostly men. That said, women do compete each time. This year, Jessika Toni represented Team Uruguay and Giovanna Grossi represented Team Brazil. Female chefs have served as leaders and commis for almost every competition, going back to the first one in 1987, when Susan Weaver represented Team USA (she applied under the name S. Weaver to not immediately let on that she was female).
But the only woman to take the podium is Léa Linster of Luxembourg, who nabbed gold in 1989. "I was lucky I could compete, because at that time, it wasn't normal that women went to a competition like this and especially not in France," she says. Her trophy-winning dish was a lamb saddle in potato crust, a dish she still serves at her namesake restaurant.
"People still talk about her dish," says Carrie Nahabedian of Chicago's Naha and Brindille restaurants, recalling meeting Linster at Paul Bocuse Restaurant the year after Linster won the gold. "Paul Bocuse has been in my restaurant twice and I've heard him say that he'd love to see more women compete in the Bocuse d'Or because they cook from the heart and soul, and Léa's dish was very much like that."
"It's a complex issue," Friedman says. "It's not like hoards of women applicants are being turned away, at least not in the U.S. This struck me while I was working on my book, and I asked a number of women chefs about it. Many were left cold by the style of food, and a lot of them felt they already have to compete a lot just to succeed in male-dominated pro kitchens. Make what you will of the fact that two women did represent the U.S. in the early years of the competition, when the food was less show-offy than it is today." Next