Chefs and Restaurants
Developing the Recipes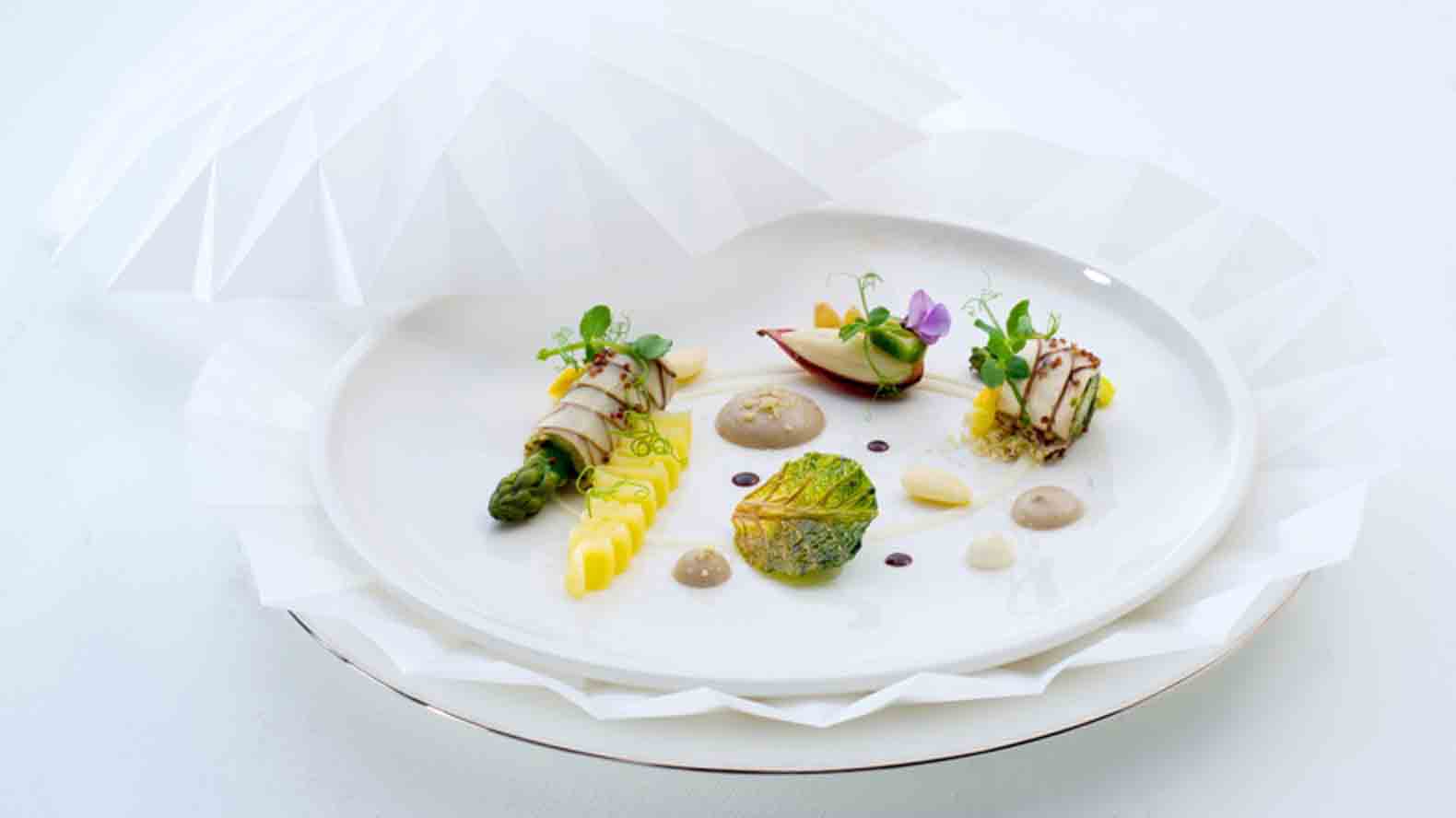 Historically, each of the 24 teams competing at Bocuse d'Or had to come up with a vegetable plate and meat platter (usually with fish). This year, the committee that determines the required dishes decided the vegetable plate would actually be vegan and the meat platter would be the team's take on Bresse chicken and crayfish.
"This was the 30th anniversary and the first theme of the Bocuse d'Or was Bresse chicken," Jérôme says. "It was important to bring the chicken back as a classic recipe from Lyon and for my father. It was interesting to have it reinterpreted by chefs from all over the world."
Jérôme and the committee felt the same way about the somewhat controversial decision to require a vegan plate. "I don't think vegetarian is a phase," he says. "You see it all over the world and it's becoming more common. But it remains challenging for a chef to cook vegan, whether in a restaurant or competition. We have to stay conservative with the contest, but still be aware of what's happening around us."
The vegan dish requirement, a first at the Bocuse ("and hopefully a last," laughs Tessier) was unexpected, to say the least.
I remember Gavin was on a call with Daniel [Boulud] and Thomas [Keller], and he asked them, 'When did vegan become hip in France?'" — Philip Tessier
"It was a huge hurdle," says Tessier. "I remember Gavin was on a call with Daniel and Thomas, and he asked them, 'When did vegan become hip in France?'"
"It's kind of crazy to have a vegan dish, but I like it," said Kaysen. "It makes us all think differently. It would be boring to do the same thing after a while."
But even knowing the required themes of each dish, the team still had to contend with ever-changing rules. "It's a pretty chaotic way of communication," Tessier groans. "They come out with a file in the beginning of September that [announces] the proteins, and then at the end of November, a bunch of new information comes out. The worst part is that everyone is asking questions through the fall, and they don't answer them until the beginning of January."
Details like the number of garnishes allowed on a plate, the types of fish to be used, and what can be made and brought in ahead of time will shift and can derail a recipe plan that's been in place for months. Peters found out months after working on his menu that nothing pickled, preserved or juiced would be allowed.
"We had products we were hoping to preserve and take with us, but they slowly got kicked off to the side. Now we have a lot of pickled elements sitting in the refrigerator that need a home," he laughs.
While some of the confusion comes from the language barrier, shifting event logistics and technicalities over whether a component is a garnish or ingredient, Tessier believes the changes in requirements are somewhat intentional.
"Part of their goal is to make it so people aren't just robots making this stuff," he says. "Six years ago, they were taking criticism because the chefs were getting the meat and fish protein [information] at the beginning of the year and had a whole year to train. They were super-robotic about how they did everything, and they thought, 'Are these guys great chefs, or just robots plugged into a machine?' Now they're trying to make things a little more challenging, but it makes a bit of chaos on our end. It makes these little stressful moments when you're already riding the roller coaster as it is and then you have these little things flying in."
Les vegans
The vegan requirement might have been unexpected, but wasn't too far-fetched for Peters, who was accustomed to daily changing vegetarian tasting menus at The French Laundry and Per Se.
"My goal was to make this dish taste less like a vegan dish, and to bring the richness and buttery flavors without being able to use them," says Peters. "It's not something we're traditionally trained on. It's something that's developed over the last few years to some degree, and has become more popular, especially in restaurants."
For the vegan plate, each team was allowed to bring in two ingredients that represented their country. The rest of the produce was "shopped" as a group in a market by the competing chefs as an opening night ceremony at the competition. Peters was most excited by the ingredients he could bring in that personalized the plate and represented California produce.
"I wanted to pay homage to the fact that I've worked on both sides of the country," he says. "With California being the produce capital, with the amount of product they supply and how beautiful it is, we felt like the vegan dish should come from that coast." After toying with the idea of artichokes, they decided to feature green almonds and asparagus, even before the rest of the dish was finalized.
"We felt like they didn't have green almonds in France, and they have such a short growing window so we compressed and froze them, which was a blessing because it actually made them taste better," Peters says. "We had no idea where to put them or how they'd play into dishes, but we knew we wanted to put them somewhere."
On competition day, what ended up on the plate was a mélange that channeled spring with green asparagus wrapped with cremini mushrooms, amandine potato, toasted green almond custard, red wine shallot, Meyer lemon confit, "Parmesan" crumble (made with green almonds and nutritional yeast) and sauce Bordelaise, all topped with delicate green curls of pea tendrils and violet flowers. The bright pops of green and perfect dollops of toasted almond custard on the stark white plate conveyed the bright, sunny colors and flavors of spring Peters wanted, and resembled a deconstructed salad plucked straight from a California menu. Next