Chefs and Restaurants
Project Blackbird: Legacy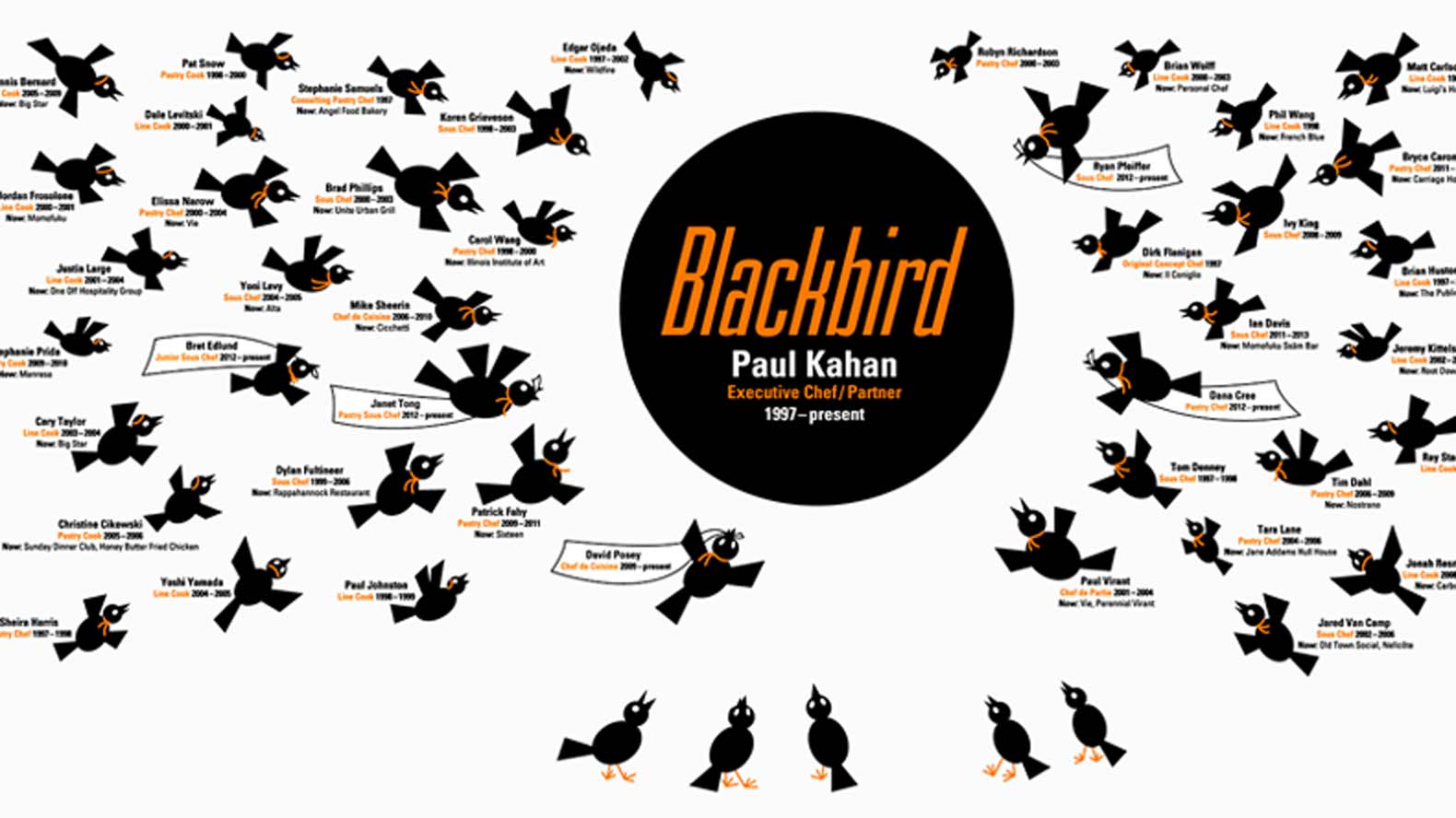 After Mike Sheerin stepped down from chef de cuisine to open a restaurant with his brother, Kahan promoted Sheerin's sous chef, David Posey, to take his place.
David Posey: I came to Blackbird to work with Mike. At that point, I didn't know much about Paul. Before I got to Blackbird I was working at Alinea and didn't have time to get to know who anyone was. I knew about Mike and his background at wd-50. I loved going there while I was in culinary school. Then getting to know him and seeing his food, meeting Paul and learning what he is all about, made me love Blackbird.
It was nice; Mike stayed on as our party chef for eight months, so I always had that security blanket. I could ask him for guidance whenever I needed it. He would help me with some of the dishes, and once I had my footing he backed off and I would work directly with Paul. It couldn't have happened any better.
The change proved to be what Blackbird needed to get the review the partners had been hoping for from the Chicago Tribune.
From Phil Vettel's four-star review of Blackbird: "There are aspects to the dining experience that are anathema to long-held notions of four-star dining. The dining room is comfortable, but hardly luxurious. The white-on-white room can be too bright. Two-person tables are too small, and too closely spaced. Noise is often an issue. Yet there is a growing sense that these fine-dining trappings have become the fringe on our culinary lampshade—nice if you like that sort of thing, but ultimately unimportant. And when food is the criterion, Paul Kahan's restaurant belongs at the top of anyone's list."
Vettel: I had this growing sense that I needed to acknowledge that Blackbird had evolved, and that they were doing everything a restaurant needs to do to get four stars. It reminded me of those first exciting days; David Posey's style seemed like Paul's style.
Madia: Four stars. I still couldn't believe it. I sent him a letter about it, the whole story. My mom trying to help us before she died, the struggle to open.
From Madia's letter to Vettel: "My mom—looking down on her son and his friends—is very, very proud. All of us in the Blackbird family—a close family—have been brimming with pride and excitement since your review."
Vettel: I remember that letter, and I still have it. It was very touching, and let me know about the difficult backstory of which I was blissfully unaware. It was a very sweet letter; one of those nice reminders that what you do and what you write affects people on a deeper level, more so than you think.
Kahan: We've evolved with the different chefs de cuisine. David is the perfect example of cleanliness and technique merged with really soulful food. We've really searched for that combination and found it in David. He's got a ton of technique, but he likes fewer flavors on the plate. You can go to any Michelin-starred restaurant in the city and get 20 things on a plate, but you go to Blackbird, and there's like three things on the plate.
Posey: I think I've found my own style while cooking with Paul. I now see that everything has to have a very clear purpose for a dish. Before, I was about the aesthetics, and flavor was second, and now it's the reverse. I think I'm a bridge between Mike and Paul for sure. It's kind of funny, because I think I'm even more of a minimalist than Paul is. For example, he'll want to add a gherkin to a dish, and I'll say how about instead we ferment something already in the dish to add that flavor. We compromise on a lot.
Drawing a dish helps me think about it, tweak things. I'm doing grilled sturgeon, which has always been on the menu. Paul served it with root vegetables, I do potatoes, so it's almost the same thing. He had roasted leeks; I have leeks braised in butter. He did a curry oil; I have caviar instead. He did braised oxtail jus, and I did ham hock jus. So it's almost the same dish; just evolved a little.
Meanwhile, the pastry department endured relatively fast turnover in chefs. First, Patrick Fahy left after being named a finalist for the James Beard Foundation's Outstanding Pastry Chef Award, and was replaced by Bryce Caron, who was let go shortly after being named a Food & Wine Best New Pastry Chef. Kahan found the right fit with Seattle native Dana Cree, an alum of Alinea and Spago.
Dana Cree: Blackbird was the perfect blend of styles for me. It had structure, but wasn't a place where imperfection wasn't tolerated. Paul really wanted composed cheese courses, so one of my priorities was to eliminate the cheese board and create those. We also shrank the dessert menu from six to five dishes, because my experience is that sometimes offering more choices only dilutes sales. I wanted to really focus on making them great.
Samuels: Now I look back, and I think the desserts we made in the beginning were just massive. They might have fit with the menu then, but there's no way they would now, when I see how far she has taken it.
Cree: Everything I've learned is applicable at Blackbird: modern textures, Danish sensibilities, classic pastry textures. And all the casual stuff works next door at Avec. I really feel like it fits me so well. My philosophy is that one thing is not more valuable than the other; they all define each other. Modern is only modern because it's not classic. Opposites add value to each other and help define each other. At Blackbird, I get a chance to showcase all of that. As a pastry chef, you are finishing someone else's sentences; they've already eaten dishes with a chef's point of view. So I've always had to edit myself to fit someone else's style, but here it works so easily.
Kahan: There's great energy between pastry, savory, wine and cocktails. There's this group of young professionals who excel, and the rest continue to get better, because we push to make it more current, and better. Because of that, the menu and the restaurant remain kind of timeless.
Cree: Mine is a custodial position: I took the torch from someone else, and at some point I'll pass it on. In the meantime, it's about bringing to Blackbird the best I can bring.
As Blackbird thrived, the partners opened more restaurants through their restaurant group, One Off Hospitality. Following Avec, they opened The Violet Hour (an upscale cocktail lounge), The Publican (a European beer hall), Big Star (a honky-tonk taco stand featuring bourbon), Publican Quality Meats (a butcher shop/café) and most recently, Nico Osteria (an Italian seafood restaurant). Blackbird remains the nucleus of the group, and an anchor for the neighborhood's thriving restaurant scene.
Kittelson: When you walk down Randolph Street now, every significant chef in Chicago has a place there. Nobody could survive down there before Blackbird.
Emmanuel Nony: When I was thinking about opening my own restaurant, the first person I talked to was Donnie. He was so helpful. He shared so many details about how to handle the financials and business plans. I was really blown away by how much he taught me. They embrace the newcomers in the neighborhood, and because he did that with me, I have also done that for other people opening restaurants. I think they started something that is contagious and genuine—the relationship the restaurants have with each other. I idolize them. What they do is really amazing. To this day, I'm still very grateful that Donnie helped put me on the right path. If he had not given me so much support, I'm not sure where I would be today.
Kahan: The fact that we go over everything in such detail is a hallmark of our company. We look at every detail and obsess about it, believing in our joint vision. Everyone affects it in different ways. David Posey came up with the idea of removing two tables along the banquette; it changed the level of service. We established a culture starting with Blackbird, and it affects everything we do moving forward. The next restaurant is in a hotel. Because there is so much space, we don't have to be as thoughtful about the design and details, but we're approaching it the same way we did Blackbird. There are a couple of additional people added to the mix now, and everyone's opinion is important. We've learned that at this point. I don't know how many other chefs and restaurateurs work with the same level of detail that we do. We just want it to work, and obsessing about the details is the way that we do it.
Terry Alexander: We're always working as a team. All of us try to live up to each other's expectations, not let each other down. If you are tired and you need to be there at 6 a.m., you're there by 5:45 so that you aren't the last one to arrive. Each pushes the other to do something on par with the rest. You want somebody to pat you on the back and say nice job. Everyone has to live up to the others' standards.
Kimberly Galban: I started in 1999 as a hostess, and stayed until 2004. I realized I wanted to be in the restaurant business forever, and that I needed to go elsewhere and experience something new. They were so supportive. Donnie told me on my last day to go do my thing, learn everything I could, then come back home. It's like a family.
In May 2013, after having been nominated for five years, Kahan won the James Beard Foundation's most prestigious chef award: Outstanding Chef, sharing the honor with David Chang of the Momofuku restaurant group.
Kahan: I don't take credit for stuff like that myself. I'm happy I won; there were a lot of years of being nominated but not winning and that was stressful, but it's for our whole staff who made it actually happen. We have great people. Our partners make it happen, our whole team, the people who have worked for us for years. It's the food, the design, the service. We're always trying to be better. Rick and Deann Bayless imparted upon me that you can't rest on your laurels.
Taylor: Paul has always been so humble. Last week was Paul Kahan Day in the city. He was so embarrassed. He deserves the recognition, but that is not what he thrives on. He's not fishing for any of that. He is way more focused on creating something great than on getting an accolade.
Kahan: I'm more proud of what we've built. Ian Davis, a former sous chef, went to New York to get a job at Momofuku Ssäm Bar. So he goes in, and Jordan Frosolone interviewed him and put him through his paces. Jordan was a cook at Blackbird back in the day. I'm just the guy who had the patience to talk about flavors with him, and work with him and cook with him, but he's now the culinary director for Momofuku. Ian walks in, and Jordan says, "That guy is from [Blackbird]? He's hired." And I pat myself on the back for what Jordan said. That's the sweeping influence of this little restaurant, and what we've done.
I think five or eight years ago, someone said to me that Blackbird is an institution. And I was like, no way. How long do you have to be around to be an institution? 15 years? 20 years? I don't know. I don't think we're there. I think it could end tomorrow if we mismanage it or don't put the same love into it. It doesn't run itself.
Blackbird's legacy extends through its former cooks and chefs, many of whom cite their time at the restaurant as the most influential in their careers.
Van Camp: There's not a day that goes by that I don't go back to something I learned at Blackbird. It could be as simple as talking to my sous chef about the specials. It was one of the most creatively rewarding jobs I've ever had.
Levy: When I did my tasting for Daniel Patterson [to become the chef at Alta], I saw Paul and Jared's influence in my cooking. I sent Paul a thank you note when I got the job.
Phil Wang: A lot of restaurants at that age keep doing the same thing, and they become throwbacks. But they're still leading the way at Blackbird. There are lots of little changes with service style, but at the core Blackbird feels as personable, as authentic as it did when it opened. It's still relevant, hip. When I create a dish, I wonder what Paul would say about it. You can't extricate him from who I am as a chef.
Yamada: The more you are in the business, the more you admire how sharp they are.
Totally lightning in a bottle. Paul is brilliant at evolving the restaurant, at making the food different. It's delicious, current and alive. Paul is all over those menus. Even dishes that didn't come from him have this strong sense of deliciousness that is his hallmark.
Lane: It was incredible to see how much investment went into supporting local farmers at Blackbird. Paul never backed down from that. It was so authentic. What [White House chef] Sam Kass and I built with the Re-Thinking Soup program at the Jane Addams Hull House became a continuation of the conversation that we started at Blackbird and Avec.
Stephanie Prida: I respect Paul because he creates a relaxed environment with a laid-back feeling, but it's a very disciplined kitchen. He has a great way of giving you creative freedom, but at the same time, the kitchen has its laws and rules and they are strict. It's very balanced. I find that similarity between Paul and David [Kinch]. Finding people like them is a rarity in this business.
Dahl: In the office at Blackbird, Paul had a paperweight that said something to the effect of, "What would you attempt to do if you knew you could not fail?" I think that's where his creativity, innovation and success ultimately come from. I feel that he definitely personifies that notion and with that mantra inspires confidence in his cooks.
Kittelson: The environment fostered such a positive bonding experience for everybody. You became close to people; you had to. Everybody was so devoted and serious. You had this super-high level of pride and accomplishment. Now everybody feels like they should be running the joint. Humility seems less common.
When I was at Blackbird, it was all about the food, the products and the farms. It was such a passion for everybody who worked there. I went back last summer, and even though it's been almost 10 years since I worked there, it was like I had never left. Donnie was working the floor like he always did, Angel was running the food. By all accounts, Donnie is an extremely successful restaurateur who doesn't have to run the floor, but he does it; they all do. They are working on the floor; they are part of the experience. Most people would be sitting at home or doing something else. They never got to the point where it wasn't important for them to be there.
Blackbird's success and impact circles back to the founding partners and their relationships with each other.
Vettel: Blackbird has clearly established itself as one of the best restaurants in the nation, and spawned additional projects that stay true to that overriding philosophy. Paul is a major, major star in American cooking. Blackbird still looks as fresh and eager as when it opened. There's no complacency; no sense that now they've made it so they don't have to keep working hard. It still has that sense of having something to prove.
Johnson: I look at these guys as a square. There's Donnie, Ricky, Paul and Eddie. Donnie is the fashion, the architect. Ricky's the heart; he's the big teddy bear. Paul is the talent, no ifs, ands or buts. And Eddie is the hospitality. Take anyone out of the picture and it doesn't work. You have to have the four of these guys together. You take one of them out, and it's not going to work. The magic is gone. They have to stay together. They're married.
Medina: They're the Beatles. Except they didn't break up. I just love those guys. I want them to succeed. If I have any part of that, I am proud. I've become incredibly protective of their time. I feel like I throw myself in the path of bullshit all the time to prevent them from having to deal with it. My goal is to make their lives easier. They deserve that.
Johnson: They are four different personalities. If you take a piece of each one of them and put them in one, I'd marry that guy, you know? I mean that's how good each guy is. But they work really, really well together.
I just wish they would stop for a minute and not have a project in the works, and they won't do it. They just keep doing one thing after another. I just wish they would sit back and go, "Damn, look what I've done." You know? Instead of like right now they're opening Nico, which is going to make them frickin' crazy. So what do they do? They buy a building and now they have to turn around and put construction into it. It's just like, calm down, dudes. I mean, just relax. And they just don't. Whenever something is supposed to be finished, they got their hands in something else.
Seitan: Blackbird is better than ever on many, many levels. I will be honest, I do miss Paul's cooking; I loved that sturgeon with oxtail. Honestly, I would never have thought we would be there. When I asked my parents for their life savings to invest in it, my dad looked at me like I was crazy. He was very honest. He said, "I'll never see this money again."
Johnson: So they've all got more money now than they've ever had before, but it hasn't changed them. Maybe their clothes are a little better, maybe their car is a little bit better, but they're still the same guys.
Diarmit: We created something I don't think any of us expected would become what it has become. A lot of people helped us along the way. It just worked.
Kahan: The thing is, we just got lucky. It's a unique combination of food, service, design, personalities, everything. It's not one individual; it's not even close to it. I'm not exactly sure what to attribute it to, other than we're all super-passionate guys. And to have four guys that have made it 16 years as business partners in the restaurant business, I bet you it's a record. It's got to be a record. Guys always kill each other or steal from each other.
Madia: We were four nice guys that just wanted to do their own thing, and I think that we portrayed that in each area that we chose, to mark our territory as independents and be good guys. This restaurant without a doubt evolved on a daily, monthly, yearly basis, in our service, and definitely in the kitchen.
Kahan: The miracle of the whole thing is that we are still together after 16 years. We still want to be together. The other night, Donnie and [his wife] Estelle walked up with their baby to PQM, and I'm super excited to see the baby, super excited to see Donnie. I don't care that Donnie called me a jack-off 10 years ago [laughs]. Every day I see Ricky, and I have a little chuckle and we have a lot of fun together. Eddie, too, all of us. For years we used to go to this event in Jackson Hole, and we would go camping together with our wives, which was glorious.
Madia: There's a ton of love, a ton of respect. And we run a good business.