Drink
Rice Milks, Syrups, and Vinegars Add Complexity to Cocktails
Rice has long been used as a key ingredient in fermented and distilled spirits across Asia, but in other forms plays a supporting role as a dynamic ingredient in craft cocktails. Rice can be found in rice lagers like Asahi, Kirin, and Sapporo (and even Budweiser, stateside); in food-friendly sake, brewed from fermented rice; and shochu, a distilled spirit made from rice or other starchy ingredients like sweet potatoes, buckwheat, and barley. Korea's soju, sometimes described as Korean vodka, is a clear, distilled spirit typically made from rice, and, like vodka, this lower-ABV spirit is available in a rainbow of flavors. And in China, you'll encounter baijiu, another distilled spirit made from rice, corn, wheat, or sorghum.
Beyond rice-based spirits, bartenders are taking to rice as an ingredient unto itself, experimenting with the range of flavor profiles and characteristics of specific grains and styles of rice to create custom rice milks, syrups, orgeats, and shrubs. "Rice is so versatile and can be treated so many different ways," says Paul Taylor, head of bar concepts at Washington, D.C.'s Drink Company. "When [it is] fermented, it can give you all sorts of flavors, and when toasted, it becomes nutty with hints of caramelization. The starch in rice allows drinks to take on a rounder profile, plus it lends a texture familiar to anyone who has enjoyed sake before."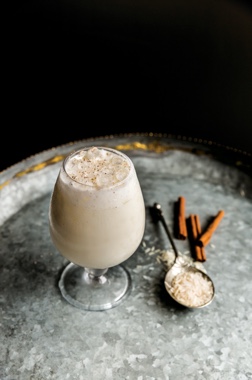 Rice milk is a natural place to start, but rather than reaching for store-bought brands, bartenders like Alba Huerta, owner of the Houston bar Julep, are making their own custom blends. Her rice cream is made with Carolina Gold rice, heavy cream, condensed milk, water, and sugar. It's featured in her Low Country cocktail (along with cachaça, absinthe, turbinado sugar, lime, and cinnamon; recipe), which comes on like a Mexican horchata, but with the tropical kick of a tiki drink. Housemade rice milk (made with toasted Carolina Gold rice, salt, honey, and water) is also used in Carolina's Gold, a straightforward white rum-based cocktail on the menu at SideBar in Cary, N.C. (recipe). "Rice as an ingredient in cocktails offers a creamy note, without having to incorporate dairy," offers SideBar's owner Matthew Bettinger. "It also maintains a lightness to the body of the cocktail. The trick was slimming the cocktail down, allowing ourselves to remove items to allow the rice to shine."
Eddie DiDonato, bar manager of Monarch & the Milkweed in Burlington, Vt., took home the prize in a national cocktail competition with the Tiger's Milk, a drink he created with gin, mango nectar, lime, cashew milk, and a homemade Thai purple sticky rice syrup (recipe). The syrup was inspired by a street-food sweet made from mango, sticky rice, and sweet coconut cream he had in Chiang Mai. "I loved the contrasting textures of the dish. It was so simple, but created a whirlwind on the palate. I knew I wanted to incorporate the rice into a syrup, cooking the starch out and harnessing that richness to balance it with other brighter flavors," he says. DiDonato has been inspired to keep experimenting with rice, most recently in another gin cocktail he calls Moon Boots, which uses a syrup made with toasted arborio rice and white tea from China (recipe). He finds the starch in rice adds "a subtle element of surprise in a cocktail," noting that using rice delivers "a more viscous syrup without having to add higher amounts of sugar to achieve that sort of body."
Paul MacDonald, head bartender of Philadelphia's Friday Saturday Sunday, turns to rice vinegar as a key ingredient in one of his most versatile housemade ingredients, a lemon-coriander shrub made from an oleo saccharum foundation of sugar and lemon peels. "The relatively soft acidity from the rice vinegar makes it useful for adding sharpness to stirred cocktails, as it doesn't require the textural support needed for citrus and other vinegars," he notes. The Option 3, one of his favorite cocktails using the shrub, combines gin, dry riesling, and Pierre Ferrand Dry Curaçao (recipe). "Rice vinegar has a way of occupying a precise area of your palate to make its presence known without stepping on the toes of whatever other ingredients it's working with. It's assertive and gentle at the same time."
"Rice vinegar has a way of occupying a precise area of your palate to make its presence known without stepping on the toes of whatever other ingredients it's working with. It's assertive and gentle at the same time." — Paul MacDonald, Friday Saturday Sunday
At Charleston's Edmund's Oast, Head Bartender Jayce McConnell turns to his city's history with rice for inspiration for his Charleston Gold rice "orgeata," but also takes a cue from the kitchen, raiding the restaurant's pantry for Asian ingredients. Orgeat, a pivotal ingredient in many tiki drinks, is a sweet almond syrup flavored with orange blossom or rosewater, but it can also serve as a canvas for other flavors like pistachios, or in this case, rice. His Pad Thai Mai Tai features Plantation 5 Year rum, Pierre Ferrand Dry Curaçao, lime, and his rice orgeat (recipe). "The syrup we make is much lighter-bodied and more subtle than traditional orgeat," says McConnell. "And the Charleston Gold variety of rice is super aromatic and full of character, which is a quality you need when mixing with bold spirits."
Drink Company's Taylor considers Washington D.C.'s annual spring display of blossoming cherry trees its version of Groundhog Day, and his team's second installment of their popular seasonal Cherry Blossom pop-up bar is a tribute to their interpretation of Japanese flavors and drinking styles, and uses rice in three of the 10 featured cocktails. The Chu-Hi, a riff on the carbonated canned shochu highballs in Japan and Korea, is made with Mizu shochu, Alexandro manzanilla sherry, lemon, sparkling water, and housemade toasted-rice orgeat made with brown rice, cinnamon, sugar, and rice milk (recipe). "This drink is our love letter to rice," says Taylor. "It's refreshing, effervescent, and contains the spectrum of rice flavor. Plus it doesn't hurt that the cocktail is garnished with a lemon Rice Krispies Treat."​
Brad Thomas Parsons' go-to rice dish is risotto Milanese eaten in Milan.