Chefs
John Shields and Karen Urie Shields Bring a Taste of Rural Virginia To Chicago's Smyth + The Loyalist
The signature dish at Chicago's Smyth, an egg yolk soaked in salted licorice nestled in frozen yogurt meringue, bridges the savory and sweet courses on the tasting menu. It's an ingenious dish, visually striking and incredibly delicious, and helps explain exactly what the restaurant is about.
John and Karen Urie Shields opened Smyth, a James Beard semi-finalist for best new restaurant, last August in Chicago's West Loop. The restaurant is on the second floor, while The Loyalist, their more casual bar and restaurant, is on the first. Taken together, they showcase the chefs' range, from Dungeness crab with foie gras and eggs scrambled with crab mustard served upstairs to what's become a signature cheeseburger (the Dirty Burg, which has its own Instagram account), downstairs. The restaurants also highlight the ingredients grown at The Farm, a farm in Bourbonnais, Ill., that grows or forages a wide range of ingredients specifically for the chefs, including shiso, pea flowers, espelette peppers and eight varieties of tomatoes. They also highlight the collaborative process between Shields and Urie Shields.
Take the egg yolk dessert. Urie Shields says they developed it in April 2016, when they were just beginning to work with The Farm. Eggs and frozen black raspberries were available in the early spring, so the chefs decided to bring back a dessert from their days at Town House, the restaurant they ran in Chilhowie, Va. That dish, egg yolks cured in sugar, came about when Shields pitched in on the pastry side.
"I love to get my hands in pastry all the time," he says. "I would be making ice cream or custard and dump sugar on egg yolks... We were curing egg yolks in 2009 and thought—why don't we serve eggs as dessert? They're in every dessert, why aren't people showing it off?"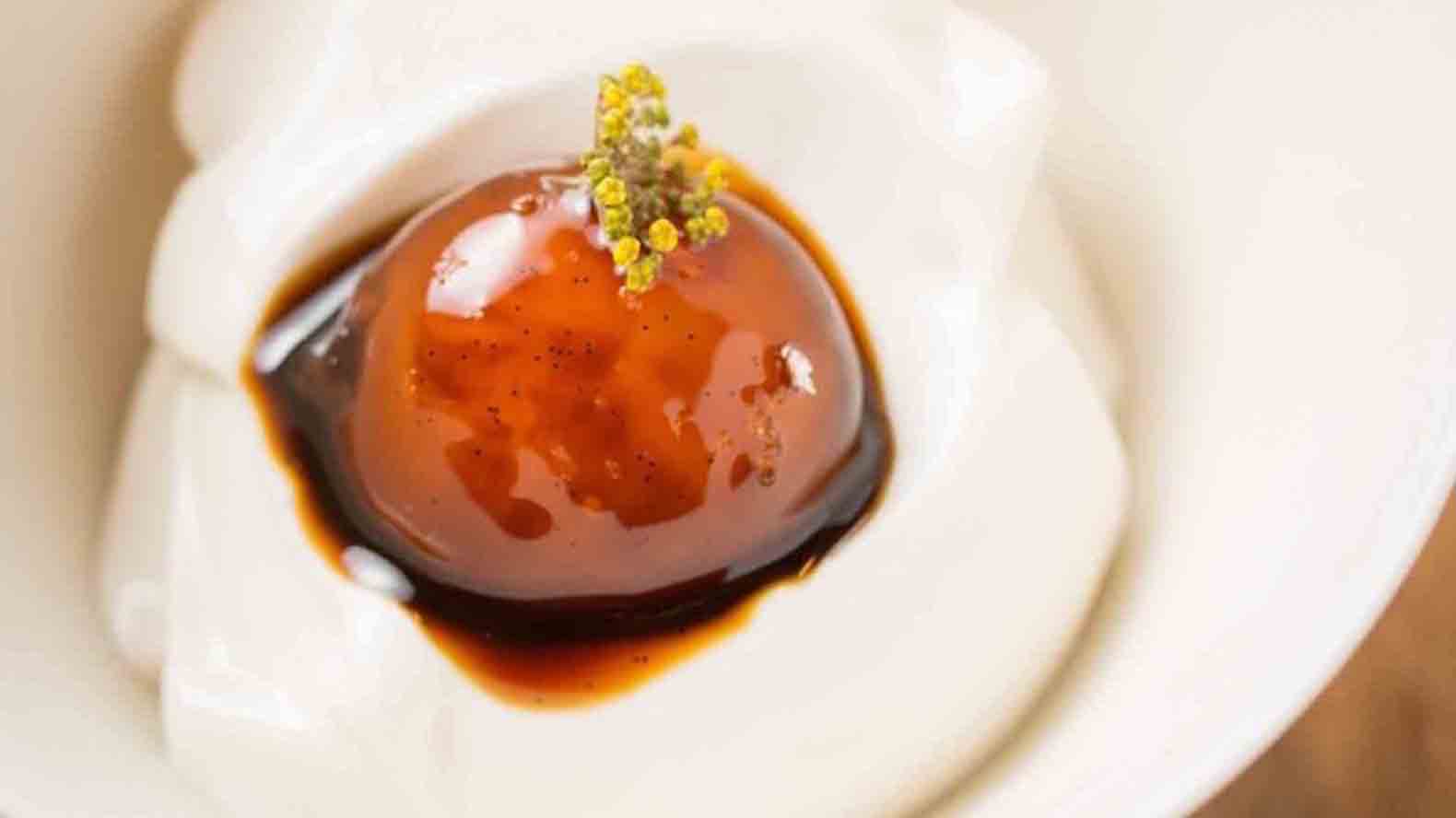 Their relationship with The Farm gave the couple access to eggs that were worth showing off. Urie Shields cures egg yolks in salted licorice for 24 hours, then makes a meringue with egg whites and sugar, and folds in yogurt. She seasons the mixture with vinegar made by a friend from Virginia and tucks fruit—black raspberries or blueberries—underneath the meringue to add some acidity.
"Our goal now is: let's make every dish like the egg," Shields says. "It's super focused and knows exactly what it wants to be and delivers on its promise of creativity and deliciousness."
Charlie Trotter's
The Shieldses may share a common culinary philosophy now, but they came to the restaurant industry with different backgrounds. Urie Shields grew up in the Philadelphia suburbs and came from a family that focused on cooking and eating together. After culinary school, she moved to Chicago in 2001 and worked with Gale Gand at Tru. Shields, who grew up in Florida, followed a different path.
"My mom tried really hard to feed me great meals and was actually a really good cook, but I wasn't the best eater," he recalls. "My life was not filled with great food memories; though she tried, I resisted. I finally had sushi for the first time when I was 18, and I ended up loving it, and that really opened my eyes. My dad and I started cooking together and he threw out a suggestion—what if you went into cooking?"
Shields moved to St. Louis when he was 19 and worked at Cardwell's at the Plaza, where the cooks had attended CIA, Johnson and Wales and other culinary schools. "There was a good culinary school there and I decided to go for it," he says. Then, he says, "One of the cooks at Cardwell's introduced me to the Charlie Trotter's cookbook. No one was doing cookbooks like that at that level of creativity, and it changed my way of thinking. That changed everything for me."
Charlie Trotter's did change everything, since that's where the two met. Shields was the sous chef, while Urie Shields was head pastry chef. Each chef recognizes the opportunities that came from their time at the restaurant and enjoyed the camaraderie with fellow chefs, though working there was challenging.
"It was arduous and very difficult in many ways," Shields says. "It was mentally tough. I was goal-oriented and had all these plans. I knew I wanted to work with Grant [Achatz], who was at Trio. I wanted to work with Charlie for this period of time and then go work with Grant. I was going to leave to stage at Trio, but it didn't end up happening, and now I'm glad I didn't—I ended up enjoying my time at Charlie's. You know the old saying, never meet your heroes? That unfortunately rang true. It wasn't like the books and I think I was naïve and walked into a situation I wasn't ready for. There were a lot of mental games and a lot of bullshit to deal with that went beyond cooking, but I learned to embrace it through the camaraderie. Everyone was going through the same thing and we bound together and that changed my perception of it. I moved around stations pretty quickly, and got to a station I really enjoyed. Once I got to one that had a more leadership role—you'd call it expediting or plate up station—I enjoyed that part of it as well."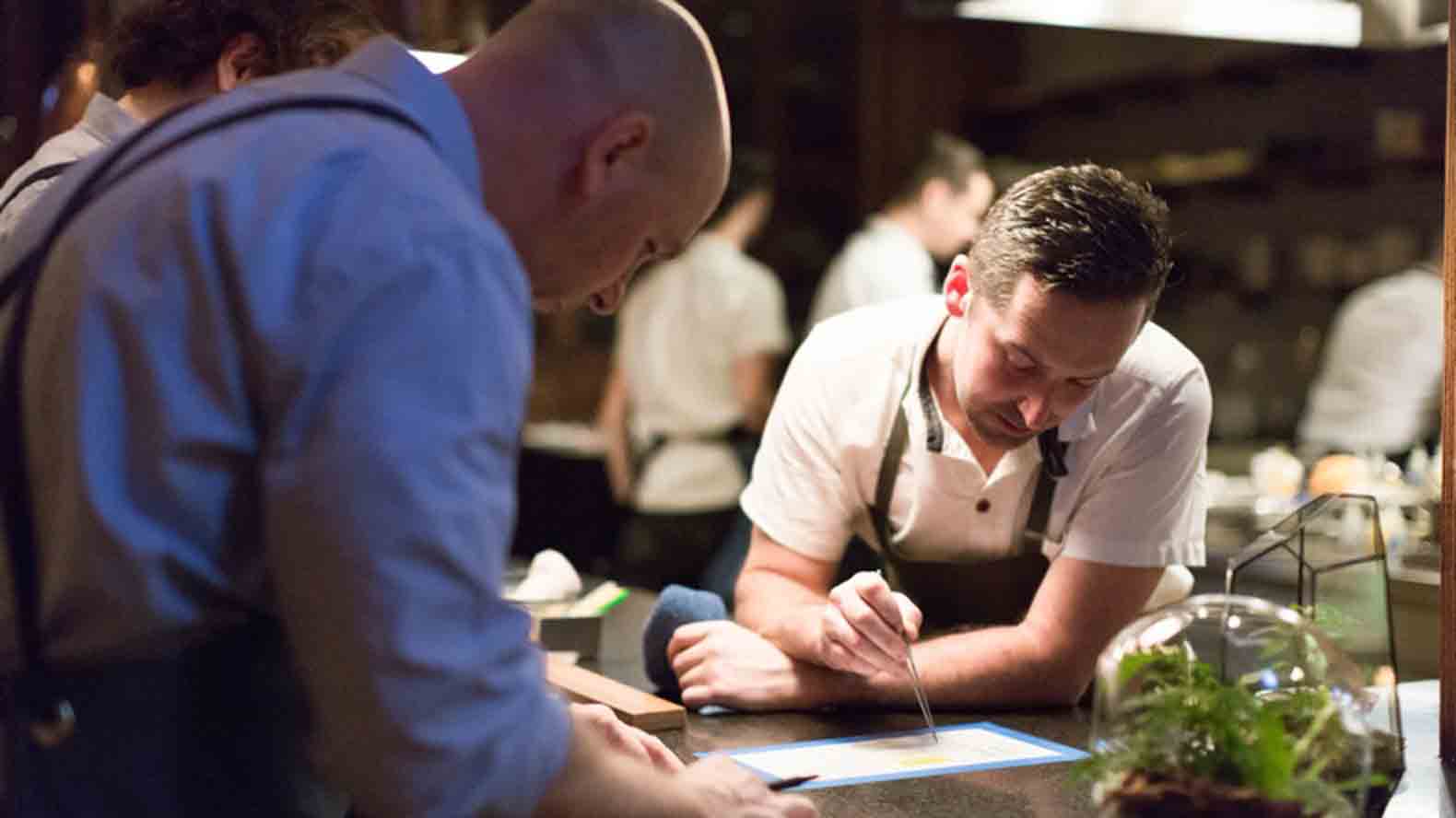 Urie Shields explains some of the difficulties.
"We were doing so many people, like close to 200 on Saturday, doing detail-oriented food," she recalls. "We were plating 30 at a time, and logistically, it doesn't make sense, since the ice cream is soft by the end. With personalities like ours, we wanted everything to be perfect and just right. It was frustrating. But at the same time, it pushed us to do things that were so extraordinary, that you didn't think we're humanly possible. The whole team there—you could look at one another and know you were both feeling the same pain. But in a weird sick way, you enjoyed the torture of it, because it drove you to do things that you didn't think you could do. But at the end of the day you do it! Because what was our saying? 'Make it happen.' Every day we would just make it happen."
Shields did eventually work with Achatz; after working at Charlie Trotter's two-and-a-half years on and off, he left for Alinea, where he was sous chef for two years. Urie Shields stayed at Charlie Trotter's for five years; then Trotter offered the pair a new job—opening his new restaurant in Las Vegas. They accepted, without ever visiting the city.
"It was the natural next move," he says. "[Alinea owner] Nick [Kokonas] kicked me out—the opportunity was too good."
The job came with pay increase and the chance to develop their own menu, but after starting to work on the project, they realized their hearts weren't in it.
"I was ready for something new, but I knew it wasn't the right move," Shields says. "The product probably isn't the best in the desert, and the lifestyle was one that I wasn't really wanting to be involved in."
"It seemed artificial for us," Urie Shields chimes in.
But the couple knew they were ready for a change and did end up moving across the country. But not to Las Vegas—they went in the opposite direction, east to Virginia.
Chilhowie, Virginia
Town House was located in Chilhowie, Va., a town in Southwest Virginia located near the border of North Carolina and Tennessee. It was a nearly six-hour drive from Washington, DC, and three-and-a-half hours from Charlottesville, Va. In short, it wasn't exactly where you'd expect to find a fine dining restaurant, but it was—unexpectedly— exactly where the couple wanted to be.
"It felt like a blank state," Urie Shields says. "It was an unadulterated part of the world. There were no other restaurants there, but so much natural beauty. It was this canvas where we could really figure out who we were and be inspired by what inspired us, not just following a path we conceived inside our head. We got to formulate it ourselves."
Shields says it was a radical departure.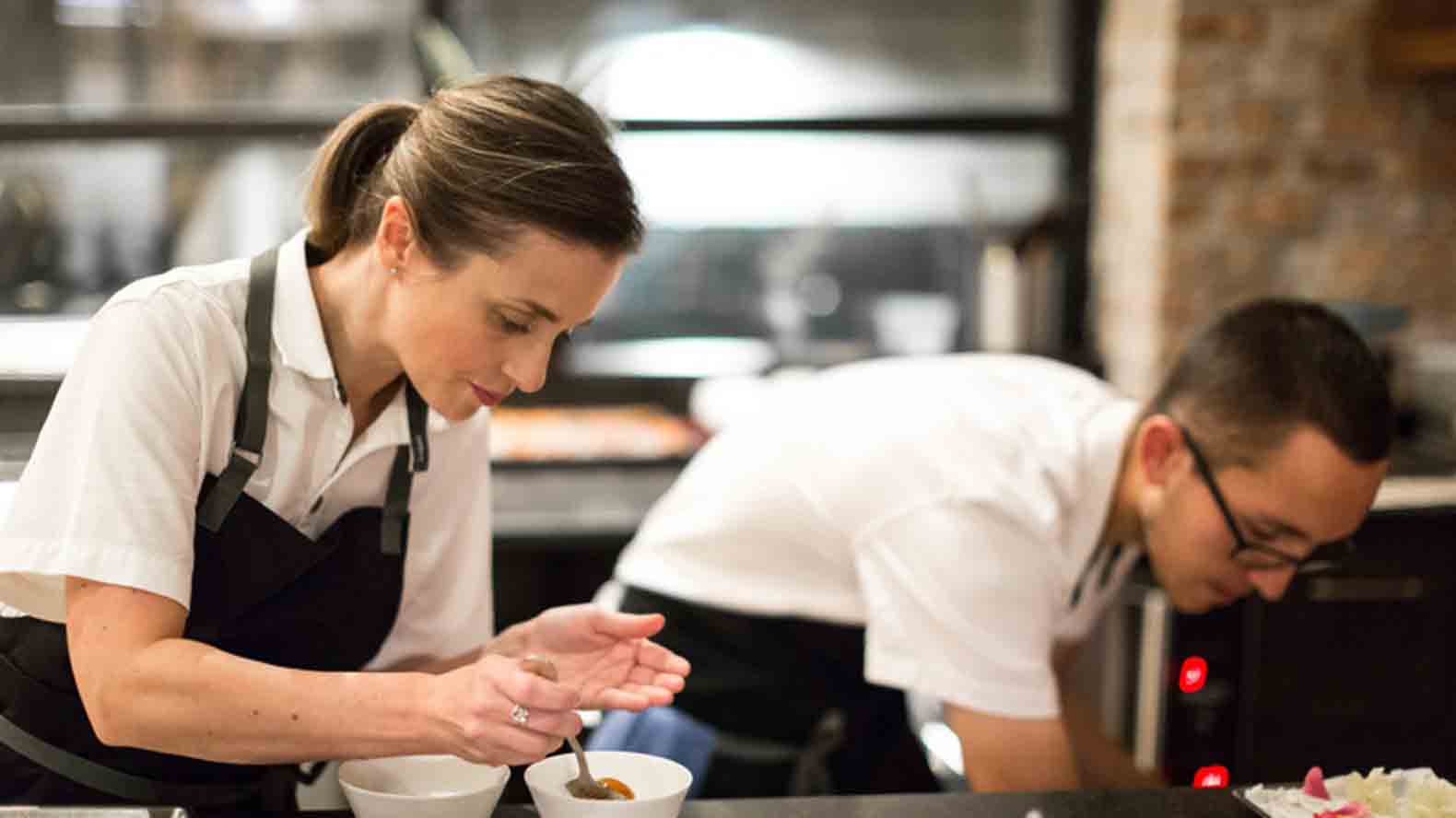 "We were naïve in a sense; we knew we wanted to get away from [Chicago] and get closer to food. I don't think we knew how deep or intimate that relationship would become," he says. "It was an existing restaurant, a busy restaurant, and people in the town would eat there, and here we came to fuck everything up. We rocked the boat; blew it up. The owners were willing to do that and I think they thought because it was good food, people would come. Instead, we alienated everybody."
At Town House, the pair faced a dilemma that many chefs face—how do you reinvent an existing restaurant without alienating the current clientele?
"It was tough," Shields says. "We went through some trials there. We did lunch in the beginning and staff wasn't culinary trained. It was rough to get things going. Finally, we decided not to do lunch anymore and realized that if we were going to do this type of food, we should base the restaurant around it. We dropped Grill from the name and it became Town House. It was carte blanche. We rebuilt the kitchen, we got all-new china, we redid the dining room."
That helped change their mindset, and they began writing a blog on the restaurant website that attracted attention from blogs and outlets such as The New York Times, which gave them a national platform while cooking in a tiny town. It was here that Food & Wine named Shields Best New Chef in 2010, and he was a James Beard Award Semi-Finalist for Best Chef: Mid-Atlantic in 2011.
"We were able to take a step back and see a broad view of what food, eating and dining and hospitality were to us," Urie Shields says. "We're proud of the chefs we worked for, but our time spent in Virginia allowed us to more clearly define who we are."
"It was this canvas where we could really figure out who we were and be inspired by what inspired us, not just following a path we conceived inside our head. We got to formulate it ourselves." - Karen Urie Shields
And who they are today is still inextricably linked to the landscape of rural Virginia.
"I had no real direction at first, but started to gain ground when Karen introduced me to Queen Anne's Lace," Shields says. "It's a wild carrot. That opened the door to the realization that we're surrounded by all this wild product, beyond the stuff that farms were growing. All of a sudden we realized—there's asparagus growing at the bottom of the driveway. There's chamomile growing everywhere. There's purslane. It snowballed from there."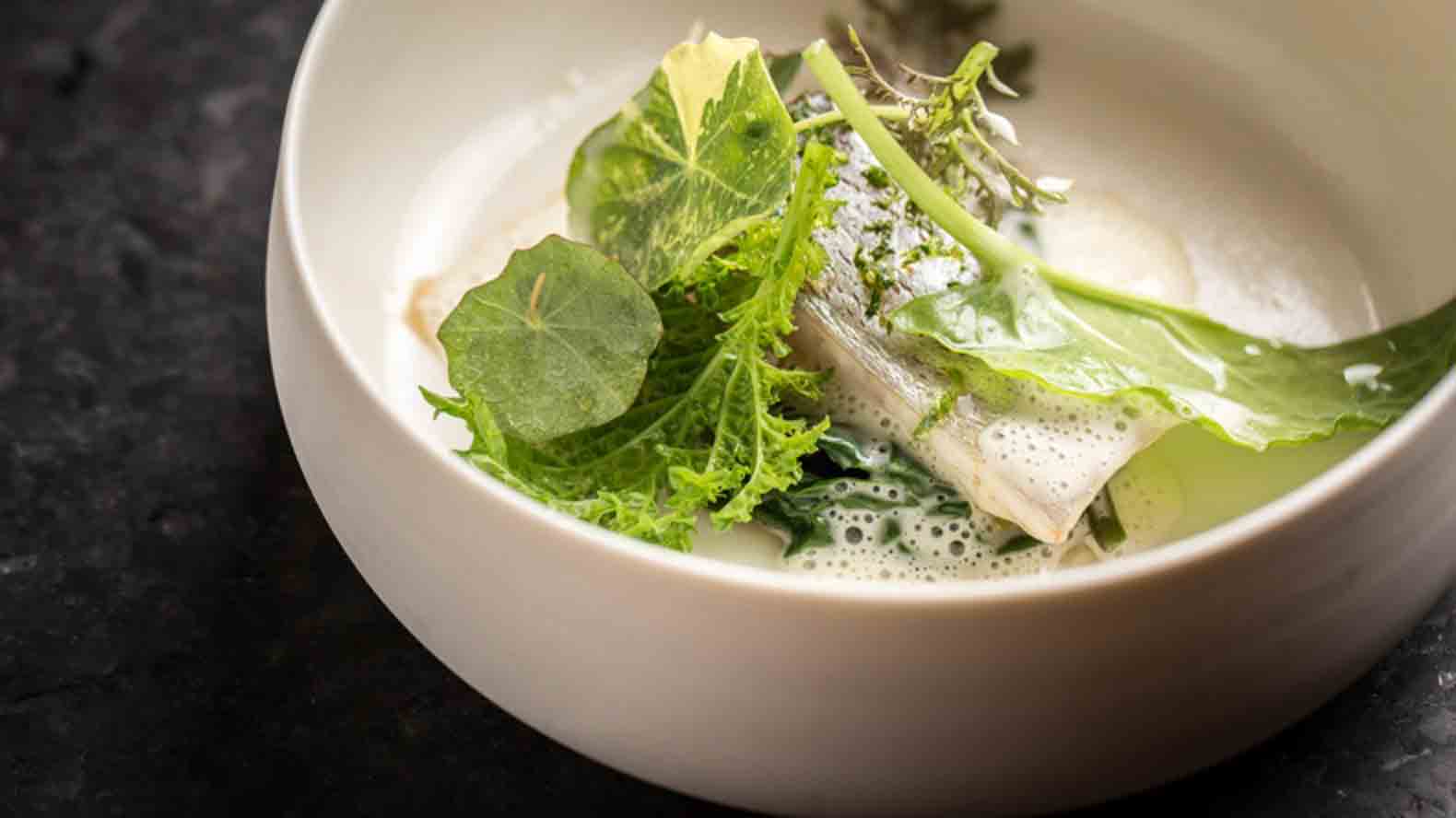 They further cemented their relationship to the area when, in 2010, they opened Riverstead Inn, a Victorian farmhouse that the owners of Town House refurbished. The Inn included two guest rooms, which meant that diners could travel to eat there and then spend the night.
"There were a lot of guests traveling from D.C., and it was natural for us to want to bring it closer to a city," Urie Shields says. "We knew that's what we had to do for ourselves, and as Grant and Nick would have said, as Charlie Trotter would have said, for your next move, go up."
The Shieldses stayed at Town House from 2008 to 2012, when they left with plans to open their own place. They also had two daughters, which was part of their impetus for leaving Chilhowie.
"[Having kids] was one of the reasons we left Virginia," Shields says. "Just being so remote out there, we wanted our daughters to grow up in a different area with more people and more opportunities."
They scouted locations in D.C., but were unable to find what they were looking for. In the end, they got a tip from a friend, Chef Bill Kim, about an open space, and decided to return to Chicago.
Smyth + The Loyalist
"I was kind of been there, done that [with Chicago]," Shields says. "But I saw the space, the windows, the two levels… [it] would allow us to keep our vision."
Though the Shieldses spent years cooking in Chicago, they were changed from their time in Virginia, which is clearly woven throughout every aspect of Smyth + The Loyalist. The name, Smyth, refers to the county Chilhowie is in, and Riverstead Inn guided the concept.
"[At Riverstead], guests enjoyed being right by the kitchen and could hear their food being cooked, could smell their food being cooked. That's the direction we wanted to take at Smyth," Urie Shields says. "We wanted it to look home-like, and wanted guests to be able to see and ask questions and smell aromas, but it wasn't this bustling kitchen table setting that could be off-putting for some people."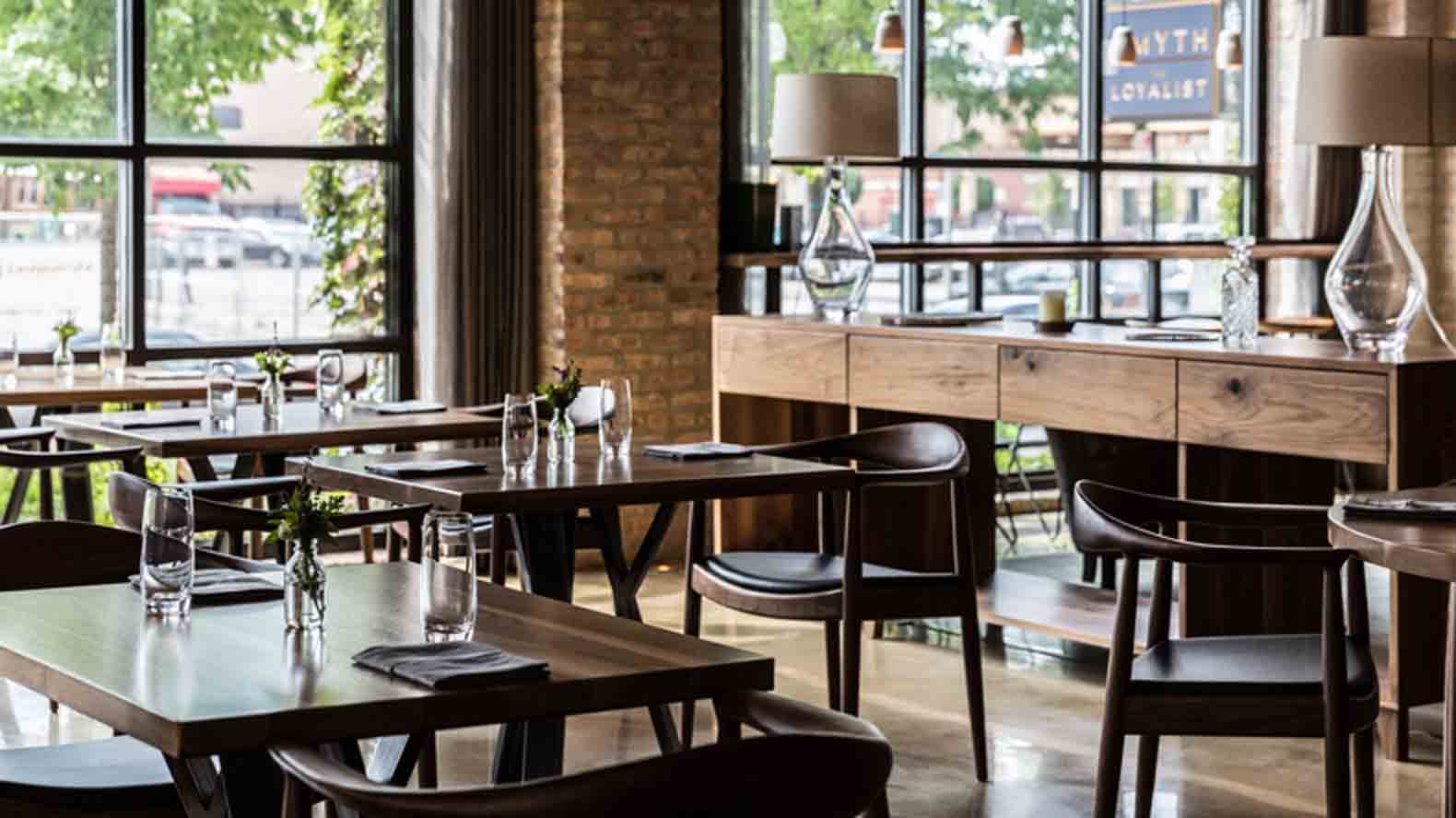 One difference from Riverstead Inn is that the Shieldses themselves can't forage as much, so their relationship with The Farm has become a necessary part of what they're doing at Smyth.
"I got a fascination with black walnuts; it's one of my favorite ingredients. They're everywhere in Virginia and the Northeast, and I knew they were here, so I sent out a tweet," Shields says. Chicago financial analyst Elliott [Papineau] reached out to her to tell her that his parents had black walnuts on their farm.
The Shieldses met with Rebecca and Alan Papineau of The Farm while the restaurant was under construction and planned how their relationship would work.
"We went down and met and connected right away," he says. "We have huge respect for each other's craft. The way she touches plants and finesses them—she talks to plants basically."
The Papineaus "experiment and kind of go off on their own and do some things," Shields says. "It starts off at the beginning of the year. A month or so ago, we sat down and went over seed catalogues and went over some things that worked really well last year and things that we wanted more or less of. This year, we're planting different things than we did last year. It's really just a back and forth collaboration. Sometimes I feel like a spoiled little kid—I have an idea and I'll text it to Rebecca, and she'll be like, 'On it,' and the next thing I know, it's planted. It's a very symbiotic relationship that transcends into the food."
Besides providing the egg for the egg yolk dessert, the Papineaus have grown or foraged ramps, violets, fiddleheads, field peas and many other ingredients for the Shieldses to use in their dishes.
"We wanted the food to be thought-provoking without being esoteric," Urie Shields says. "I wanted it to be approachable in a way, but delicious and walk the line of being extraordinary, because we want to provide people with an experience that's worth it to them."
"I think we're very creative people, but very grounded and humble at the same time," Shields says. "I think that shows in the food. A lot ideas are very subtle and worked into the dishes, as opposed to show off ideas and techniques."
Downstairs at the Loyalist, the menu skews toward comforting dishes with refined flavors like rice grits topped with chicken thighs glazed with liver mousse and hot sauce, or a biscuit with spicy 'nduja butter and ramp honey. Beyond offering a spot that encourages neighbors to casually drop by, the dual concept allows the Shieldses an additional revenue stream that keeps Smyth viable.
"It allows me to do what I want to do [at Smyth]," Shields says. "We have a chef running the kitchen downstairs, and I collaborate on it. It allows me to do the casual side of myself. I always wanted to do a cheeseburger; this gave me the perfect opportunity to try. And I wanted a place that's casual and fun. When I go down there and cook, it's a much different experience than [Smyth]. I can cook freely and completely intuitively, whereas up here, my brain is involved a lot more."
While that doesn't mean the food at the Loyalist is simple, at Smyth, the dishes have a strong point of view and are firmly grounded in the Shieldses memories and ideas. For instance, the egg yolk dessert is a throwback to a dish served at Town House in 2009; at Smyth, it's more refined.
"Our goal now is: let's make every dish like the egg. It's super focused and knows exactly what it wants to be and delivers on its promise of creativity and deliciousness." - John Shields
"It was only on the menu for a short time and it wasn't perfect," he says. "I put it on the menu but Karen didn't like it then—she was pregnant at the time—and I took it off. It's hard to pinpoint and say exactly where these things come from, but bit by bit, we create the dishes that we do, and they sort of remind of us of time in different kitchens, of traveling, what I'm inspired by and of what's in front of us."
Shields also explains that they think of presentations as "a suggestion," rather than insisting that the guest eat the dish the way they instruct. Take the brioche doughnut served along with aged beef au jus with beef tongue pastrami and wasabi. Servers place the dishes down without explaining how to eat them, but it's immediately obvious that it makes sense to combine the components into a single bite.
"We give people the idea of what to do with it instead of dictating the show," he says. "I think all of our food is very inspired in the sense that everything comes from an idea. Nothing is just spawned; there's always a background story or something we ate."
"Or a craving," Urie Shields adds.
And some of those ideas come straight from their memories of Virginia.
"I think the biggest thing is that being in Virginia and being so close to the product and knowing where it comes from changed the way we look at everything," Shields says. "Maple syrup is no longer maple syrup. It's not just an ingredient. Tapping trees changes how you use the product and how you cook with the product, or how you don't cook with the product and just show it… it's finding that balance."