Chefs and Restaurants
Chefs to Watch 2020: Diana Tandia, Berber Street Food, New York City
When Diana Tandia opened Berber Street Food in 2018, she wasn't sure how people would react to her 15-seat restaurant. "It was a bit scary...a big leap of faith," she says of the challenge of featuring African street food.
That mission is personal for Tandia, who is from Mauritania in northwest Africa and was raised in a Berber (an indigenous people of North Africa) family with Senegalese roots. "Street food was something I grew up with," she explains. "Usually, it's fresh and flavorful. It can remind you of your mom's cooking, [or] your aunt, your grandma. And the food is really made with love."
But it was fine dining that lured her into the industry. While studying political science in college in New York, she began working in restaurants, her fluency in French and English helping get her in at Daniel and Per Se. "That's where my passion in food was developed," Tandia affirms, adding that as she learned more about fine-dining techniques and menus, something inside her said, "This should be my journey." She changed gears to study culinary arts at the French Culinary Institute in 2006, then returned to those restaurants to work in the kitchen. Eventually, she struck out on her own, running a small catering business while taking breaks to travel.
"I feel like doing fine dining was like being a perfectionist," Tandia explains. "But my concept of cooking is fresh flavors, food made from the heart."
Tandia spent close to 10 years learning street food cookery around the world. "I could relate to that," she says of her decision to focus on street food instead of fine dining. "If you want to know the flavor of the country, the best way of trying it is to try street food; that's where you get the authentic flavors." She took two weeks off at a time to travel to Bali, Cambodia, and Laos to cook with locals in small villages. "In the morning, I would go gardening, and at night we would go to the night market. I spent my whole day cooking with them. That's how I developed my cooking."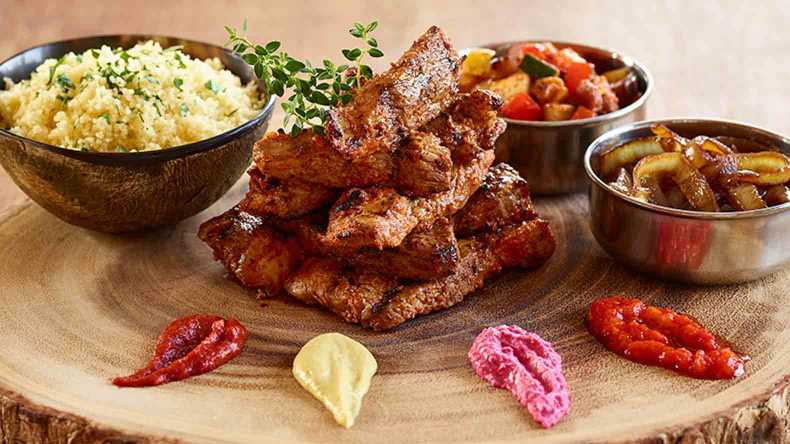 ​
Every time she returned to New York, Tandia refocused on her belief that with her fine-dining experience, she could cook street food her way. Taking note of the scarcity of African restaurants in New York City, she knew she wanted to educate people on what food means in Africa. "Good food for us is not just food, it's how we show love to people," she says. "This is how to gather and bring love to your family, your neighbors. So, to me, that's what I wanted. To bring a concept of street food—authentic, fresh, flavorful—and at the same time, cooking from love."
With Berber Street Food, Tandia traces and showcases the African diaspora through her cooking, which she calls "association cuisine" for its roots in African cuisine with French, Asian, and American influences.
"I believe Africa is the motherland," she says, adding, "Anywhere I travel around the world, I see a lot of similarity." She notes that when Africans were forced to become slaves in other parts of the world, all they could carry with them were their recipes and, occasionally, their spices. "Everywhere they went, they tried to produce the same food." At Berber Street Food, diners sample the diaspora in dishes from Brazilian accara (black-eyed pea fritters served with a spicy tomato sauce) and Calypso jerk wings.
"Unfortunately, we're not well represented in food," Tandia says of African cultures. "People are very comfortable with Mexican food, people are very comfortable with Indian food. But when you say Africa, it's like trying to take people out of their comfort zone. That's what I want people to learn. My food is not just about food. I also want to educate people to know that Africa is the motherland. That's where we all come from."
The pandemic forced Tandia to make changes to her restaurant. The loss of catering business meant her revenue dropped by about 80 percent and she had to lay off almost her entire staff. For now, she is focused on survival. "I have a lot of great ideas," she says. "But right now the most important thing is to keep my doors open. There's a lot of uncertainty in the restaurant business, especially for me because I'm a very small business. I don't have a big chunk of money waiting for me somewhere…and I don't know what's going to happen. Winter is coming. I give all I have. I work long hours. I'm exhausted but I'm just not somebody [who] will quit. I will go until the last.
"Being an immigrant is a long journey for me, coming here, struggling going to school, waiting tables and working my way up," she continues, marveling at the fact that she is earning accolades like the chefs she used to look up to for so long. "I feel like I'm very proud of myself, especially being a woman and being an immigrant. There's no limitation in life, you can be anything you want, as long as you believe in yourself."