Chefs
Competition Day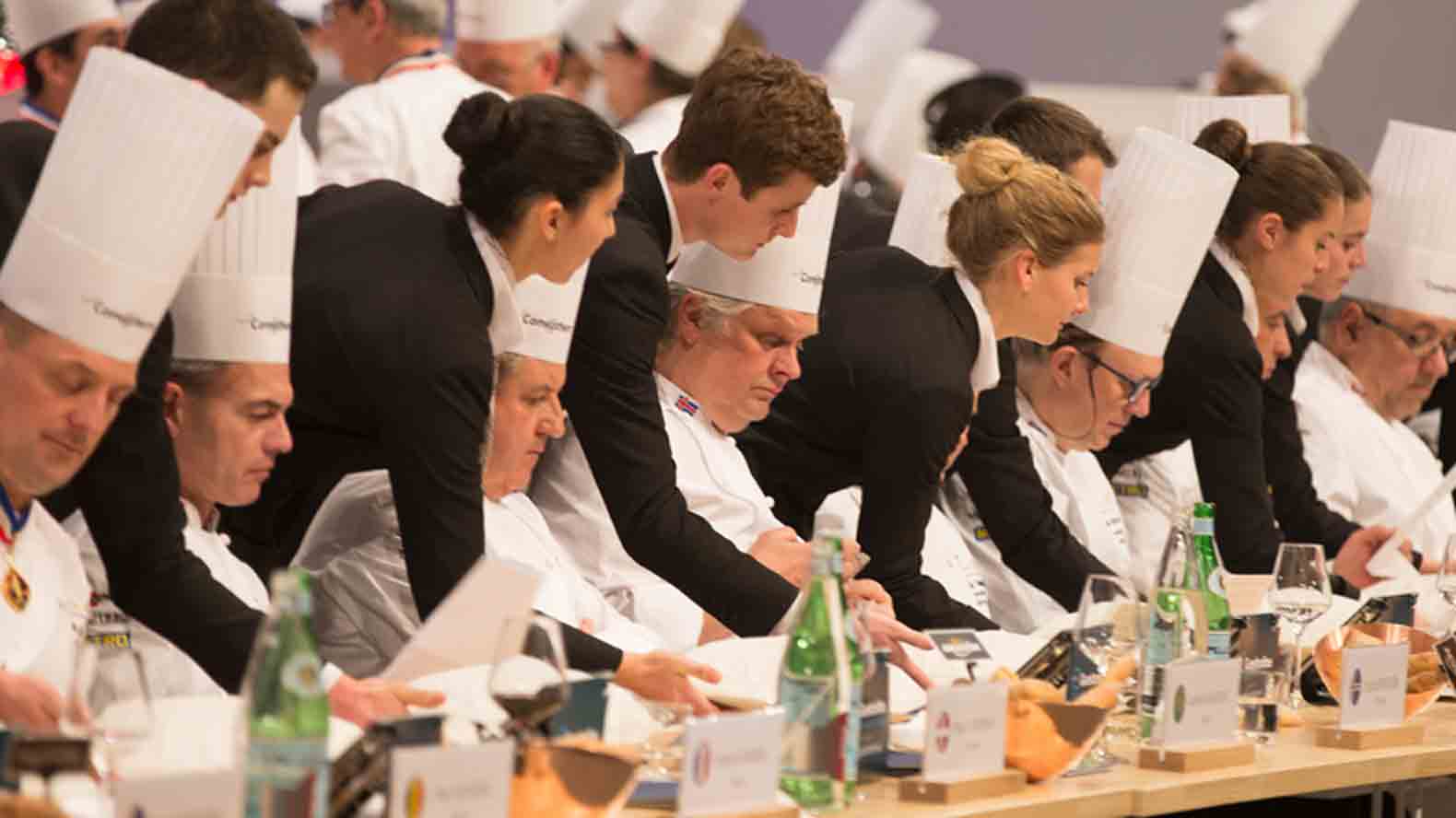 After thousands of hours of preparation, the competition day was at hand. The suspense began the second Peters and Turone began their well-choreographed dance at 8:40AM on the second day of the competition. They were guided minute-by-minute by Tessier, who remained perched outside the kitchen firing almost telepathic guidance.
"It's kind of like squash," says Ming Tsai, who's been involved with Bocuse fundraising and support efforts since the Foundation started, about the hours of cooking.
"It's hard to shoot a long game of squash, and it's hard to shoot a five-hour cooking competition," Tsai says. "We're used to seeing a competition in half an hour, but this is more like a marathon, a triathlon. Only the fittest survive. You make one mistake and you lose, it's that simple."
For Team USA, the drama had started an hour before, when the coaches made their way through each kitchen to inspect every ingredient, countertop, speed rack and cooler for contraband. "I felt like they were there forever," recalls Peters. "They want to know what's going on and make sure no one is cheating, so they pull your food out and disorganize it. You have to keep a close eye out and be patient."
Having only 10 minutes to get reorganized after the inspection was enough for Turone to feel thrown off his game before they even began cooking. "We had our run down to the minute, and when you're thrown off five minutes, it throws off the whole run," he says.
An hour later, Turone found himself behind by 20 minutes, and was starting to panic. Each team is given a local commis from the Institut Paul Bocuse to help out, and the student assigned to Team USA didn't speak English. "We met him 20 minutes before and I was getting my station set up and trying to explain how to do everything," Turone says. The language barrier on top of the mess after the judges' inspection were Turone's worst nightmare, but things got worse. One of his first jobs was to make the pretzel tuiles for the carrot garnish. They were supposed to slide neatly off the mold, but instead broke off in his hand.
"It's a tricky process and you have to pluck each one off," says Turone, "But the dough was too dry and they stuck to the metal. During our practice runs, it happened in the beginning, but the last couple of months leading up to the competition, it was no problem."
Maybe it was the do-or-die glare coming from the shirtless Arnold Schwarzenegger posters, or the razor sharp stare from Tessier, but Turone didn't flinch and the crowd growing around the Team USA kitchen didn't detect the distraction.
"It's like going to a golf tournament and seeing Tiger Woods play," I heard someone whisper behind me about Team USA. "90 percent of the crowd follows him and not the other players."
Peters and Turone remained focused on fixing the mishap. "That was his first project," says Peters. "It could've deterred everything but he stayed focused. He put his head down and said, 'I'm going to remake them and we're going to get back on track.'"
They did, but not long before Peters faced another crisis as they began preparing the meat platter. The bases for a potato garnish also stuck to the molds and shattered instead of sliding off. Tessier and Peters just looked at each other.
They first tried putting them in butter, which didn't work. Then they decided to pop them into a steamer for 25 minutes to soften them up. "The judges could sense it," recalls Tessier. "When they saw me shut down and focus, I could feel everyone give us a bit of space. I remember thinking if these things didn't come off the molds, we'd have no garnish!"
Tessier fired off a few frantic texts to his wife and mom: 'Pray these things come off the molds!', and as they headed into the last 35 minutes of the competition, things came together. "It was nothing short of a miracle," says Tessier.
All the while, the growing crowds in the stands didn't suspect a thing. The arena began to fill with spectators and the collective shouts of "U-S-A!" "Ma-thew Pe-ters!" and "Go Har-ry!" dominated the entire arena. The American section was among the rowdiest, best-decorated and loudest groups in the stands, waving streamers, signs, pompoms and massive American flags, dressed in capes and cowboy hats and shouting encouragement via bullhorns.
While Turone admits he was able to tune out most of the noise that day, the yells and music eventually fueled him.
"It's nice to hear the chants when you're in a different country with 23 other countries around you," he says. "It gives you a little tickle, puts a little fire under you. You're not just doing it for yourself, you're doing it for your whole country."
"It's nice to hear the chants when you're in a different country with 23 other countries around you. It gives you a little tickle, puts a little fire under you. You're not just doing it for yourself, you're doing it for your whole country." Harrison Turone
By noon, with just minutes to show time, the media were kicked out of the kitchen area and sent to the press box for the duration of the judging, to leave room for the 24 judges, a dozen for each dish. Two judges were perched in the middle to try both dishes and cast a vote in case of a tie: Joël Robuchon (who served as the first president of the Bocuse d'Or in 1987) and last year's gold medal winner, Norwegian chef Ørjan Johannessen. "You need to have a big stomach," Johannessen laughed to the emcee who asked he was prepared to judge 24 dishes.
Finally, it was time for Team USA's platter to parade past the judges. The vegan dish went first, followed by the meat platter. Peters and Turone had made up all but three minutes of the lost time, so were still in a mad dash to get the garnishes, chicken and lobster tails loaded up onto the platter. The lobster shells started to dry up on Peters, so instead of affixing them to special hooks under the chicken breasts, he ended up placing them around the base where microgreens were supposed to go.
"We skated out of that box in just enough time," recalls Tessier. "Watching them keep their composure, despite all of these things that were challenging us, was really impressive," he says. "It validated all of our training and everything we had done to push ourselves. It's like our coach Robert Sulatycky (who took fourth place for Team Canada in 1991) said: 'You have to be like a duck in the water, on top you're smooth sailing and on the bottom your feet are furiously moving.'"
And once they were finished, it was smooth sailing indeed as the finished vegan plate followed by the meat platter slowly made their way around the arena before being plated for the judge's tasting (no one noticed a few rogue lobster shells that rolled around the base).
A hush fell over the crowd for the first time that day.
"If you don't have the moment when your platter comes out and everyone's just like, 'wow!' you won't win," says Tessier. "In 2013, when France's platter came out, it was a beautiful gold platter of Versailles and instantly a story was told and instantly it was different and it was instantly amazing."
"All these little things didn't really go as planned, so we were a little defeated," admits Peters. "But you can think about all the things you knew went wrong, which is the beautiful thing about cooking—no matter what happens in the kitchen, the customers out front have no idea what to expect. What they see on the plate is what they think the chef has prepared for them. That was a good thing for us."
Turone was also disappointed, but tried to remain hopeful during the stressful waiting period, when the teams are packed like sardines in a separate room as scores are tallied. "Richard Rosendale told us you have to only worry about things you can control, and at Bocuse d'Or, there are so many things that are out of your control and you just have to be able to accept it," Turone says. "I can get frustrated and angry, or I can accept it and do what I have to do to push forward, and that's what we did."
The winners
Finally, it was time to announce the silver, bronze and gold winners, along with awards for best meat and vegetable plates, promotional campaign, poster and commis. The long ceremony of thanking endless sponsors, past winners and other Bocuse supporters only added to the arena's slowly rising blood pressure. Finally after more thank-yous, acknowledgments and drawn-out presentations, the winners were announced. Jerome Bocuse started with bronze, handing it to Team Iceland, and the silver went to Team Norway.
As Jerome pulled the final ballot from the envelope, he paused with a hint of torturous hesitation, looked up at the crowd with a smirk, and asked, "Are you ready?" "They were born ready!" nervously joked one of the emcees as all cameras, live feeds and phones focused on Jerome. With his announcement of "United States!" the entire stadium exploded in a frenzy of red, white and blue streamers.
"Once I heard bronze and silver go, my whole body started tingling," recalls Turone. "We got close and started squeezing each other and at that point we knew we won. You hear your national anthem in another country and you can't explain that feeling."
As the national anthem played, Peters, Turone and Tessier proudly took to the top podium while Thomas Keller waved the American flag high overhead.
"I was overcome with a huge sense of accomplishment and national pride," says Keller. "It was very emotional for me to wear that gold medal around my neck for the world to see. We felt like Olympians." Later that night, the gold trophy would be passed around at an after-party at Bocuse's restaurant Comptoir de L'Eest, eliciting tears from Keller and the rest of the team while the national anthem was sung and bottles of Champagne uncorked until the wee hours. Next