Food
These are the Spring Cookbooks Chefs and Cooks Will Love
As much as this spring's crop of new cookbooks provide inspiration for new dishes and guidance for finessing technique, more than anything, these books tell some great stories. Think of this as a series of blueprints of how different chefs and restaurateurs beat the odds (or didn't) in a variety of situations, from a Vietnamese refugee who started one of Miami's best restaurants, to an unlikely duo from New York who turned an old Savannah Greyhound station into a dining destination, to a chef who brings exacting Japanese technique to wood-fired pizza. These are books that will rekindle your fire and refill your cup—inspiration for the restaurant industry as we start to figure out what comes next.
Rodney Scott's World of BBQ by Rodney Scott and Lolis Eric Elie​
Rodney Scott is the undisputed king of whole hog barbecue, and his Charleston restaurant, Rodney Scott's BBQ, is a bucket-list destination for lovers of smoked meat from around the world. In this book, heralded as the first by a Black pitmaster, Scott shows you his style of barbecue, from constructing a pit out of cinder blocks to the old fashioned he likes to wash it all down with. Skilled smokers and newbies alike both have much to learn from this book. Out now.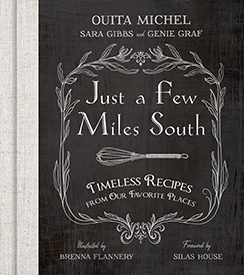 Just a Few Miles South by Ouita Michel
You can't talk about Kentucky cuisine without considerable time discussing Ouita Michel. Along with her husband, Chris, Michel has been turning the bounty of the Bluegrass State into fine dining fare at Holly Hill Inn since 2001. A few more restaurants, several James Beard Foundation Awards nominations, and a couple decades later, Michel finally wrote her first cookbook, with a foreword written by noted Kentucky writer Silas House. Dive into what makes her versions of Southern staples unique, including Michel's famous Inside Out Hot Brown, Bourbon Banh Mi, Bluegrass Benedict breakfast sandwich and more. Out April 27.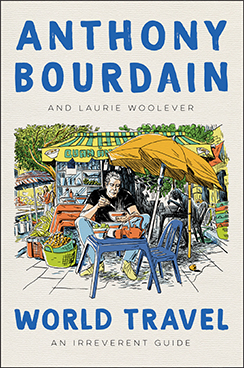 World Travel: An Irreverent Guide by Anthony Bourdain and Laurie Woolever
Begun in the spring of 2017 as a series of conversations with longtime collaborator Laurie Woolever, this is Anthony Bourdain's last book. Both a practical guide to his favorite places around the world and a tribute to the late writer, traveler, and chef, the stories in these pages will have you itching to pack your bags and follow in Bourdain's footsteps. Out April 20.
Mister Jiu's in Chinatown by Brandon Jew and Tienlon Ho
"A new restaurant in old Chinatown" is how this book describes chef Brandon Jew's Michelin-starred restaurant Mister Jiu's, and the stories in it trace Chinese cooking in the U.S. through the lens of San Francisco's Chinatown. The recipes are all Jew's: inspired by Chinese-American classics, he makes them his own, resulting in epic, seasonal dishes that look to the future as much as they reflect the past. This book is a master class in finding inspiration in the dishes you grew up with. Out now.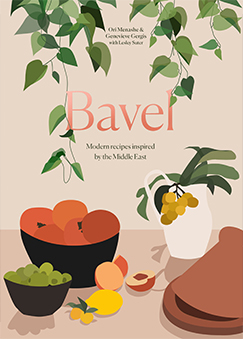 Bavel by Ori Menashe and Genevieve Gergis
Another story of finding inspiration in the foods of your childhood, this book tells the story of how chefs Ori Menashe and Genevieve Gergis brought beloved Middle Eastern flavors to their Los Angeles restaurant, Bavel. Starting with spice blends, sauces, pickles, and spreads in a pantry chapter, Bavel expands these flavors into full dishes, like the grilled oyster mushroom kebabs and lamb neck shawarma the restaurant is known for. Out May 25.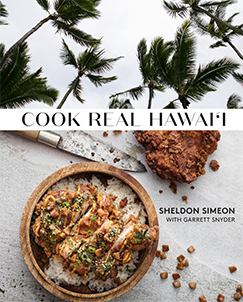 Cook Real Hawai'i by Sheldon Simeon
What, exactly, is Hawaiian food? That's the question Maui chef Sheldon Simeon explores in his new book, Cook Real Hawai'i. Influenced over centuries by immigrants from China, Japan, Portugal, Korea, the Philippines and many more, Hawai'ian food builds on local ingredients and traditions for one of the most unique, misunderstood, and most of all delicious cuisines out there. In his book, Simeon proves to be a knowledgeable guide, from pupus to sweet treats. Out March 30.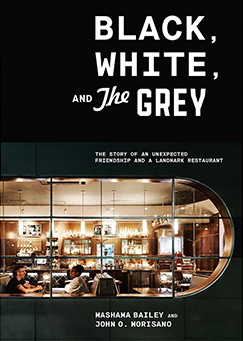 Black, White, and The Grey by Mashama Bailey and John O. Morisano
A dual memoir-with-recipes, this book tells the story of chef Mashama Bailey, restaurateur John O. Morisano, and their journey to refashion an old Greyhound station into one of Savannah's best restaurants, The Grey. Along the way, they discuss race, class, gender, and, of course, the restaurant business in a phenomenally well-written back-and-forth. Out now.
Hook, Line, and Supper by Hank Shaw
Wild game and foraging expert Hank Shaw here turns his eyes to waterways, offering a trove of fish and seafood knowledge. From how to get your fish—whether you're buying or catching them—to cleaning them and getting them ready for cooking, Shaw's book is as much a collection of globally-inspired recipes as it is a gill-to-tail guide to seafood. Out May 7.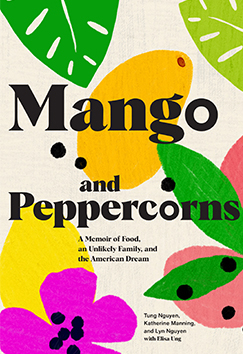 Mango and Peppercorns by Tung Nguyen and Katherine Manning
In 1975, when young Vietnamese refugee Tung Nguyen ended up living in the home of grad student Katherine Manning, they had no way of knowing they'd eventually open one of Miami's best Vietnamese restaurants, Hy Vong. But that's just what happened, and Mango and Peppercorns—named for the restaurant's signature sauce—tells the story of how they did it, with a handful of recipes along the way. Out now.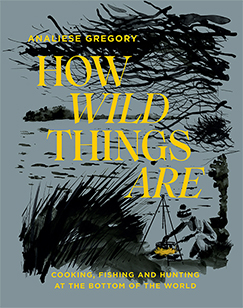 How Wild Things Are by Analiese Gregory
Chef Analiese Gregory grew up in New Zealand and trained in some of the best kitchens in Europe, but this is a story about Tasmania. This island off the southern coast of Australia is remote, and Gregory's farm in south Tasmania is very remote. Here, she discusses the whole thing: her travels, her farm, her foraging, hunting, and fishing—and, of course, all the food she cooks, at the bottom of the world. Out now.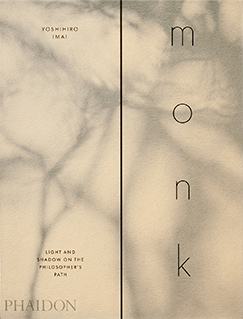 Monk by Yoshihiro Imai
Yoshihiro Imai serves an omakase menu at Monk, his 140-seat restaurant in Kyoto, where he specializes in live-fire cooking. The main event here is pizza, to which Imai applies a Japanese sensibility and the harvest of the local farms surrounding Kyoto. Think you know pizza? This book will give you a whole new understanding of the dish. Out April 28.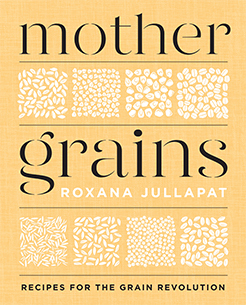 ​Mother Grains by Roxana Jullapat
Roxana Jullapat works with the eight "mother grains" at her Los Angeles bakery Friends & Family, and in this book she explores the nuances of working with barley, buckwheat, corn, oats, rice, rye, sorghum, and wheat. If you're thinking about getting serious about grains—whole grains, heritage grains, locally grown grains—let Jullapat guide you through their different personalities. Out April 20.