Sponsored Content
An Unrelenting Demand for Adventurous Flavor Experiences
Chefs and restaurateurs have long understood that creating outstanding experiences through exceptional service and alluring cuisine is essential to their survival. During the pandemic, diners gravitated to comfort foods. In its wake, consumers continue to find satisfaction from comfort foods and familiar flavors. At the same time, diners who have been cooking for themselves for so long are intrigued by the more adventurous and tantalizing culinary experiences and global flavors that only restaurants can provide.
Globally Inspired Foods Are the New Norm
Without a doubt, global foods are playing a significant role in menu development. According to Mike Kostyo, Trendologist at Datassential1 "31% of consumers told us they are looking forward to new global food and flavor trends in the year ahead. For younger generations, globally inspired foods are the norm."
The Institute of Food Technologists' 2020 Flavor Forecast provides additional insights, telling us that consumers are more comfortable trying new flavors when they are associated with other flavors they enjoy or already know and love." Considering the enduring popularity of Mexican food, it is not surprising that chefs are embracing distinctive and authentic Hispanic-style cheeses such as manchego, enchilado, cotija and queso fresco in place of more ubiquitous varieties. At the same time, a growing awareness and demand for Mediterranean foods means that Middle Eastern labneh is being used as a thicker and richer substitute to yogurt and sour cream. Ultimately, by drawing upon global intrigue, desire for nutritional value and the undeniable versatility of dairy foods, chefs are able to innovate and deliver the satisfying experiences their guests are seeking.
Authentic, Dazzling, Satisfying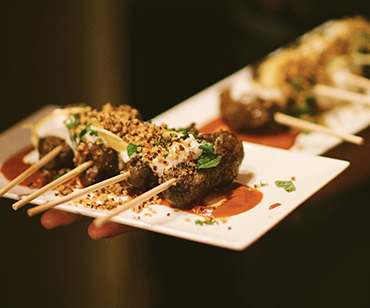 At Shakewell, one of Oakland's favorite spots for Mediterranean and Spanish cuisine, global ingredients regularly appear on their menu. Chef and Owner Jen Biesty explains "Our cuisine references a wide variety of Mediterranean foods that range from North African and Spanish to Lebanese and Middle Eastern. That means we use an incredible volume of dairy products and rely heavily on California dairies for these ingredients. From yogurt, feta and labneh to cotija, halloumi and manchego, these pantry mainstays allow us to be a bit more creative and dazzle our customers."
While all of Shakewell's dishes are well received, their Fried Chicken (marinated in yogurt and seasoned with Mediterranean spices) as well as Lamb Kefta (seasoned with harissa and served with garlic tzatziki and quinoa) are menu standouts. According to Chef Biesty, these dishes are "global flavor explosions."
Similarly, Christine Rivera, Chef de Cuisine at Galaxy Cantina & Grill in La Jolla prepares a variety of authentic Mexican dishes with an emphasis on culinary influences from Oaxaca. Applying a playful and contemporary twist, her Enchilada Fries takes a clever stab at poutine while the Avocado Tostada surprises patrons with the application of chapulines (edible grasshoppers), a traditional Oaxacan ingredient.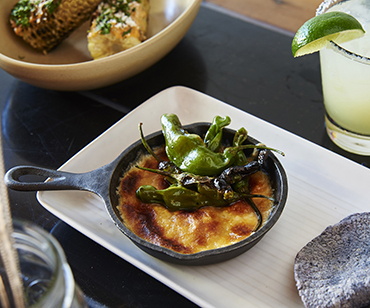 According to Chef Rivera "When it comes to Mexican food, there is so much to explore. To maintain authenticity, we use a lot of Mexican cheeses... manchego, menonita, cotija enchilado, queso fresco, panela... and lots of sour cream. With so many cheesemakers in California producing these Hispanic-style varieties, we're able to find everything we need."
California Dairies - Catering to Global Cuisines
Kostyo sums it up nicely, "In many ways, global foods are just how U.S. consumers eat on a regular basis, and they are responsible for many of the items trending on menus today." Considering that California dairies lead the nation in milk and butter production and are second in cheese and yogurt, it should come as no surprise that California dairy is highly valued for its availability and consistent quality. Whether chefs are looking for traditional dairy products or products inspired by increasingly popular cuisines from around the world, California cheesemakers and dairy processors deliver products perfectly suited to a wide variety of cuisines and cooking styles. Chefs who recognize the growing demand for global flavors are responding with a broad selection of ethnically inspired specialties.
As global leaders in sustainable farming practices, California dairy farmers are making tremendous progress in reducing their environmental footprint and the California dairy industry is widely recognized as a valued resource for nutritious and planet-smart dairy products.
1Datassential is the industry's leading food research and insights firm.