Sponsored Content
Seafood & Veggies: Innovative Combinations Deliver Optimum Flavor
Restaurateurs have increasingly better access to an incredible variety of wild caught seafood and just harvested vegetables.
While their nutritional benefits are valued, enterprising chefs are challenging the status quo, finding ways to showcase the best possible ingredients, exploiting the ways in which their flavors, textures, and other naturally occurring qualities contribute to heightened culinary experiences.
Along with dishes that are engaging and nutritious, chefs and consumers alike are seeking out foods that are traceable and sustainably produced. It's no surprise that wild caught seafood species, such as king crab, salmon and several varieties of whitefish from Alaska, have become favorites. Similarly, locally grown and seasonally available vegetables, along with highly nutritious ancient grains and pulses, have become highly prized.
Chef Kevin Davis, recognized for his support of responsibly harvested fish, guides the culinary output of his Seattle based restaurant—Blueacre Seafood. He prefers dishes that are pure and clean, allowing the natural colors, textures, and flavors of seafoods and vegetables to stand on their own merits.
He mentions seasonal cruciferous vegetables including golden and purple cauliflowers, broccoli, and radishes. With careful roasting and caramelizing, they retain their color and texture while lending a hint of sweetness to the dishes they accompany. He also favors locally grown tomatoes, transforming them into an exquisite conserva. When used as a sauce on a bed of pasta, it lends flavorful contrast to simply prepared wild caught Alaska king salmon.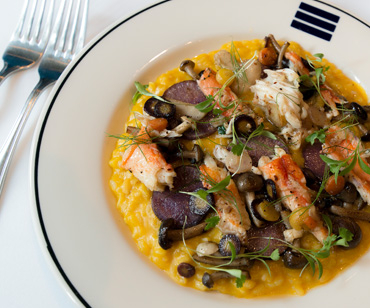 According to Ryan Pfeiffer, Executive Chef at Chicago's renowned Blackbird, "We prefer to feature ingredients for their intrinsic qualities, as opposed to showcasing the ways in which they can be modified." This includes the use of contrasting flavors—apparent in the way he prepares Sablefish—marinating the fish overnight in the style of misoyaki using white miso, mirin, and sugar, adding a touch of sweetness. To offset this sweetness, he serves the fish with treviso and grapefruit in an emulsified sauce similar to a beurre blanc.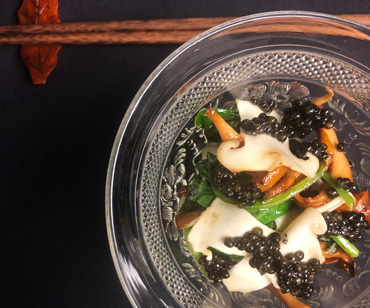 Of course, it's not just the creative approach applied to seafoods and vegetables that makes the dining experience special. While ingredients may be carefully sourced, prepared, and plated, the wines that accompany these dishes are equally important.
Restaurateurs are promoting wines that are as esoteric as the foods they serve, including varietals such as Sangiovese, Gewurztraminer, and Sancerre. This is certainly the case for Parke Ulrich, Executive Chef at Waterbar, a premier seafood restaurant situated on the water's edge in San Francisco. "We try to educate our guests, getting them to try both foods and wines that are different from their everyday." Ulrich continues, "We have found some remarkable varietals, including Riesling and Gruner Veltliner, that pair exceptionally well with many of our fish and shellfish dishes."
All of these chefs recognize that the success of a dish comes from more than just the protein at the center of the plate. What is abundantly clear is that the flavor and integrity associated with every ingredient, and the wines served, needs to be exceptional, allowing inherent qualities to be fully revealed and enjoyed.