Food
Sea of Blue
Explore surprising new places with a familiar favorite
Take a bite. With eyes closed, the bright blue waters of the Rhone are in sight. Dishes and menus with Mediterranean flair are rising in popularity, and as they do, a familiar fruit begs to come along for the ride. The humble- but-bold blueberry is more versatile than many realize.
The success of the blueberry itself seems to stem from its unique flavor profile, ease-of- use and versatility. Blueberries require only washing, and they preserve extremely well, which makes them season-agnostic. The berry's health benefits have long been touted, in fact 65% of consumers perceive a dish is healthier if containing blueberries*.
As U.S. chefs turn toward more global flavors, the fact that the blueberry is consumers' top preferred berry* simply makes selecting a dish that features it an easier decision. And in Mediterranean food specifically, the blueberry's tart-yet-sweet flavor profile is similar to that of a dried currant or elderberry, but with easier availability.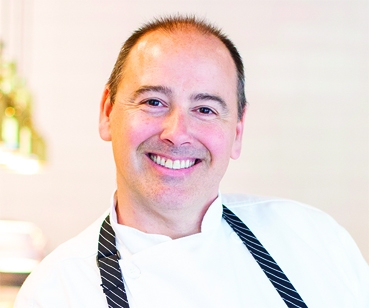 Inside Dallas, Texas' Sachet restaurant, chef Stephen Rogers was tasked with incorporating blueberries into his menu for a special Chef's Table lunch. The result was equally surprising and familiar. Chef Rogers was not only able to incorporate the friendly berry into his modern Mediterranean cuisine, he made those berries shine, bursting with flavors that would make you swear they'd been a part of his intensely flavorful recipes all along.
"I think that often we put ourselves in a box about what and where blueberries can be, like in a pie, for example. I found incorporating blueberries to be quite easy." Chef Rogers explained, "The fun part has been using blueberries in so many forms – including those freeze dried ones, which I nicknamed "blueberry popcorn" because of their crunchy, puffy, light and airy texture – like popcorn!"
Chef Rogers' blueberry-inspired menu reads like a highlight reel for the berry's versatility, beginning with a refreshingly herbal blueberry-thyme cocktail before making its way through mezes that included pickled blueberry-studded farro and crunchy, freeze-dried "blueberry popcorn" with roasted Marcona almonds and pistachios.
Main dishes featured Moroccan lamb chops with blueberry matbucha, quail lollipops topped with a bright and spicy blueberry glaze, and blueberry rubbed chicken thighs. The meal concluded with sweet Tunisian doughnuts or "Yo-Yo's," sprinkled with blueberry-cardamom sugar and drizzled with lavender honey, and almond cake with blueberry compote and lemon-thyme ice cream.
"Grinding the blueberries into a powder creates a flavor that reminds me of sumac because of its citrusy, lemony notes." That powder, when added into a rub, helped chef Rogers' chicken legs and thighs sing with intense, Mediterranean flavor.
When it comes to incorporating blueberries into new dishes and global flavors, Chef Rogers suggests diving right in. "Play around! While there were combinations that worked better than others, you truly can't go wrong when throwing in blueberries. Just have fun experimenting, because that's what I did. And the results were delicious."
*According to a 2017 USHBC Consumer U&A Study by SMS Research
For more menu inspiration on how to take blueberries further, visit blueberrycouncil.org/foodservice.