Sponsored Content
It's a Bluetiful World
Blueberries trek around the globe, enhancing menus and delighting palates along the way.
Experimenting with new ways to use ingredients in innovative preparations is simply part of the everyday for chefs across the country. Chefs become gourmet tour guides, taking guests on culinary adventures all over their menus. And when America's #1 preferred berry1 – the blueberry – is along for the ride, it gives guests something familiar to hold onto while their taste buds take flight.
During a culinary immersion program held by U.S. Highbush Blueberry Council, Chef Jamie Simpson of The Culinary Vegetable Institute had the opportunity to experiment extensively with the berry as he led a group of chefs in their culinary adventures.
Chef Jamie says, "Pairing foods with blueberries using volatile organic compounds exclusively uncovered unexpected natural affinities. We found a range of useful pairings from lovage to bay leaves to coriander seed to hyssop."
Of course, the possibilities for creativity become virtually limitless when you consider the many pure forms blueberries can take, from fresh to pureed, frozen to dried, freeze-dried to powdered. And with 59% of consumers interested in a wider variety of world cuisines2 these days, it pays to experiment with them all. Buckle up…
American Roots with Global Branches
Let's begin our trip as a sweet blueberry glaze makes its way onto a Japanese menu as part of the playful Tropical Paradise Roll at Umi Sake House in Seattle. Keep a close eye on the trail of fresh blueberries as they dance in a salsa with grilled pineapple atop Mexican goat empanadas at Girl and The Goat in Chicago. As our flavors traipse around the globe, from culture to delicious culture, we spot a fruit-studded twist on an Indian classic, the Blueberry Lassi at Passage to India in Harrisburg, PA, offering a welcome reprieve from a spicy, curried feast.
Despite their use in a broad range of applications in cuisines spanning the globe, the majority of the world's blueberries are harvested right here on U.S. soil. With blueberries being a zero-waste ingredient in the kitchen with year-round availability, plus the many health benefits, it's no wonder 52% of consumers perceive a menu item with blueberries as "more appealing" than similar items that do not contain blueberries1 and 39% of operators agree that their customers are more likely to purchase menu items containing blueberries3.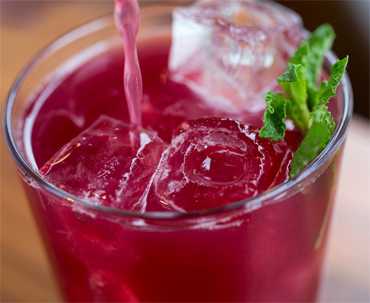 Not Without a Nightcap
Tuck inside Meril in New Orleans to taste an Italian cocktail called the No. 52, featuring bourbon, a house-made blueberry shrub, hibiscus syrup, Cocchi Americano and barrel-aged Peychaud's bitters. The unmistakable flavor of a blueberry, with its slightly tart exterior and sweet juice can accent so many flavors from around the world without overpowering the composed dish or cocktail.
If, after this world tour of flavors, dessert is still on the table, consider a visit to LOCAL in Dallas for a taste of their warm blueberry cake with Madeira-spiked blueberry compote. The Madeira wine's Portuguese origin adds a global finish to a comfortingly sweet ending.
1U&A Study conducted by SMS Research on behalf of the U.S. Highbush Blueberry Council, 2017
2"Blueberries + The World of Food Trends" presentation by Menu Matters, 2018
3"Blueberries in Foodservice" USHBC Operator Omnibus conducted by Datassentials, 2019