Sponsored Content
How to Build a Restaurant Kitchen, According to Daniel Boulud
The master chef's secrets to success and advice to the next generation of restaurants.
In 2018, master chef Daniel Boulud celebrated the 25th anniversary of his flagship restaurant, Daniel. But this is just the crown jewel of a culinary empire that spans across nine cities on three continents. Besides the iconic Upper East Side restaurant, Boulud's Dinex Group runs over a dozen other properties that range from white tablecloth to fast casual.
Still beaming from Daniel's quarter centennial, Boulud sat down with us to share how he manages these restaurants and builds the kitchens at their core. For Boulud, success is a matter of making those standards as achievable and scalable as possible. And at 64 years old, he isn't resting on his laurels.
Quality Comes First
"I don't care if a young chef's only prior experience is working in a New Haven pizzeria," he says, "as long as they have a commitment to quality. Even in the most casual way, that's the most important thing." Quality, he continues, isn't a matter of raw cooking skill; chefs who thrive in fine dining restaurants may not be right for the high energy of a bistro kitchen, and vice versa. Rather, "we teach people to become an asset to their own station, then the kitchen and full restaurant, and we see them growing in different directions."
Invest in Your People
With a full spectrum of restaurant formats, Boulud is able to nurture young chefs with a range of skills and, critically, retain promising talent. Dinex employees are given opportunities to transfer between restaurants; one case a few years back involved a cook in the Toronto Cafe Boulud who wanted to improve her skills at Daniel in New York. After successfully cooking through a few seasons, she was offered a sous chef position at another Dinex post, DB Bistro. "We told her, 'It'll be a different style of cooking, a different experience, but one we think is perfect for you.'"
For Boulud, this kind of skill-building is crucial to keep his restaurants on the bleeding edge. "You don't just find talent, you build talent. You bring them to a point where they can take responsibility and find opportunities to grow."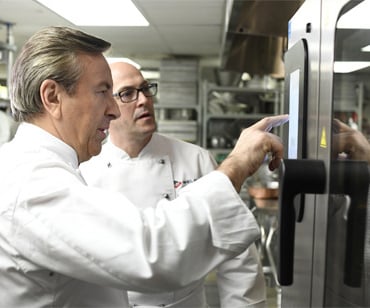 Technology is Your Friend
Boulud has spent years collaborating with equipment manufacturer Welbilt, Inc. to commission high tech equipment that makes complicated cooking tasks a snap. At Daniel, a Convotherm 4 combination oven can steam duck breast over low heat to gently cook it through and render a bit of fat, then blast it on a specific "crispy and tasty" function to achieve a laquer-like crispness in the skin, then surround it with ambient warmth so the meat can rest without ever leaving the oven. Other restaurants might demand two or three tools to do what Boulud can do in one, and after running extensive tests with Welbilt's engineers, Boulud and his team have been able to eliminate much of the guesswork that comes with high performance cooking. "The old-fashioned way is that you open the oven door every five minutes to feel around, and you put it back if you feel it needs more. But once you create a program for a dish which you know will be consistent, the technique becomes consistent."
"We choose to be savvy about technology," Boulud continues, "not to replace the chef with robotics, but to help them with precision and efficiency." With dozens of custom settings backed by sophisticated engineering and real-world testing, "you can create recipes based on the performance of your oven that work for you. We've done the development with Welbilt to make sure our programs are exactly what we want, not a pre-programmed setting.
For Boulud, the goal isn't technology for technology's sake. It's about using high performance tools to automate the time-consuming tasks. "It gives you the comfort of being able to cook consistently and precisely without the stress of guesswork," he says, noting features like easyTouch controls on his Convotherm and Merrychef ovens that make their operation practically foolproof.
Daniel Boulud's Kitchen Essentials
Convotherm easyTouch® 6.20 Combi Oven: A 7-rack multifunction oven with several steam and dry heat modes, giving the chef freedom to use three or four cooking methods for a single dish without ever opening the door. An Advanced Closed System+ guarantees perfect, even steam and humidity as well as fast heat transfer. At Daniel and Bar Boulud, the ovens include smoker and sous vide options; Welbilt also produces larger commissary styles with greater capacity for fast casual restaurants.
Merrychef eikon® e2s High Speed Oven: The heroic machine at Epicerie Boulud that allows the chef's team to transform pre-made refrigerated sandwiches into fresh-from-the-oven meals. Tuned impingement, microwave, and convection heat combine to rapidly turn breads hot and crisp without overheating fillings, and as the quiet system requires no vent or hood, it's easy to incorporate into front-of-house designs. Over 1,000 programmable profiles let a chef de cuisine set exact parameters for staff to execute with minimal training.
Mark7 Refrigeration by Delfield and Kolpak: A kitchen's food safety practices are only as smart as its fridge. Boulud has collaborated with two refrigeration leaders to build customized walk-in refrigerators and freezers for to guarantee temperature control and food safety with minimal risk of freeze-thaw damage to ingredients.
Bringing Innovation to the Table
​Learn more: www.welbilt.com