Supplier News
Hand IQ Helps Restaurants Make Customers Feel Safe with World's First Smart Hand Hygiene Assistant 
The outbreak of Covid-19 last spring brought with it many disruptions and changes—most of them unpleasant—to our daily lives and routines. Among the businesses most adversely-affected by the pandemic's reach were restaurants, bars, and other eating and drinking establishments. These changes: wearing masks, more frequent and longer hand washings, practicing social distancing, and reducing or eliminating indoor dining, were difficult to accept, but necessary.
As we slowly move forward in this New Normal, all industries are finding a renewed emphasis on hygiene, sanitation and cleanliness in public spaces. By necessity, those in high areas of personal human contact—such as restaurants—have put customer and employee safety and hygiene at the top of their concerns.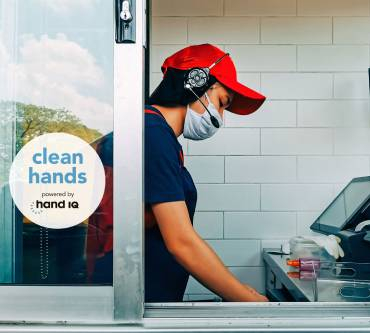 According to the Centers for Disease Control & Prevention, the number one way to stop deadly diseases like COVID-19 from spreading is to wash or sanitize your hands frequently. The spread of germs from the hands of food workers to food is a common cause of foodborne illness outbreaks in restaurants. Almost 90% of foodborne illnesses could be prevented by proper handwashing. If everyone routinely washed their hands, 1,000,000 deaths a year could be prevented.
Solutions-oriented supplier companies who cater to the food and hospitality marketplaces have learned that combining technology with data can offer innovative and measurable ways to improve employee hygiene in both front and back-of-the-house applications. Those are among the driving forces behind Hand IQ, a California-based start-up company looking to make compliance with new health and safety rules for restaurateurs and chefs easier for their customers and for owners themselves.
Sean Podvent, Founder/CEO of Hand IQ, spoke recently with Plate about Hand IQ's purpose and plans. "Our mission is to save 1,000,000 lives in 10 years by building a culture of clean hands through the global use of our device. When we first started developing the technology for hospitals back in 2017, we wanted to find a way to take something mundane like handwashing and make it fun. Since the outbreak of COVID-19, we've been focusing on bringing our tool to the industry segment that needs it most right now: restaurants."
Hand IQ is committed to helping restaurants and other foodservice and hospitality venues rebuild customer trust with the use of its smart hand hygiene assistant–a device that attaches to soap or sanitizing dispensers and individually encourages people to wash their hands in shared spaces. Podvent began trials of Hand IQ in hospitals and healthcare to great success.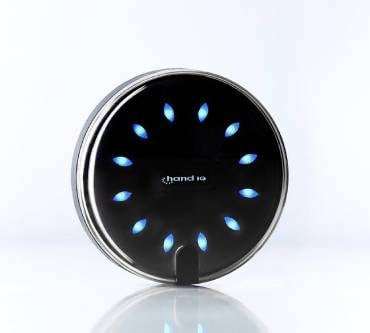 Now Hand IQ is gearing up to serve the restaurant and foodservices markets, with the long-term goal of making their technology available for consumers in their homes. The foremost aspect of safe hygiene is to properly and thoroughly wash hands. Hand IQ uses visual and audio cues to remind and to track team and individual compliance, thereby creating a custom data dashboard with real-time reporting to leverage marketing value and to build consumer trust.
When it comes to re-opening restaurants, consumer studies show that safety takes precedence over every other attribute, including visiting a favorite restaurant, quality of food and affordability. Restaurants need to visibly demonstrate the extra hygiene measures they've taken so their customers feel safe. Hand IQ offers a high-tech, low-cost and entertaining solution for restaurateurs to signal their commitment to the safety of both their customers and their employees.
To learn more about Hand IQ, please click here www.handiq.co.