Chefs and Restaurants
Restaurateurs Pin Their Winter Dining Hopes on Greenhouses and Heaters
On the evening of June 25, when the city of Chicago announced the handful of streets that would have expanded outdoor dining capacities for restaurants, Sophie Huterstein, owner of the British manor-inspired cocktail den The Darling, sprung into action. As a non-U.S. citizen (she was born in Germany and grew up in England), she didn't qualify for any local or federal relief. She took what little money she had and bought materials to construct 10 private greenhouses, modeled after those at the Amsterdam restaurant Mediamatic ETEN.
"I'm a solo owner putting everything in, so for me there's not much of a choice but fighting to survive," Huterstein says. "But I thought if we're going to even dare to reopen under such dangerous conditions for everybody, this was a lovely way to promise as much as we could to do our part to keep guests and staff safe."
Over a week and a half of 12-hour days in the sweltering July heat, Huterstein and her small staff built the enclosed, clear structures that would house bistro tables and chairs for up to four and be sanitized from top to bottom between reservations.
Within a week of opening up reservations, the greenhouses, dubbed Rose Gardens, were booked solid for months out. Soon after, Huterstein received notes from overtaxed healthcare workers grateful to have a place where they feel safe enough to dine out. She and her team built four more greenhouses, but by August, she was already tackling the next seemingly unsolvable problem: how to heat pods made of plastic and metal in a safe, eco-friendly and cost-effective way to keep her restaurant going through Chicago's notoriously unforgiving winter.
Survival is the question facing all operators these days, and there's no doubt that extending and expanding outdoor dining represents a financial lifeline. New York City Mayor Bill de Blasio deemed it critical enough to make the Open Restaurants Program—which allows outdoor dining on the city's streets—permanent last month, including guidelines for heating outdoor areas in colder months, such as allowing propane and natural gas heaters on sidewalks but not streets.
Since the pandemic hit the U.S., carryout accounts for 30 to 40 percent of business at Steven Brown's new American bistro Tilia in Minneapolis, but the eatery's eight outdoor tables helped him keep the lights on through summer. As October brings a biting chill the moment the sun goes down, he's hoping to extend alfresco daytime dining through brunch—historically strong for the eatery in fall and winter. He bought propane heaters for the sidewalk and alley patios, and debuted a focused, indulgent menu that includes a warm coffee cocktail.
"If we can get someone to spend $25 instead of $20, five times, 20 times, 200 times in a week, that'll help," he says. The goal? "To make it through the next year and see where we are. If I can lose $10,000 instead of $40,000, I can live that much longer."
He's also hosting a few low-key outdoor events in collaboration with fellow local businesses to draw business. In September, it was a fundraiser for a local charity featuring (donated) grilled brats and local beer; attendees bought tickets for 30-minute time slots (with a maximum of 25 people per slot). And he's working on a mobile pizza tour with local eatery Red Wagon Pizza, his sibling restaurant St. Genevieve, and the former pizzaiolo at Surly Brewing Co., which closed last month.
"It gives the neighborhood a sense of community and reminds them that we're part of that community; we live here, too," Brown says. "With the longer-term trend of people continuing to work remotely and enjoy it, we're trying to respond business-wise as a neighborhood restaurant."
Chicago's The Publican made its annual Oktoberfest event al fresco—a proverbial springboard for how to stretch the outdoor season at parent group One Off Hospitality's seven restaurant and bar concepts. So far that encompasses adding more heat lamps and workshopping comfy brasserie-inspired menus featuring items like long sausages on crispy buns and deep bowls of mussels. Meanwhile, the group continues to push takeout and to-go cocktails and established a weekly supper club subscription for a nearby suburb, while simultaneously working through costly wine and liquor inventories at long-standing concepts Avec and The Violet Hour with offerings like the Hand Warmer, a fall-friendly mug of warm apple brandy, Campari, bitters, honey, pomegranate, lemon and nutmeg. It's an exhausting exercise of maintaining cash flow while keeping staff and guests safe in a year that's so far brought in less than a third of revenue (including the months pre-COVID) compared to normal and saw the closure of both the group's stalwart fine-dining restaurant Blackbird and its highly regarded Café Cancale.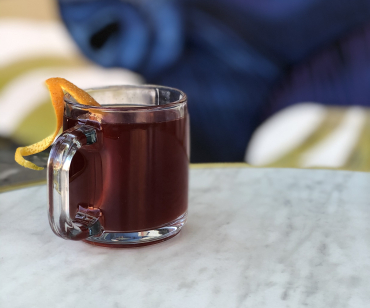 "All our teams are working, whether on wine or urban dinners. We have great people coming up with great ideas," says partner Terry Alexander. "But we are basically paying bills from a few months ago right now. Moving into the fourth quarter and Q1, when normally our checking accounts are packed, we don't have that luxury of having money in the bank."
Back at The Darling, the multi-floor interior reopened with very limited capacities, and Huterstein remains committed to the greenhouses through winter—so long as the precipitation doesn't come in sideways. She set up heat lamps outside the pods, which she is decorating to reflect the changing seasons. Diners' $10 reservation deposits come with the option to purchase a custom blanket, and the menu features mainly hot cocktails in cute disposable cups, from caramel apple mulled wine to hot black Manhattans. The food honors Huterstein's German roots and delivers indispensable comfort: think soup in bread bowls and giant pretzels with raclette cheese. Her business goals are simple: Survive the pandemic without taking on more debt or having staff worry about how they're going to pay rent.
"When this is all over and we are hopefully still standing, and people are dealing with PTSD from what's happened, we have a responsibility to be there and cheer everybody up," says Huterstein, who grew up in the restaurant business. "I've been hearing stories from my family about what happened after (World War II). Everything was so demolished; all people had was a good meal. So as long as we can, let's keep people safe and guests smiling. I will worry about profitability next year."
Maggie Hennessy is a Chicago-based restaurant critic and freelance writer.