Food
These Breakfast Sandwiches Go Way Beyond the Usual Bacon, Egg, and Cheese
Once the New Year's resolutions to detox/drop gluten/whatever fade away, winter is the perfect time to dig into robust breakfast sandwiches. We found examples across the country that go way past the usual egg-and-cheese, including offerings with anchovies, za'atar, and candied salmon. Here are a few breakfast sandwiches with dinner-level creativity: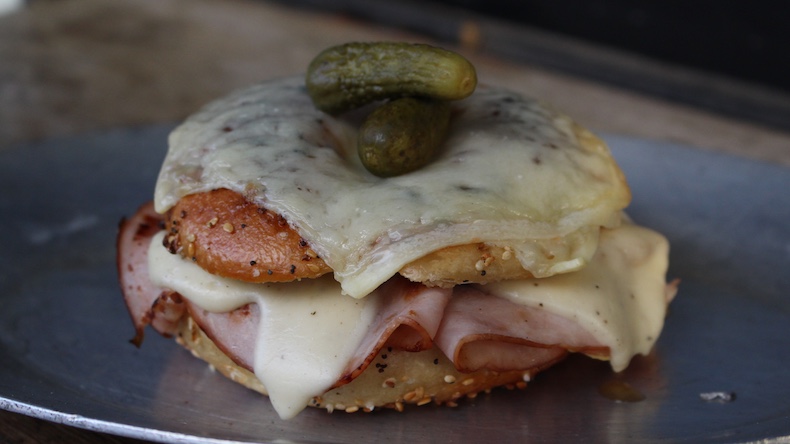 New York City's Black Seed Bagels' executive chef Dianna Daoheung partners with a different chef every month to create a special bagel, and the variety has been mouth-watering. For January, Daoheung worked with Manhatta's Jason Pfeifer to create the Croque Monsieur Bagel Sandwich, a decidedly knife-and-fork affair in which an everything bagel is spread with mustard and Mornay sauce, layered with ham and Gruyere, and topped with melted cheese and cornichons.
Black Seed's Daoheung also partnered with Huertas' Executive Chef/Owner Jonah Miller; the pair was inspired by the Basque region of Spain and Jewish appetizing traditions to create The Huertas Matrimonio Bagel, made with manzanilla olive cream cheese, boquerones (white anchovy), anchoas (black anchovy), and piquillo peppers on a Black Seed garlic bagel.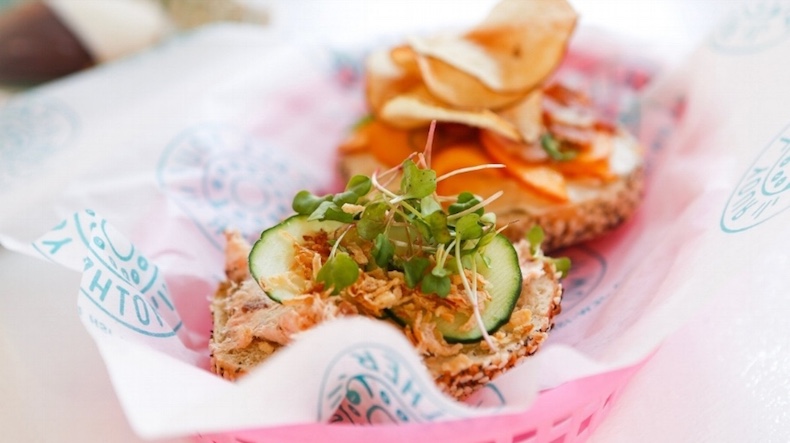 At Call Your Mother in Washington, D.C., The Amar'e (front) is a sophisticated sandwich option; a za'atar bagel is spread with candied salmon cream cheese and topped with sliced cucumbers, crispy shallots, and micro-radishes, while the Craig D (back) goes the salty-sweet route with a plain bagel slathered with apple cream cheese and topped with apple, bacon, jalapeño, and chips for some crunch.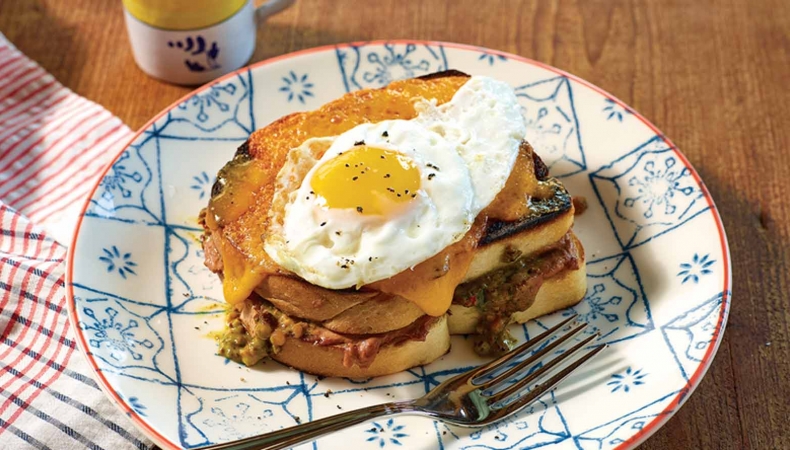 The Egg Sandwich Kejriwal (recipe) at Somerville's Juliet is a play on two classic dishes—a croque-madame and eggs Kejriwal, an Indian sandwich with melted cheese and chilies. Juliet's sandwich features liver mousse and a chutney made with cilantro, chickpeas, and mustard seeds, and comes topped with melted Cheddar and a fried egg.
The "gas station sandwich" at Chicago's City Mouse in the Ace Hotel may take inspiration from a low-brow dish, but starts with Chef Pat Sheerin's light and airy housemade English muffin, which is filled with crunchy hash browns, an egg, cheese, grape jelly, and sausage patty.