Food
Shake Up Your Bar Menu With These 5 Unexpected Snacks
Call them bites, snacks, or straight-up snackles à la Al's Place in San Francisco, it pays to offer a section of interesting bar bites to entice guests before they sit down for dinner or a few happy hour rounds. And if you get creative than just spiced peanuts or basic pretzels, your bar crowd will flock for more than just the drink specials. Take a nod from places like Bar Ramone in Chicago and Banshee in Atlanta who are bringing potatoes to places that go beyond a bowl of seasoned chips, or Katana Kitten in NYC where the sharable late-night Japanese katsu sando comes with panko-crusted mortadella, tonkatsu sauce and more.
Mortadella Katsu Sando, Katana Kitten, NY
People may come to New York City's Japanese-American cocktail bar, Katana Kitten, for the yuzo-shio daiquiris and shiso gin and tonic highballs, but they stay for the sharable bar snacks like panko-crusted mortadella katsu sando smothered with tonkatsu sauce and Dijon, and served on pillow-y daiichi milk bread. "When creating the menu I got a lot of input from our mixologist, Masa Urushido," says Director of Culinary Operations Nick Sorrentino. "His idea was to mesh traditional Japanese izakaya and snack foods with American bar food." We're pretty sure it worked.
---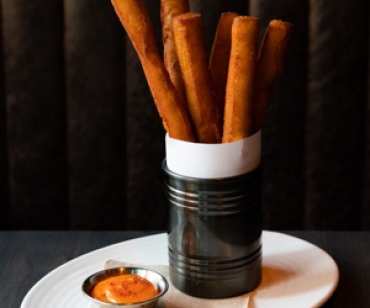 Patatas Bravas XL Fries, Bar Ramone, Chicago​
At Bar Ramone in Chicago, Alexander Trim turns traditional Spanish patatas bravas into a bar-friendly bite. He mixes potato purée with egg until it sets, then cuts and fries the long pieces until golden and crispy on the outside and fluffy on the inside. He serves them with a kick-y garlic aioli mixed with smoked a sweet paprika, onion, harissa, and cayenne. "It's our play on patatas bravas, but also a twist on the popular Japanese 'long fries,'" says Trim.
---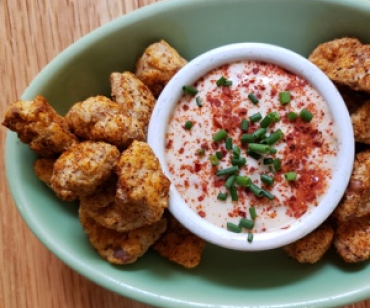 Fried Walnuts with Maple-Mustard Aioli, Perch + Plow, Santa Rosa, Calif.​
It was in a Chinese cooking class in culinary school when Forest Kellogg played with walnuts as a protein alternative. "We used fried walnuts in place of sweet and sour pork or chicken and it was a cool thing I kept in my back pocket," he says. The idea came in handy again this fall while conceiving a new snack at Perch + Plow in Santa Rosa, Calif. To coax a chewy, protein-like texture out of walnuts, Kellogg soaks them in buttermilk for two hours then fries and seasons them with a Cajun spice blend. "The walnut flavor can get lost in the fryer so the spices help bring it out," he says. A maple-mustard aioli made with housemade pickled mustard seeds and Dijon is just as complementary to the crunchy meat-free poppers perfect for your game-day guests.
---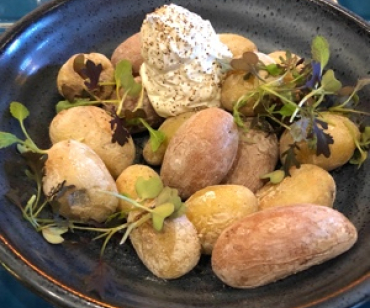 Salt Mine Potatoes, Banshee, Atlanta
Salty pretzels at the bar are snooze-worthy, but offer your guests a bowl of salted potatoes with crème fraîche and baby greens and you've got their attention. At Banshee in Atlanta, Nolan Wynn simmers small, thin-skinned new potatoes in water that has been more than generously seasoned with salt—think ocean salty, and not even the nearby Gulf Coast but that extra salty water you find off the coast of Europe. All that salt crystallizes on the skin of the potatoes, lending them a sparkly sheen after they're pulled from the water. The result is a memorable bar snack that's light and fluffy inside, but perfectly seasoned outside.​ — Chandra Ram
---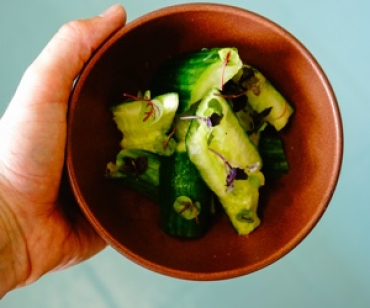 Cracked Cucumber, Al's Place, San Francisco
From chickpeas in romesco to bean chawanmushi, the "snackles" section of the menu at Al's Place in San Francisco takes an anti-bar snack approach (read veg-forward and fermented rather than simply fried). The lightest of the bunch is the cracked cucumbers, a dish Aaron London learned to make while staging at YardBird in Hong Kong. "You give a wack with the base of your hand to a small, dense cucumber like a Japanese or Mediterranean variety," he says. "Then you tear the cucumber apart along the crack lines and it creates an interesting texture." The craggy edges are also ideal for holding onto sauces like the accompanying peanut sauce London makes in-house with toasted peanuts that he vacuum-seals with galangal and pineapple for 12 hours.
Related articles:
At Chicago's Lost Lake, Tiki Snacks Go Way Beyond Crab Rangoon and Pu-Pu Platter
From Chips to Deviled Eggs, Retro Snacks are Back