Food
Rhubarb Brings Tartness to Cheesecake, Cocktails, and More
Rhubarb's tart flavor makes it a natural fit for both savory and sweet dishes alike and the rhubarb dishes popping up on menus this season go way beyond the classic strawberry-rhubarb pie. At Chicago's LH Rooftop, Executive Pastry Chef Samantha Santiago Torres makes a summer version of baked Alaska with chocolate and rhubarb ice cream and pistachio sponge cake, while at Espita Mezcaleria in D.C., the Vinny Rhubarbarrino doubles down on rhubarb by using both fresh rhubarb and rabarbaro, a rhubarb-based amaro, in the shaken tequila cocktail. Here are recipes and ideas for all sorts of rhubarb dishes and drinks, including burrata with rhubarb jam, rhubarb cheesecake, and scallops in rhubarb broth.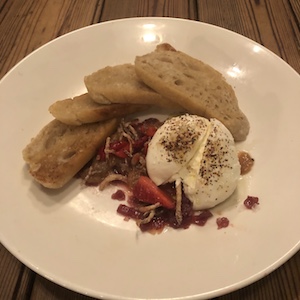 Burrata with Red Onion Aigre-Doux, Rhubarb Jam, Marinated Apples, and Crispy Shallots at Rhubarb, Asheville
At Rhubarb in Asheville, N.C., Chef/Owner John Fleer serves goat cheese burrata atop rhubarb jam. Marinated apples add sweetness and crispy shallots add crunch, while toast points come alongside to scoop it all up. The restaurant also serves a rhubarb mignonette with its raw oysters.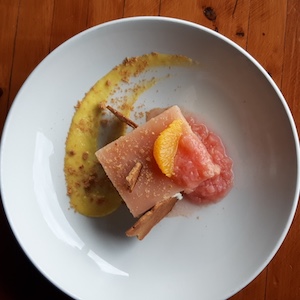 Rhubarb Cheesecake at Grey Ghost Detroit
At Grey Ghost Detroit, pastry chef Wendy Watson serves a rhubarb cheesecake that she says is "inspired by the strawberry pretzel parfait that your grandma may have brought on family picnics: pretzel crust, cream cheese, Cool Whip, and strawberry Jell-O with strawberry slices. It is unbelievably good." To make the restaurant's cheesecake, Watson says she "wanted to replicate a little bit of that dessert with the pretzel crust and rhubarb gelee. It has that salty, sweet combo with the pretzel crust and pretzel tuile. The rhubarb and the oranges help to cut through the heaviness of the cream cheese and balance out the whole dish."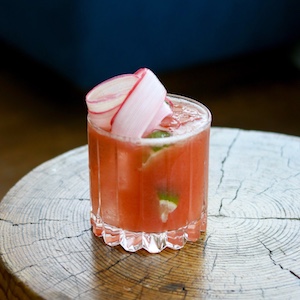 Strawberry Rhubarb Caipirinha at Jimmy at The James, New York
Jimmy, the cocktail bar at The James Hotel in New York, serves a caipirinha that sticks with the traditional elements—cachaça, lime, and sugar—but adds strawberry rhubarb to boost the sweet-tart flavor. A curl of shaved rhubarb tops the glass.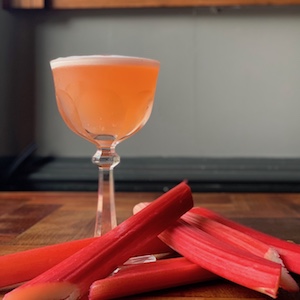 One Trick Pony at Billy Sunday, Chicago
At Chicago's Billy Sunday, beverage director Stephanie Andrews frequently uses fresh produce in her cocktails, and rhubarb is no exception. The current rhubarb cocktail is One Trick Pony, which features a base of Finnish rye gin, which adds some spice to the fresh rhubarb, lemon verbena, and lemon. Italian bitters lend a hint of bitterness to the finish.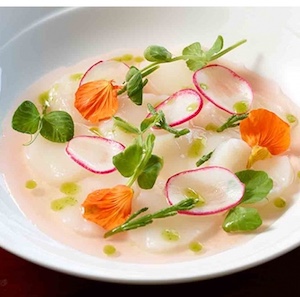 Live Scallop With Rhubarb Sinigang Broth at Perla, Philadelphia
At Philadelphia's Perla, 2017 Chef to Watch Lou Boquila makes a broth by simmering rhubarb with onion, garlic, bay leaves, and peppercorns, then adding fish sauce and chilling it. The resulting broth is the base for the rest of the dish, which includes thinly sliced scallops with sea beans, radishes, micro chickpea greens, and nasturtium. Get the recipe here.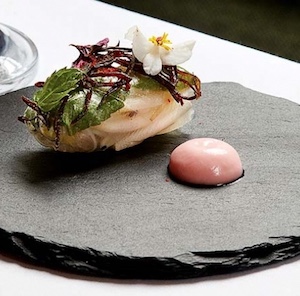 Langoustine Spring Roll with Shio Kombu, Rhubarb, and Mint at Oriole, Chicago
At Oriole, 2016 Chef to Watch Noah Sandoval wraps poached langoustine into a spring roll with enoki mushrooms, bean sprouts, black radish, and herbs, and accents it with tart rhubarb gastrique that he serves alongside it as a dipping sauce. Get the recipe here.