Food
Tableside Cart Service is Making a Comeback in All Kinds of Restaurants
It used to be that cart service was something you'd only expect at a steakhouse, a French fine dining spot, or a dim sum restaurant. But today, trolleys are rolling around all kinds of restaurants, carrying everything from cheffy dumplings and chocolate chip cookies to just-whisked sgroppino and red corn Johnny cakes.
This old-school service style is most often used for an elaborate tableside preparation like boning a dover sole, or to display an array of options for diners. Enterprising chefs are adapting these practices for modern settings to help them stand out from the crowd and provide a more flexible dining experience.
In some cases, tableside service is the best way to offer dishes that should be served immediately. Feroce Ristorante at Moxy Chelsea in New York City brings back an age-old tradition with a custom sgroppino cart. The wooden cart has a steel bowl insert, where vodka, Prosecco, and lemon sorbet are whisked together to create the refreshing cocktail-dessert hybrid. "In Venice, it's always done tableside because it needs to be assembled in front of the guests," explains beverage director Pietro Caldarelli. "It's not something that you can stock. It's something that you need to do right away and serve right away.
When Chef Ryan Ratino decided to juxtapose a 19th century French technique with his quirky and relaxed dining room at Bresca, his upscale bistro in Washington, D.C., a duck press was the answer. Servers roll the brass contraption out to the table, where the duck carcass is pressed and the juices are turned into a rich blood sauce to accompany the meat. "It's a standout for the restaurant," he says. "For us to kind of reintroduce something so classic and traditionally presented in a more stuffy or higher end environment…and bringing that serious cooking to a place where you could have a great time and feel no pretense."
For others, the engaging, interactive cart service is a way to set the restaurant apart and differentiate the dining experience for guests. "A lot of restaurants do provide really great service and really great food, and for us, I thought just good food and good service wasn't enough," says Kevin Tien, chef/owner of Emilie's in Washington, D.C. They offer a pickles and ferments cart and a dessert cart to supplement a menu of small plates and large format family-style dishes; a crudo cart is planned for later in spring.
"It creates a conversation around the table, whether it's conversations with us as the restaurant to talk about the food that's on the cart, or it's with your guests at the table," Tien adds. He chose to focus on dim sum-style carts and shareable mains to honor his own family traditions around the table.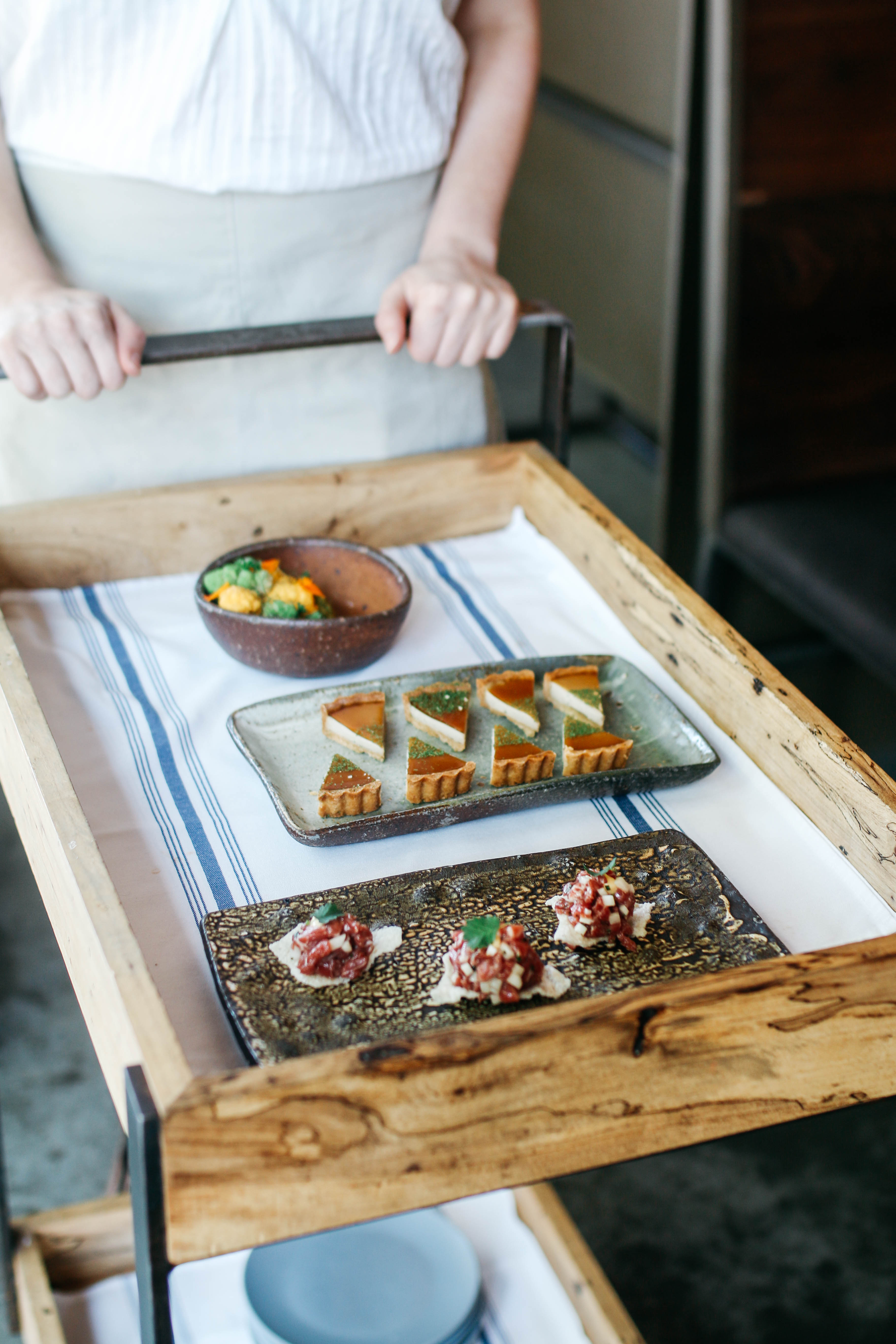 "We use the dim sum cart as a way to fill in courses and add the sides and little bites," Fink says. "The menu works on its own, and then the cart service just adds to it." The carts come in waves, starting with small bites like red corn Johnny cakes with cauliflower kraut, Texas gold Cheddar, crème fraiche, and turnip, then bread service with spreads, followed by composed small plates.​Kevin Fink of Austin's Emmer & Rye was also drawn to the interactive nature of cart service, but says he also appreciates the control it affords him over the pacing of a meal. A meal begins with the server taking orders from the menu of savory plates, and then the guests are presented with roving carts showcasing a variety of specials, helmed by servers explaining each dish.
At San Francisco's State Bird Provisions, the offerings are similarly divided into a section of off-menu plates on carts (called provisions), plus savory toasts, pancakes, and larger dishes. Chef/Owner Stuart Brioza chose to incorporate cart service because he wanted to make the concept of sharing small plates more functional for diners and the kitchen.
"In dim sum restaurants, you eat with your eyes first," he says. "You see it as it comes to your table and you can make a very quick decision. It becomes very easy for people to order." The provisions at State Bird are priced from $3 to $12, making it easy for diners to select a multitude.
Plating dishes for a cart is also simpler for the kitchen. "It takes the same amount of effort to make two of something as it does to do six," Brioza notes.
Brioza describes the food at State Bird as the evolution of California cuisine, with an emphasis on seasonality, especially in the provisions section. "For some things, I'll only have six plates of something, and it's not printed," he says. "We just put it out and it's sold. It's here and gone."
He takes advantage of this flexibility to test dishes before putting them on the menu and to play with zero-waste preparations, incorporating vegetable tops and stems. "We can sell every bit and bobble we have," Brioza says of the flexibility carts offer him as a chef.
Of course, there are physical considerations to consider when thinking about adding cart service. You have to take into account everything from the size of the carts, to having enough space between tables and a clear path for each cart to take around the dining room. In designing Emilie's, Tien sacrificed 40 seats in the dining room to make sure the aisles were wide enough for carts to pass through easily. At Bresca, Ratino limits the duck press to four tables per night on a first-come, first-serve basis to make sure they can properly execute the service on the carts.
You also have to keep track of the cart's path, so guests aren't asked about the same dish over and over again. Fink keeps close tabs on guests and their progress during the meal at Emmer & Rye. "We have a chart that shows how many customers are sitting, how many people have seen this particular item," he says.
And, of course, you have to keep the food warm … if not hot. Brioza serves barbecue ribs in a heated Japanese donabe clay pot. "It sits on a trivet and then the servers open it up," he explains. "It's kind of dramatic and steam comes out."
Despite the logistical challenges that come with cart service, chefs say it's worth the extra effort. "This is definitely a labor of love," Tien says. "I'm hoping this makes us unique and that it's an opportunity for somebody to remember this meal five years from now."
Lani Furbank is a Washington, D.C.-based food and travel writer. Find her on Instagram at @lanifurbank.