Food
Mezze Brings People Together at the Levantine Table
Robert Curtis knew he was annoying his wife, peppering her with questions about every bite he tasted. But the chef couldn't help it; it was his first trip to her native Istanbul, and his first introduction to mezze, the endless array of cold and hot shared dishes that's a way of life across the Levant.
"I don't think I was ready for it," says Curtis, executive chef of the Turkish- and Mediterranean-inspired Hazel in Washington, D.C. "I started tasting all this food and I got that wide-eyed, open-mouthed look, like a kid."
Visiting the city's many restaurants or meyhanes (taverns), they'd choose their mezze from glass cases or large silver trays roving the dining room. They sipped vodka or raki while awaiting the arrival of chilled dips like muhammara and haydari, the pita-like laffa bread, salads, fried eggplant layered with tomato, kofta, and more. A soundtrack of music, laughter, and the percussion of tinkling glassware mirrored the brightly colored plates filling the table.
Far more multifaceted than the hummus-centric "cold starters" designation it receives on Western menus, Levantine mezze is, at its heart, a social event centered on small, composed plates.
"There's a harmony that sometimes gets lost in Western interpretations," says Anissa Helou, who wrote Feast: Food of the Islamic World (HarperCollins, 2018) and Modern Mezze (Quadrille Publishing Limited, 2008). "The idea of mezze is to combine different flavors, colors, textures—going from hot to cold, or lemony to spicy, or crunchy to soft. Like Korean banchan, it's an interesting way of eating, where your taste buds are very alert."
Mezze is found throughout the Levant, from Syria to Jordan, Lebanon, Palestine, and Israel. Dishes vary by region, sometimes minimally; dried mint infuses Syrian tzatziki, instead of the fresh dill or chopped garlic that seasons Turkish and Israeli versions. It's hard to pinpoint mezze's origins, though Helou credits Ayla Algar's Classical Turkish Cooking with being among the first to trace the term to the Persian verb "maza," or to taste many dishes within a single spread.
Since Curtis took the helm at Hazel last year, he's tried to capture that joyful spirit. He structured the Turkish-leaning menu to be shared, with housemade laffa acting as the focal point for dips and small- and large-format vegetables, grains, and meats. His carrot haydari—in which shredded carrots are softened in olive oil, then folded into yogurt with garlic and herbs—doesn't stray far from what you'd find in Istanbul (recipe).
Then again, his wife balks at his muhammara, which he subversively laces with smoked sweet paprika. The spice is bloomed in oil with cumin and coriander, blended with walnuts, roasted piquillo peppers, and lemon juice, then folded into strained yogurt with breadcrumbs and chilled. He makes a vegan çig˘ köfte, replacing raw beef with hydrated bulgur, which he perfumes with Urfa pepper sofrito, tomato paste, pomegranate molasses, lemon, and mixed herbs, then finishes with puffed bulgur and marinated cucumber.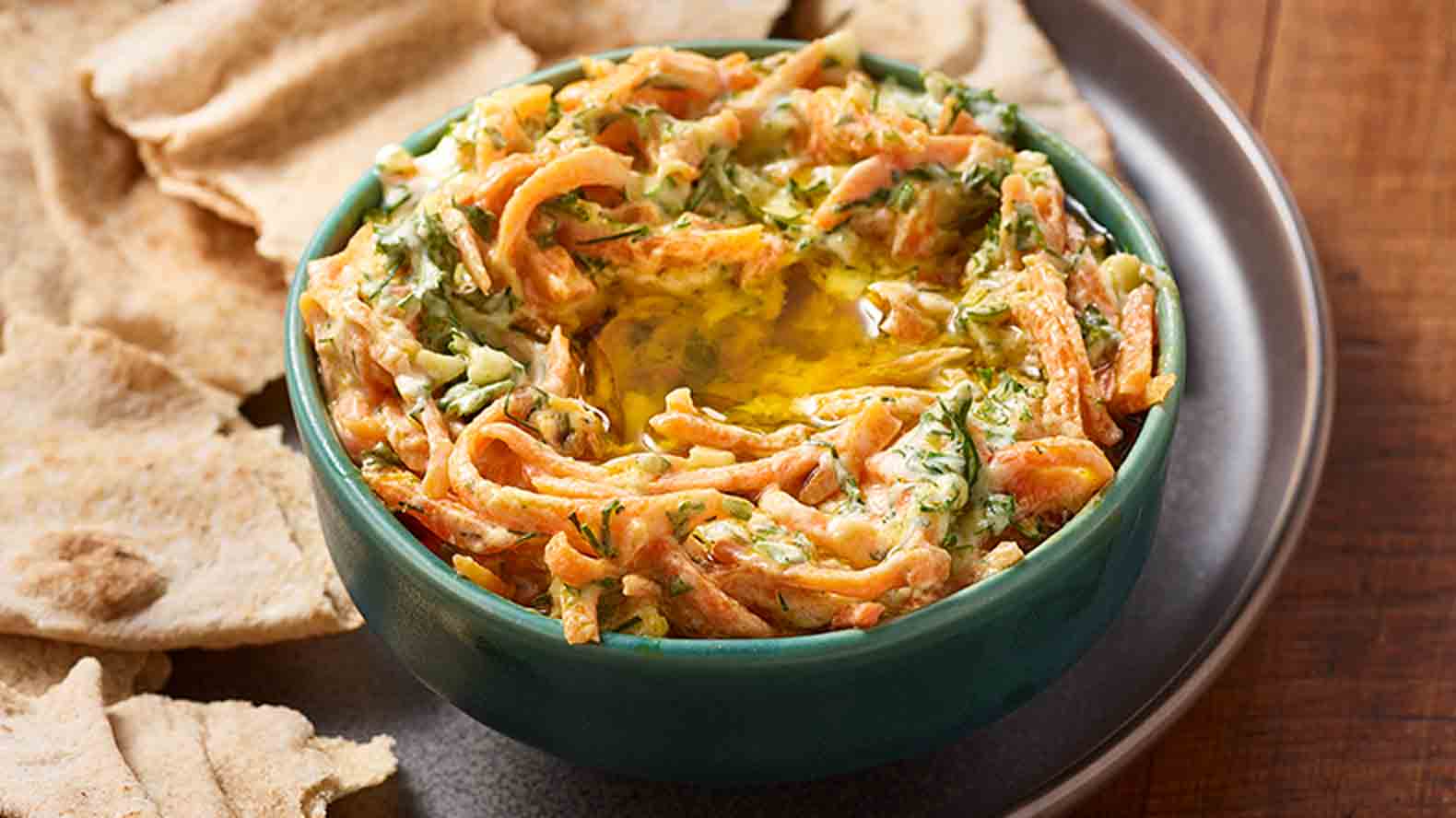 At meyhane-homaging Sarma in Somerville, Mass., Chef/Owner Cassie Piuma similarly aims to channel the "gritty, perfectly imperfect energy and connectivity," of Turkish taverns, marrying a swath of Middle Eastern flavors with New England products and modern techniques across several shareable categories, including mezze, sarma ("wrapped"), and shish.
The mezze alone comprises a baker's dozen of warm and chilled plates, from spicy calamari couscous to crab-and-red-lentil kibbeh and fava bean pâté (recipe). The pâté is made by simmering dried Turkish favas with aromatics until soft and puréeing them with olive oil, garlic, and lemon. Once chilled and thick, it's cut into slabs and topped with raw red onion, capers, dill, and fresh fava beans. Piuma's trout taramasalata combines house-smoked, flaked trout with garlic, lemon, yogurt, dill, and decidedly nontraditional cream cheese, and is served in a Mason jar with cucumber and tomato salad, grated egg mimosa, and buttery scallion malawach (Yemenite fried bread). A few roaming specials circulate on one of the silver trays Piuma's team lugged back from Istanbul to replicate this special style of service.
"The idea is to forget the time and enjoy the company of friends," she notes.
Notoriously elaborate Lebanese mezze is something of a national sport. Snacky spiced seeds and young green almonds precede cold dips, ratatouille, kibbeh nayeh, and raw liver. Then an avalanche of hot dishes ensues: falafel, lamb sausage, shawarma, braised tongue, and cubed fried potatoes.
"There's always a platter of red chiles, mint, and scallions on the table, so people like to flavor each bite differently and pass it around, competing to see whose is the best," notes Philippe Massoud, executive chef/CEO of the Lebanese eatery Ilili in New York City.
Fruit and rich syrup-soaked desserts also round out this multi-hour eating and bonding experience that Massoud tries to lighten by cutting back both salt and deep-frying. His thyme salad marries woodsy fresh oregano and micro thyme with peppery arugula and grassy parsley in lemon vinaigrette with olives and red onion—to mimic Lebanon's famous thyme-purslane mezze salad (recipe). And he bakes the eggplant in his moussaka and serves it with charred tomatoes and garlic perfumed with allspice and cinnamon.
"There might be a dozen plates on the table at a time—a beautiful mosaic of colors and textures—but we think about how you'll feel after you've left," he says. "Because mezze is not just about eating; it's about reconnecting and sharing stories. We wanted to make that notion more approachable."