Food
How Mexico City's Food Scene Evolved from Tacos to Tasting Menus
As Mexico City climbed the ranks of international food destinations, its reputation moved from one of ample, affordable street food to one of trendsetting, internationally renowned, trip-worthy restaurants. An influx of tourists in search of the rising class of Mexican star chefs, combined with changes in Mexican dining habits—and budgets—created a hunger for well-appointed restaurants that combine forward-thinking cooking and design with deeply rooted traditional ingredients and methods.
Mexico City's dining scene, along with the celebrated local art community and an improving safety record, caught the eye of tourists around the world. "Ten years ago, it started with a little bit of tourism," says Eduardo García, chef of the renowned Mexico City restaurant Máximo Bistrot, among others. "But nothing compared to now." He estimates that from when he opened Máximo in 2011, his clientele has gone from two to three percent tourists from the U.S. and Europe to around 60 percent.
"Mexican food has always been amazing," he points out, "[but Americans] didn't think of Mexico as a place to have good food, especially traditional food." As the city built its reputation as a tourist destination, it piqued global interest in its cuisine, too. García, Mexican by birth and heritage but raised and professionally trained in the U.S., credits two things for that change: the internet and Chef Enrique Olvera. "When I came to Mexico, I had the same mentality as people here: People in Mexico didn't have a good palate. Simple people who eat tacos. When I started to work with Enrique, I noticed people's palates were refined." They were, he noted upon his return to Mexico in 2007, ready for something more.
Which is what Enrique Olvera's Pujol, which opened in 2000, offered: a restaurant which not only showcased Mexican food as fine dining, but re-thought what could be defined as Mexican food. Olvera took inspiration from Ferran Adrià and later from Noma and brought the ideas of the world's top restaurants to Mexico City. "If it wasn't for him, a lot of people wouldn't have started. He opened the door for people like me," says García.
But Pujol wasn't an overnight success. Before it could appeal to either locals or tourists, Olvera needed to convince people in Mexico City that this was food that they wanted—and that it was worth a large chunk of their dining dollars.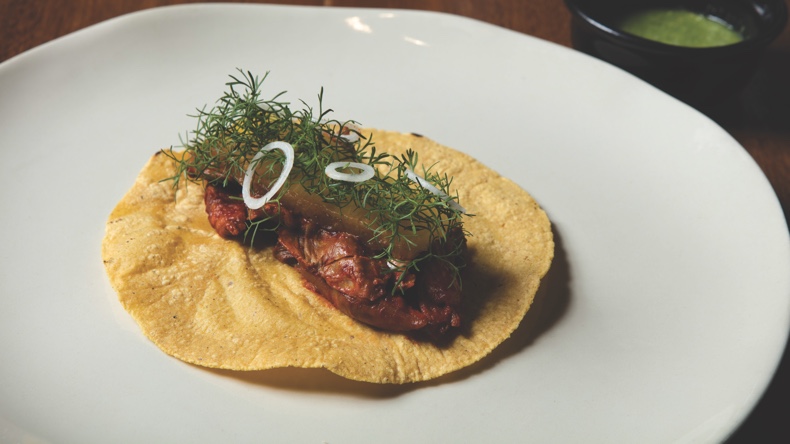 Tourists, as they streamed in, began to seek out the more traditionally Mexican spots. Gerardo Vázquez Lugo, the second-generation owner of Restaurante Nicos, a casual neighborhood spot, pinpoints the shift: "Twenty-something years ago, tourists thought they could find something similar to what they ate at home," he says. "Now, they want to find something similar to what people here eat at their homes." Nicos does that (and well), as does Vázquez's newer restaurant, Fonda Mayora, which is in a more central/tourist-friendly neighborhood and boasts higher-end touches.
Eric Daniel Gonzáles Torres, chef at Fonda Mayora, notes that ease of global travel didn't just open the eyes of tourists to the local cuisine, it opened the eyes of the chefs, too. "It's the same as with soccer players," he says. "Young kids go to Europe, they get trained, and they see their culture through a new lens."
Chefs Go Casual
That movement cascades down from fine dining to a middle range of restaurants, somewhere between the multi-course tasting menus of Quintonil and the comida corrida (economical, everyday lunches). "Fine dining has made curious people see what's happening in the restaurants," says Vázquez of how the shift affects his spots. The interest piqued at the top trickles down to more traditional forms and outlets. "It's a new way to discover the flavors of Mexican food."
Restaurants like Azul Condesa (opened in 2011 by food scholar Ricardo Muñoz Zurita) showed there was a hunger for traditional food backed by deep research, and an interest in food that examined the historical roots of Mexican food, but was served with wine lists and cocktails in a polished atmosphere. Vázquez took over the kitchen at Nicos (opened by his parents in 1957), using a decade devoted to studying and researching Mexican cuisine to serve traditional food in a more typical, neighborhood-restaurant fashion.
In 2015, he opened Fonda Mayora, whose name alludes to its concept: "fonda," like "bistro," can refer to a wide range of spots, but is generally a working-class lunch spot, and "mayora" describes the women who hand down the culinary knowledge: "she who is in charge of the kitchen," the most important title in the traditional Mexican kitchen.
"Fonda," like "bistro," can refer to a wide range of spots, but is generally a working-class lunch spot, and "mayora" describes the women who hand down the culinary knowledge.
Around the same time, Pujol alum Cabrera opened Fonda Fina (with Jorge Vallejo). Where Mayora shines with warm wood and lightness, Fina uses dark wood and heaviness, but both evoke traditional cuisine using attractive, modern décor. And both offer more expensive versions of that traditional cuisine than found in the places the name references. "You can get grits at a diner," Fonda Mayora chef Gonzáles tries to translate for an American audience, "but you can also go to Coi and get a bowl of grits." Of the name "fonda," he says, "[It] means you can get stuffed for 15, maybe 30, pesos," or less than $2, but at Fonda Mayora, you'll get the same food, "just properly executed…nothing on the plate without reason," he notes. That means the 250-peso cost buys you an in-depth research process, sometimes including testing 300-year-old recipes from nuns. It's the same food, but cooked by people who tweak it to improve every rendition.
As for why this trend caught on, tour guide and local blogger Anais Martinez points out, "The middle class doesn't want to be seen at [traditional] fondas, but don't want to be at Quintonil every day." With these restaurants, they found a happy medium that "touches the two fibers we have of Mexican culture."
Dining at Dinner Time
That Mexican culture, historically, has also dictated another feature of the Mexican dining landscape: when people eat their biggest meal. Until fairly recently, breakfast was the biggest meal in Mexico, followed by lunch, and then just enough food in the evening to get through to the next day. Says Martinez, "The trend for fancy dinner is new. They're mixing in, and people are spending a lot of money."
The added meal provides an additional income source for restaurateurs, says García. While it used to be a meal available only at hotel restaurants, "now at restaurants like mine, people dine at nine, 10, 11 at night. It's a very good cycle for restaurants like ours, because I like to keep everything fresh, going, new."
But it wasn't just the change in dinner, but in how Mexicans eat, points out Vázquez. Family structures and living situations evolved in Mexico City much in the same way dining at home versus dining in restaurants evolved around the world. "It's difficult to cook in our homes every single day," he laments, adding that as a single person living at home, he now commonly eats out. "Eating outside the home used to be only for celebrations at fine-dining restaurants or for tacos at night after a few drinks. Now it's very common, for regular people."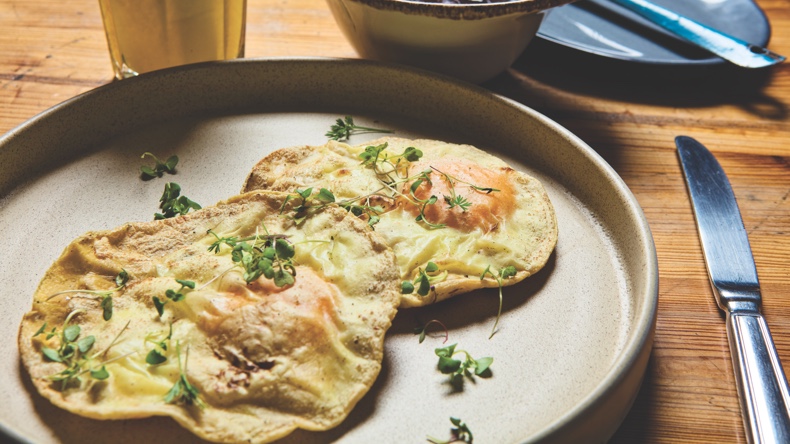 Moving Toward Mexican Cuisine
For generations, Mexican food was what Mexicans ate at home or for casual meals, but when they went out for fine dining, they wanted Argentinean steak houses or European restaurants. Pujol, along with its early 2000s classmates of Mexican fine dining (such as Patricia Quintana's Izote, and Águila y Sol from Martha Ortiz), struggled to convince the few Mexicans with the kind of disposable income necessary to afford them that this was the type of food on which to spend money.
The change, García says, was not quick. "It took Enrique Olvera 10 years to get up and going because it's expensive, [and] people wanted 'normal' food," he says, admitting, "We didn't want to touch our roots." In Pujol's quest to be Le Bernardin, they didn't see the culinary treasure right in front of them. "[Olvera] was doing El Bulli, then one day he changed the menu. 'What are we doing?'" García recalls him asking, "'We have all this rich food culture in Mexico: simple sauces, amazing ingredients.'"
But the return to their Mexican roots has since emerged as the biggest dining trend of the last decade. Even Olvera, who led the original charge, revamped Pujol to embrace its Mexicanity, rebuilding the restaurant using native materials and eschewing the traditional French kitchen in favor of one with a comal for tortillas, a hearth for wood-fired cooking, and a brick outdoor oven for barbacoa.
Meanwhile, former Pujol employees like García, Jorge Vallejo of Quintonil, and on a less fancy level, Juan Cabrera of Fonda Fina, set off on their own, opening places whose menus boast of escamoles (ant eggs), amaranth, and local cheeses.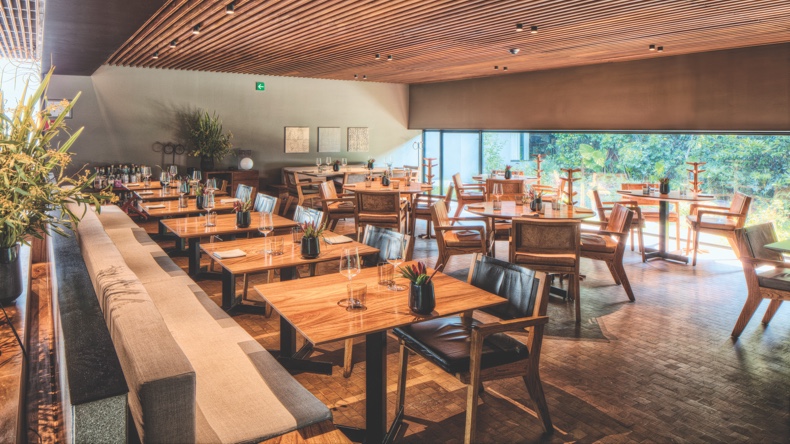 Roots and Regionality
As restaurants used these expanded business opportunities to dig deeper into the roots of Mexican food and its traditions, the trend continued to its natural next step: restaurants that dug into a specific regional cuisine. Some newer places, such as Yuban, opened, while other restaurants, including Pasillo de Humo and La Guerrerense, brought in outlets of famed restaurants from other parts of Mexico. "You don't have to go there," quips Martinez. "They come to you."
At the same time, Mexico City's fine dining, too, has begun to migrate: Olvera opened Cosme and Atla in New York City, and plans to open a second Cosme in Los Angeles. Gabriela Cámara, whose Mexico City favorite Contramar is known as much for its pristine, trendsetting tuna tostadas as for its see-and-be-seen scene, opened Cala in San Francisco. Martha Ortiz, whose Águila y Sol was around for the beginning of the reclamation of Mexican fine dining, now has Dulce Patria, which makes some of the most colorful renditions of classic foods, and she just opened Ella Canta in London. García suspects Olvera, with his "taco omakase" at Pujol and pop-up in Tokyo, is also eyeing Japan.
It is, perhaps, just the next swing of a pendulum that brings the chefs back to their roots, and then out into the world: into Mexico, with its art, architecture, and culture (chefs, García reminds us, are artists), and then back out to see what the Adriàs and Nomas of the world are doing—and share Mexico City's version. But what Mexico City does best, at least at the moment, is to weave it all together, to make world-class restaurants that serve eminently Mexican food.
Naomi Tomky's favorite dish is lamb barbacoa.