Food
Steakhouse Dessert Trays Lighten Up
In an era of restaurant concepts ranging from the sleekly minimal to the hyper-complicated, the steakhouse offers comforting dessert parameters: there's the cheesecake box, the crème brûlée box, the chocolate layer cake, the icebox pie, and so on. "The classics are the classics for a reason," says Lindsey Farr of New York's Restaurant Marc Forgione. "Especially from a steakhouse, people want what reminds them of home. They want to feel something when they eat dessert."
So how does a pastry chef give those classics a contemporary twist?
"It can't just be a gut bomb," cautions Leigh Omilinsky of Swift & Sons in Chicago. "Everything needs to be balanced; there needs to be technique."
By revitalizing traditionally massive portion sizes and updating their desserts with quality techniques and ingredients, Omilinsky and other contemporary steakhouse pastry chefs satiate comfort while kindling curiosity.
PUSHING FORM AND FLAVOR
"My team and I joke that we're not deconstructing, we're reconstructing," says Joy Williams, executive pastry chef of Denver's TAG Restaurant Group. Her dessert menu at Guard and Grace checks the classic boxes. But in opposition to what she similarly calls "sugar bomb" desserts, Williams plays with balancing sweet, savory, salt, and acid—a perspective gleaned from her time working with South Asian cuisine. "We try to find something that's going to complement the end of what is, inevitably, a very heavy meal," she says.
When it comes to shifting flavor, Farr likes to "introduce the unexpected," finishing her rustic peach crostata with anise hyssop ice cream and infusing rose into panna cotta. "I like to play with the familiar and then tweak," she says of her refined style. "If I'm not pushing the bounds of technique or flavor, then I'll present in a fun and playful way. If I'm going to push the bounds of flavors, then it's going to be presented in a way that's familiar." Take her crème brûlée, which is lightened in texture and by the incorporation of seasonal ingredients. Her sweet corn custard is set with gelatin to stand on the plate with huckleberry jam, popped sorghum, a caramelized sugar disk, and huckleberry ice cream. Similarly goes her ricotta cheesecake. Forgoing a traditional graham crust, Williams sets and freezes peach gelée, then punches it into rings for the base, piping an incomplete ring of fully baked, blended, and whipped ricotta cheesecake on top. She then rests a quenelle of sorbet to complete the circle and finishes with torched fresh peaches, white chocolate powder, shards of crispy white chocolate mousse, and black pepper graham crumble (recipe). "At the end of the day, we're still satisfying all the things that somebody who ordered a cheesecake would want," she promises of the clean, elegant presentation. "But we're making them rethink the way in which they've received it."
KEEPING NOSTALGIA CENTER PLATE
Farr balances such risks to keep nostalgic approachability intact—a perspective she took especially seriously when building her Key lime pie pavlova. "People l-o-v-e, love, love Key lime pie," she says, incredulous.
"You can put it on the menu in any form and it will just fly out of the kitchen." Staying true to those nostalgic flavors meant pushing the boundaries of form, and so she layers graham crust and Key lime pie filling in zest-infused meringue so that "you get all of the elements of a Key lime pie in one little pavlova package." Triangles of fresh kiwi, kiwi sorbet, and a pop of super-tart Key lime gel balance a dessert she considers too sweet in its original iteration (recipe). "I pull that back and play with that line of too-sweet and just-sweet-enough," she notes. Torching the pavlova and adding a graham cracker tuile finishes the update, while still capturing the fun and somewhat exotic experience of the original.
At Swift & Sons, Omilinsky leans into sense memory for her s'mores profiterole. "It's salty, it's sweet, it's nostalgic, it's fun," she says of the best seller. Because the chocolate, marshmallow, and graham flavors are so integral to the original, she, too, looks to updating form and perfecting technique. Her pâte à choux is slightly salty and has a smartly thin, crackly chocolate crunch coat. Yielding to dense chocolate mousse and honey-cinnamon crémeux, it's speckled with crunchy graham clusters so that "each bite is a little different." It took a while to get the texture of marshmallow fluff on par with nostalgia, as did perfecting the balance of flavor and texture in the chocolate ice cream that tops the dish (recipe). "With all of the flavors you get, you're like, 'Oh yeah, this is totally s'mores,'" she says of this composition. "But it's my s'mores."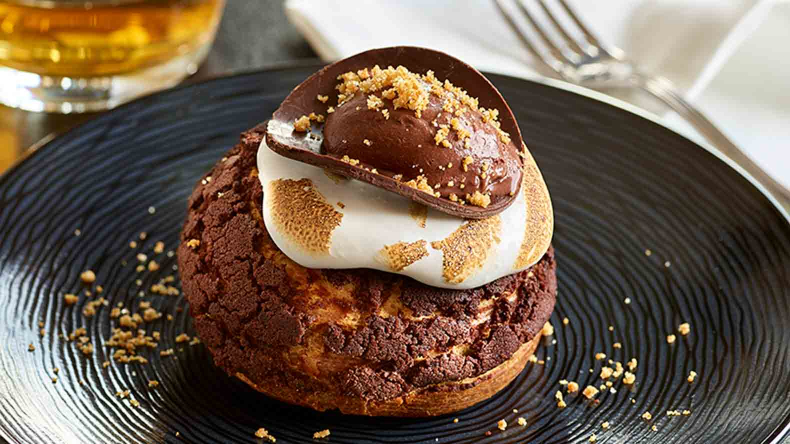 ​​
Omilinsky credits her menu's success with this upscale nostalgia factor. But that doesn't mean any modern version of a classic succeeds. Her airy peanut butter mousse with butter toffee, sweet and salty peanuts, and blueberries did not sell well for reasons she still can't figure out. Williams' cornflake-crusted bread pudding with blood orange sorbet only did well after she plated it to a particularly approachable style. For those not looking for an adventure, Farr offers a daily doughnut and 10-minute cookies with melted ice cream. Williams keeps a sticky toffee cake she inherited from a predecessor on the menu to "anchor those looking for their traditional five o'clock steak, loaded baked potato, and sugar bomb dessert," she says. "But at the end of the day, people are coming to a modern steakhouse because they want something different, even if they don't think they want it."
Jacqueline Raposo is a New York City-based writer and co-host of the podcast Love Bites Radio.