Food
Here Are The Best Cookbooks of the Year For Chefs and Bartenders
It's been a really tasty year of good reading. We kind of can't wait to sort through the ever-growing piles of cookbooks that amass on our desks by the end of the year, but the hardest part is picking our favorites. We loved raising a glass with spirits writers like Maggie Hoffman, who schools bartenders on how to properly batch cocktails in her new book, and Brad Thomas Parsons, who traveled to 40 bars around the country to document closing rituals and deathbed drinks in his. We learned the art of charcuterie from Brian Polcyn and Michael Ruhlman, got a glimpse into the magic that is the République pastry case with chef/co-owner Margartia Manzke, discovered how to make sheets of hand-rolled spinach sfoglia with Evan Funke and tagged along page by page with Chris Shepherd as he made the rounds to his most beloved family-run restaurants in his hometown of Houston. Whether you need more books to add to your own collection, or are looking for gifts for your hard-working staff, here are our top cookbooks for 2019.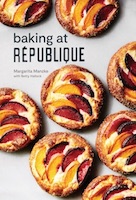 By this point, Margarita Manzke should need no introduction. But just in case: the pastry chef/co-owner of LA's République has such a way with baking that folks line up before she even opens for the chance to try her stuff. "The pastry case looks magical," she writes. "And the magic that makes it happen is the attention to details." Exquisitely detailed recipes and photographs by Kristin Teig amply illustrate that attention to detail. This is the book to inspire your pastry team all year round. —Paula Forbes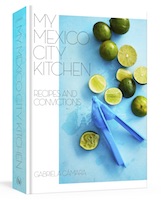 Chances are, if you head to Mexico City, folks are going to steer you toward Gabriela Cámara's bright seafood restaurant, Contramar. In My Mexico City Kitchen, she turns her attention to the food of Mexico City at large, capturing recipes that constitute contemporary Mexican cooking. The result is a course on everything from the basics (salsas, tortillas) to home-cooked treats (chicken cooked in salsa verde, her dad's favorite carrot flan) to Contramar specialties (the tuna tostada, the famous double-sauced grilled snapper). It's a vibrant collection that captures the spirit of Contramar and Cámara's city. — Paula Forbes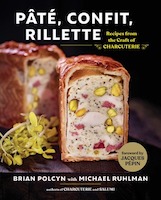 Time to get your charcuterie game on point. Brian Polcyn and Michael Ruhlman have teamed up before with two books on this subject, both of which are essential reading for anyone on the garde manger station. For their third book, Polcyn and Ruhlman get granular, focusing on three specialties: Pâté, confit, rillette. You'll find both classic and innovative riffs on charcuterie, and can expect detailed technical instruction. — Paula Forbes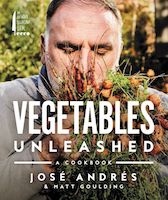 José Andrés is a busy man, whether he's opening a giant Spanish food hall in New York or mobilizing massive post-disaster relief efforts all over the world. Somewhere in the middle of all that, he managed to find time for a cookbook—his first in over 10 years. Here, the chef turns a fresh eye on familiar vegetables, with an eye towards minimizing food waste. — Paula Forbes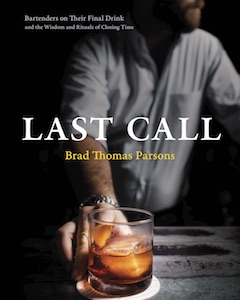 ​
Lots of bars have special rituals, and writer (and Plate contributor) Brad Thomas Parsons tackles a big one, last call, in his latest cocktail book. Parsons visits 40 bars across the country to interview bartenders about closing rituals (whether it's clanging a ship's bell at San Francisco's Smuggler's Cove, or starting a wave of shushing across the bar at Chicago's Sportsman's Club) as well as their own personal "last call," what they'd like for their deathbed drink. It's a fun collection of interviews that offers insight into the people behind the best bars across the country, and a celebration of the rituals that make cocktail bars unique.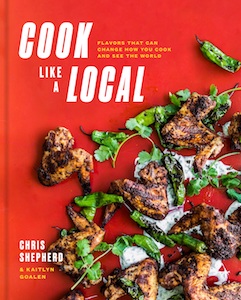 ​
If you've ever been to one of Chris Shepherd's restaurants, talked to him, or followed him on Instagram, you know that he loves his adopted hometown, Houston, like a beloved family member. In his first book, Shepherd takes readers on a joyful stroll through Houston's diverse culinary traditions, with recipes that allow us to cook our way through some of his favorite immigrant restaurants, from a tiny banh mi shop to a rowdy Vietnamese-Cajun Crawfish boil to a family-run Indian sweet shop. His enthusiasm for the flavors and culture immigrants have brought to America is unmatched, and we can't wait to see how it's inspired him as a chef.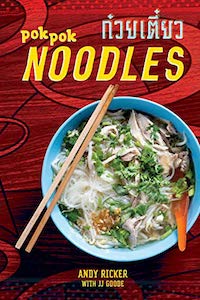 Knowing what to expect from an Andy Ricker cookbook doesn't make a new one any less exciting. As with the first two volumes, this third book offers a whirlwind of recipes starring bold flavors. Sure, they might require hitting up a specialized market for ingredients (unless you already happen to have banana leaves and pig's blood around). But a short errand is nothing compared to the Thailand trip you'll be eager to make as you page through this book. To help you select your first project, each recipe is labeled with a handy flavor profile guide—one bowl is "herbaceous, earthy, rich," another "hot, sour, a bit salty", while a third is "fatty, umami-bomby". There are rice noodles dressed with creamy curries, fragrant and spicy soups, and stir-fried noodles aplenty, mostly made a single serving at a time so as not to overcrowd the pan. —Maggie Hoffman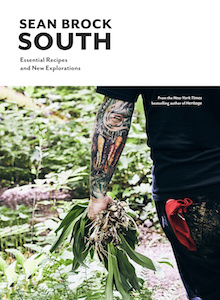 The introduction to Sean Brock's new book starts with the line: "I hope that someday I will be remembered for helping people everywhere understand that Southern food should be considered among the most revered cuisines of the world." You already know Brock is obsessed with bringing back heirloom ingredients lost to industrialization and sharing the Southern palate. Here, he writes about how honored he is to cook Southern food for a living, and the pride he feels in being able to use his platform to show readers that there is no singular Southern cuisine. And that Southern food should not be defined by whatever is deep-fried and doused with gravy. Yes, there are five cornbreads (including crackling, sour and rice-based versions) in the book, but he also shares recipes for dishes like potlikker steamed bass and charred turnips. You'll get find recipes for recreating his modern Southern pantry (think watermelon molasses, and hominy miso), a grilling primer and a country ham road map of his favorite producers.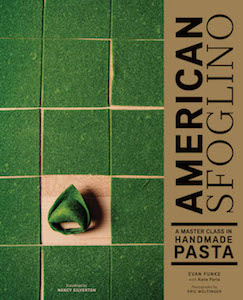 With an instagram hashtag of #fuckyourpastamachine, Evan Funke doesn't hold back when it comes to his thoughts on handmade pasta. In his debut cookbook, American Sfoglino: A Master Class in Handmade Pasta, the chef of Felix Trattoria in Los Angeles demonstrates (in stunning step-by-step photos), how to make sfoglia, or sheets of hand-rolled fresh pasta dough (from simple flour and water to bright green spinach). He delves into classic pasta shapes and dishes, and shows in detail how to roll ridged garganelli, twisted tortellini, sliced tagliatelle, pinched strichetti, each followed by classic recipes to show them off in.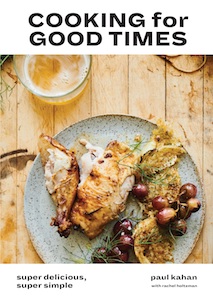 On the surface, this book looks like it was written for home cooks trying to pull off a cool barbecue or dinner. But if you are among the thousands of chefs who worship at the feet of Paul Kahan, you'll want to pick this one up. While this isn't a restaurant-driven cookbook, Cooking for Good Times follows the ideas and cooking style of his wine bar, Avec (Avec Chef de Cuisine Perry Hendrix contributed to the book). You'll find creative uses for ingredients like za'atar and harissa, an utterly untraditional but delicious muhammara along with variations on panzanella, roasted fish, steak and poultry, and Kahan's ingredient-focused voice urging you to keep it simple throughout the text.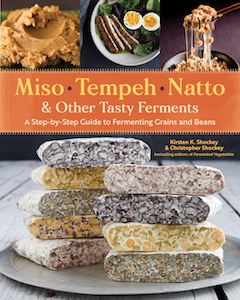 ​
When you're ready to branch out beyond fermented fruits and vegetables, traditional—and innovative—fermented grains and beans await you. And there are rewards for DIY: Making your own tempeh, for example, means you can add soaked barley, chickpeas, chestnuts, or millet to the umami-rich fermented soybean mix. When making koji, you can experiment with buckwheat, quinoa, or even popped corn instead of a more traditional rice substrate. Once you've got that koji, you can make miso or fermented nut and seed pastes, or even add it to warm polenta or masa harina and let it incubate for a few hours for a super-sweet porridge. The book offers simple instructions for making your own tamari or gochujang, and lots of recipes for how to use all of your finished ferments. — Maggie Hoffman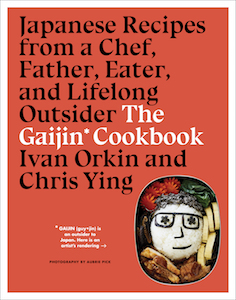 Ask Chef Ivan Orkin to create a self-portrait, and he'll turn to rice, seaweed and mushrooms as the medium. As the chef of two NYC ramen shops and author of Ivan Ramen, it makes sense that he depicts his face using Japanese ingredients for the cover of his new cookbook, The Gaijin Cookbook: Japanese Recipes from A Chef, Father, Eater and Lifelong Outsider. Inside are 120 of the Chef's Table and Mind of a Chef star's favorite recipes like miso-ginger stew, Japanese spaghetti with tomato sauce, and stir-fried udon, all gleaned from his work, travel and life-long observations from being a self-proclaimed gaijin (an outsider looking into Japanese culture).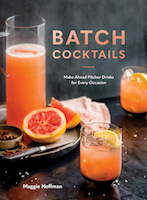 Pitcher drinks, ahoy. Maggie Hoffman's got you in Batch Cocktails, her second cookbook, which is ideal for bartenders looking to batch craft cocktails for service. The book is divided by flavor (Herbal & Flora, Fruity & Tart) and includes recipes ranging from booze-heavy to entirely alcohol-free. Hoffman expertly guides readers through making infusions, syrups, and aged cocktails, with recipes from bartenders across the country. Out now. Read more about Hoffman's book here. — Paula Forbes