Food
The 11 Best Holiday Books for Chefs and Bartenders in 2017
It was a big year for cookbooks, chef books and cocktail books, so choosing the 11 books we think you should give to chefs and bartenders for the holidays was no easy task. These are the books that the Plate staff has read cover-to-cover, cooked from, made drinks from and told all our friends and industry folks about.
Need more ideas? Check out our other cookbook round-ups this year, including the 9 best spring cookbooks, 5 fall spirit and cocktail books and 11 best fall and winter cookbooks.
For the pastry cook who wants to dig deeper

Hello, My Name is Ice Cream: The Art and Science of the Scoop, by Dana Cree
Dana Cree, the pastry chef at Chicago's The Publican, knows her way around custard base, fat globules, cornstarch and citric acid, and how to combine those ingredients to make the best ice cream you've ever had. Her book, Hello, My Name is Ice Cream: The Art and Science of the Scoop, is what every pastry chef needs to understand both the science and the art of making irresistible ice cream, with everything from information on why curing your base is so important for the final product to why Greek yogurt makes the best frozen yogurt. Plus, recipes for donut ice cream and popcorn add-ins will make you drool. Read this before you churn.
For the bartender who wants to know the stories behind the spirits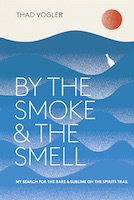 By the Smoke and the Smell: My Search for the Rare and Sublime on the Spirits Trail, by Thad Vogler
The most eye-opening spirits book of the year is easily By the Smoke and the Smell from Thad Vogler of San Francisco's Bar Agricole, Trou Normand and forthcoming rum bar Obispo. Vogler travels to France for calvados, cognac and armagnac; Cuba for rum; Scotland for Scotch; Mexico for mezcal and other places in search of grower-produced spirits, which are made on a small scale by individuals, rather than large companies. Vogler doesn't hold back his thoughts about mass-produced spirits and provides an introduction to many lesser-known producers worth seeking out as well as a snapshot of many distilleries you'll likely never get to visit. If you've been to one of Vogler's bars, you know about his focus on seriously great spirits, like calvados from the Camut brothers in Normandy, and this is the year's must-read spirits book.
For the cook who worships farmers, fishermen, and Paul Kahan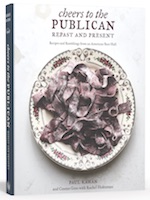 Cheers to the Publican: Repast and Present: Recipes and Ramblings from an American Beer Hall, by Paul Kahan with Rachel Holtzman
Paul Kahan has mentored an impressive coterie of chefs around the country, and with this fantastic book, you can join their ranks. The book is like spending a few hours sitting with Kahan and talking about food, and don't be surprised when you find yourself grilling cucumbers, making mayo from hazelnut oil, wrapping cured pork chops in hay, and dredging shucked clams and squeaky cheese curds in crushed salt-and-vinegar chips before frying. And those are good things, indeed. Cheers to the Publican is especially gracious, making a point of giving credit to the colleagues and friends who inspired each dish and thanking farmers and other purveyors with thoughtful essays scattered throughout the book.
For the chef looking to take her larder to the next level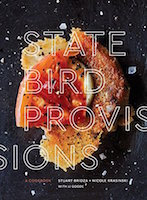 State Bird Provisions: A Cookbook, by Stuart Brioza and Nicole Krasinski with JJ Goode
The folks waiting in line at this San Francisco spot probably wouldn't say they're in it for the restaurant's larder, but they're wrong, of course. The bold flavors layered on each plate at State Bird have their foundations in Brioza's dashi amped up with rosemary and ginger, his smoked cured egg yolks, his Meyer-lemon-scented variation on yuzu kosho, and his dehydrated sauerkraut powder, among other treasures whose secrets are found in this book. The sweet larder is similarly impressive and flexible, stocked with a compote made with dried pears and tart verjus, another made with a mixture of cooked and raw blueberries, and a crunchy two-chocolate bark topping that brings together feuilletine and toasted sesame seeds. Even if you don't replicate the dishes as described in full, there's a fresh idea worth using on every page.
For the cook with wanderlust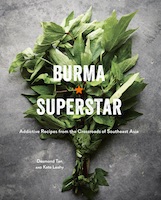 Burma Superstar: Addictive Recipes from the Crossroads of Southeast Asia, by Desmond Tan and Kate Leahy
If this book by Burma Superstar chef/owner Desmond Tan and writer Kate Leahy doesn't make you want to add Burma to your Southeast Asian vacation bucket list, it will at least get you thinking about putting sour leaf soup, tea leaf salad, pumpkin tofu stew, chicken biryani, mohinga (fish noodle soup) and other bright and fresh Burmese comfort dishes on your menu. Besides vibrant photography (both of dishes, and of Burmese people and culinary traditions), the book also discusses the political history, regional ingredients, and cultural ethnicities of the complex and fascinating country that borders Thailand, China, India and Laos. There's a reason the original location (there are three in Bay Area now) always has a line, and this book beautifully captures the essence of this neighborhood restaurant that turned Burmese cuisine into a San Francisco institution 25 years ago.
For the cook who wants to explore OG molecular gastronomy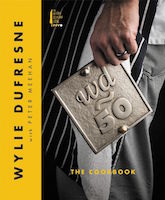 wd~50: A Restaurant in Recipes, by Wylie Dufresne with Peter Meehan
While some people might respond to the news that their restaurant's building would be knocked down to make way for luxury condos with despair, Wylie Dufresne instead found a project: documenting his kitchen team's trials, failures, and discoveries so he could share them with chefs elsewhere long after the restaurant closed. From deep-fried mayo to noodles made of shrimp to meringue ice cream 'marshmallows' skewered with beer-flavored 'sticks', the recipes make the resulting book feel open-hearted and even optimistic, excited about teaching others the methods used at a restaurant that was unlike any other.
For the bartender who wants to master the classics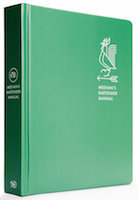 Meehan's Bartender Manual, by Jim Meehan
There are hundreds of bar books that focus on cocktail recipes or history, but few really explore the art and practicalities of bartending. Jim Meehan (PDT in New York and Prairie School in Chicago) strives to write a modern handbook on par with the 1862 classic, Jerry Thomas' Bartenders Guide. Meehan whips through cocktail history basics and features in-depth recipes for classic cocktails, but the best sections look at what it means to run a bar today. How do you design a welcoming bar environment for patrons? How do you seamlessly handle an order for eight different cocktails for one table at the same time? Which type of sugar should you use for simple syrup? Meehan's book is designed for everyone from newcomers to the bar industry to seasoned bar owners who are always seeking new ways to improve their establishments.
For the pastry chef who wants to rework the classics
BraveTart: Iconic American Desserts, by Stella Parks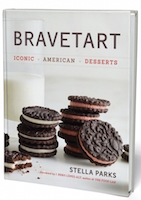 Stella Parks, aka BraveTart, has won the hearts and minds of cooks everywhere with her blog and articles over at Serious Eats. Parks focuses her considerable writing and cooking talents on classic American desserts in this book, tracking down the origins of desserts like the Key lime pie and snickerdoodles while explaining the hows and whys of toasting sugar and tempering chocolate. Her detailed recipes are as foolproof as it gets, and Parks is a gifted instructor. Best of all, she coaches readers on how to tweak these classics with new flavor profiles, making this a must-read for any aspiring pastry chef.
For the cook who volunteers for farmers market pickup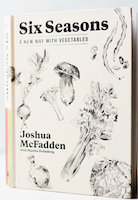 Six Seasons: A New Way with Vegetables, by Joshua McFadden with Martha Holmberg
There are chefs who say they cook with the seasons, and chefs who live by that mantra, and Joshua McFadden, chef/partner at veg-focused Ava Gene's in Portland, Ore., is the latter. McFadden earned his farm cred while working at Four Season Farm in Maine, and tracks vegetables from spring through early summer, midsummer, late summer, autumn, and winter in this book. Which his exuberant voice as a guide, you'll find yourself considering produce in forms from raw to grilled to stewed depending on where you are in the season, while adding acid and crunch as you consider unexpected combinations that will make the salad station exciting again.
For the chef desperate for a little work-life balance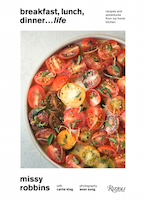 Breakfast, Lunch, Dinner… Life! Recipes and Adventures from My Home Kitchen, by Missy Robbins
The title of Missy Robbins' book may sound like it's more for home cooks, but the stories Robbins tells in her extensive chapter introductions reveals why this is really a book for chefs and cooks who need to learn a little life balance. Robbins fearlessly and honestly explains how out-of-balance her professional and personal lives were, and the effects that had on her professional life, relationships and health. Although she used to never cook at home, after leaving a high-powered/high-pressure chef position at New York's A Voce and embracing the new pace of a sabbatical, she embraced it—even after opening Brooklyn's Lilia—and with this book, became a role model for chefs who need to learn how to take care of themselves.
For the cook angling to get on the podium in Lyon
Chasing Bocuse: America's Journey to the Culinary World Stage, by Philip Tessier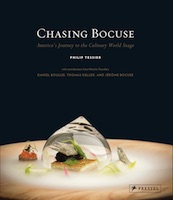 The road to Lyon is a long and winding one for cooks hoping to get there via competing in the Bocuse d'Or competition. No one understands that fact better than Philip Tessier, who took the American team to the podium for the first time ever in 2015 with a silver medal, and coached the 2017 team to win its historic gold medal earlier this year. In this book, Tessier takes you behind the scenes with his team and coaches, including Daniel Boulud and Thomas Keller, offering personal stories, photos, and even recipes for the competition dishes.