Sponsored Content
First Class Flavor Pays Off
Learn why Carrara 640 Wagyu is impressing chefs and diners
Mike Vilarosa, chef du cuisine at Swift & Sons in Chicago, wasn't expecting to be wowed when his rep from Purely Meat Co. wanted to introduce him to an Australian Wagyu brand called Carrara 640. However, a taste test convinced him otherwise. "Right there I said, 'Let's finish up what we have and get this on the menu,'" recalls Vilarosa.
Vilarosa liked the fine spider marbling in the beef – a key benefit of crossing a full-blood Japanese Wagyu sire with an Angus cow or a Wagyu cross dam. "There was enough marbling to differentiate it from a domestic Wagyu on the menu," says Vilarosa. "I felt it was worth the menu placement and extra money that guests would need to spend."
The Unique Taste of Carrara 640 Wagyu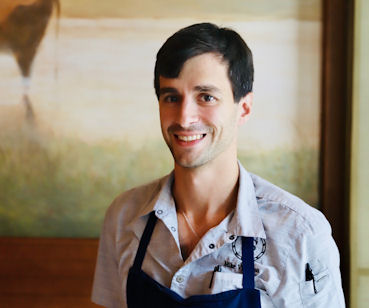 Fine, intricate marbling creates the buttery mouth feel of the Carrara 640 Wagyu. "When cooked to a medium or medium-rare, the fat melts into the steak," says Jacob English, director of business development for Carrara.
"When people taste it, they start to get the idea of what Wagyu is about—they don't have to sacrifice the flavor they might be accustomed to with a leaner steak." says Vilarosa. In addition to a 5-ounce strip loin, Swift & Sons serves Wagyu Carpaccio made with Carrara 640 Wagyu tenderloin that has been hand-pounded. Vilarosa adds Dijonnaise with black truffle, fresh shallots, chopped capers, Pecorino cheese, Meyer lemon zest and fennel pollen. "We call it beef butter because it's mind-melting tender," says Vilarosa.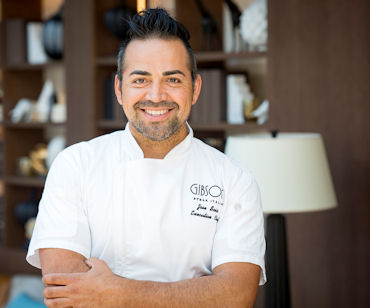 Jose Sosa, executive chef of Gibsons Italia in Chicago says a taste test also sold him on adding Carrara 640 to the menu. "The taste and the flavor profile are unique," says Sosa. Vilarosa and Sosa like the story behind the brand. "It's something that the captains can talk about at the table, and it's what gets guests to buy into it," says Vilarosa.
Results
"Carrara has been our best-selling Wagyu at that price point," says Vilarosa. "We tried different Wagyus and the Carrara 640 has just crushed the other ones in terms of sales response."
Gibsons Italia serves a 34-ounce Tomahawk and 14-ounce New York strip. "The sales are great and the feedback from customers is amazing," says Sosa. "The price on the menu may seem high to consumers, but the experience is worth it."
Diners Want Variety
At Gibsons Italia, the beef program features Japanese, Australian grass-fed, USDA prime beef and Carrara 640 Waygu beef. Swift & Sons's boutique meat program also features steaks from around the world. "The public is more educated than ever," says Vilarosa. "They are interested in the quality of the food and where their food comes from." Platters and flights allow diners to share a variety of steaks.
"The restaurants we work with are those that want to offer their diners a magnificent eating experience each and every time," says Hicks. Chefs are invited to request a tasting with their local meat purveyor to experience the unique flavor of Carrara 640.
The Story of Carrara 640
"Carrara's focus is on quality and consistency," says Jacob English, director of business development for Carrara. Launched by Kilcoy Global Foods, one of the largest Australian beef producers, Carrara 640's journey began a few years ago when they defined the genetics for a world-class Wagyu product. Every animal in the Carrara program is traceable back to its roots. Each full-blood Wagyu bull is registered with the Australian Wagyu Association.
"We allow our farmers to grow the best possible animal they can grow," says English. CaIves stay with their mothers for six to eight months until they are weaned. Then they're put on a grass or light grain diet until they weigh 800-900 pounds. The next step is a feedlot where they're grain-fed for a minimum of 350 days. "The slower you grow the animals, the better the results," says English.
Animals come from just two feedlots and all Carrara 640 beef is processed at a state-of-the-art facility (#640) in Queensland, Australia. Commitments to farmers are secured two years in advance, which helps assure price stability. Farmers are compensated based on how well the carcass scores on a well-defined grading system. Each carcass is tagged and monitored through processing. "In our closed-loop system, all quality measures such as marbling score and PH are recorded and sent to our producers so we can improve results," says James Hicks, Carrara 640's sales director for North America.
Carcasses are audited by AUS-MEAT, an independent inspection organization charged with maintaining industry standards for beef grading in Australia." If the animal doesn't meet the grade, it's not branded Carrara," says English. On the Australian grading scale of 1-9, Carrara beef must achieve a marbling score of at least 4-5, but the average score is 6.7. "It's a very tight specification," says English. "A lot of places have employees grade the beef, and use an in-house grading system," says Sosa. "I like that Carrara uses a third party because it ensures a more consistent product."
Hicks believes the pricing of Carrara is very competitive. "A $120 million investment in our processing operation two years ago resulted in best-in-class efficiency," says Hicks. "Because we own the processing plant, we avoid the cost of a contract kill."
For more information on Carrara 640 contact James Hicks, sales director for North America at (312) 371-2493 or [email protected].