Sponsored Content
Expanded Menus Benefit From Plant-Based Cheese
Visionary chef appeals to a wider audience with greater selection.
Cheese is a popular ingredient on menus, used in part for its ability to enhance the overall flavor, texture and appeal of dishes that might otherwise be considered bland or uninspired. This is especially true when you consider the melty and creamy attributes that cheeses, such as mozzarella and cheddar, contribute to ever-popular dishes including pizza, grilled cheese sandwiches, macaroni & cheese and a large number of Mexican options.
Noteworthy Opportunities
With growing numbers of plant-based dishes on restaurant menus, led by meat alternatives and vegetarian versions of burgers, nuggets and bacon, there's increasing attention being directed towards plant-based cheese. According to Datassential, the industry's leading food research and insights firm, plant-based or vegan cheese is the fastest growing item on U.S. menus, with an 82% increase in the last four years. When you factor in the growing number of individuals who maintain vegan diets, are sensitive to lactose or cater to specific allergies, as well as flexitarians willing to experiment with veganism motivated by health, wellness and environmental responsibility, especially among millennials, there are countless opportunities for chefs to benefit.
Josef Centeno, chef and owner of the upscale Tex-Mex restaurant Bar Amá in Los Angeles says, "I feel that plant-based is the future and the direction food is moving. It's becoming increasingly more popular. You need to offer different alternatives whether for dietary reasons, the environment or anything."
Perfect Flavor and Texture Across All Applications
While chefs and consumers have experienced plant-based cheeses that don't always meet expectations, So Delicious® Dairy Free Cheese is getting rave reviews for its taste, texture and performance. Chef Centeno offers "It's important to test the product, check its meltability and see how it works across different applications. We were doing more nut-based and vegetable-inspired cheese-style dishes but they just didn't deliver the right experience. When I tested So Delicious® Dairy Free Cheese, it just worked right there and then. It did really well across all of the applications at the restaurant."
Recognizing opportunities for dairy-free cheese across all dayparts and numerous cuisines, So Delicious® Dairy Free Cheese is available in Cheddar and Mozzarella Style Shreds as well as American and Cheddar Style Slices, saving time in the kitchen while opening up a wide variety of menu possibilities.
Some of the most popular menu items at Bar Amá that use So Delicious® Dairy Free Cheese include Chili Relleno, Queso and Enchiladas. For each dish, Chef Centeno says that patrons rarely notice the difference and are excited to have dairy-free options.
Exciting So Delicious® Dairy Free Cheese Menu Ideas
Click on image for more information.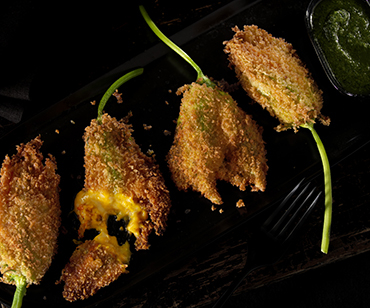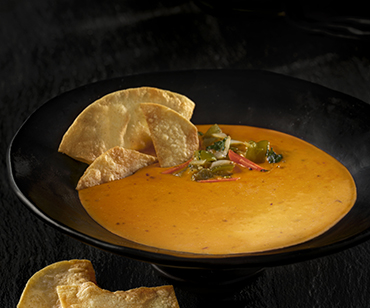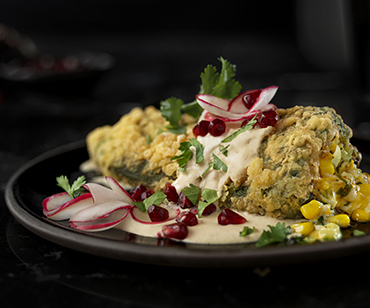 For chefs who would like to see how So Delicious® Dairy Free Cheeses perform in their own restaurant, samples are available by clicking here.