Sponsored Content
Encouraging Innovation & Creativity
The exceptional versatility and undeniable appeal of beef.
Chefs passionate about their craft are constantly on the lookout for the ingredients, influences, tips and techniques that will satisfy their creative needs, enhance their menu appeal and improve operational efficiencies. Knowing that superior quality and performance are essential, especially when it comes to menuing beef, finding a reliable source for both centerpiece and alternative cuts that are consistently well-marbled, tender and expertly trimmed is vital.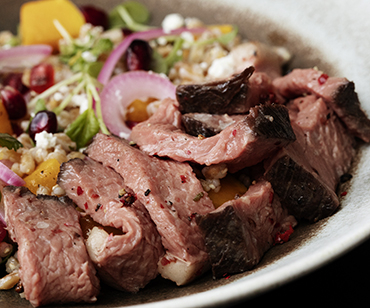 Chefs looking to provide customers exceptional dining experiences need something more than commodity cuts. Chef Pete Geoghegan, Culinary Director, Cargill Protein North America explains, "When beef is randomly sourced, you have no guarantee what you'll get or how it'll perform. What I like about Sterling Silver Premium Meats is its consistency—always displaying superior marbling, graded as upper 2/3 Choice, aged for a minimum of 21 days and sourced from just 5 facilities. The beef is reliable, noticably tender and delivers a good eating experience. Plus, the beef you get today will be the same every day." From an operational perspective, he adds, "When your beef supplies are consistent, there's less waste and your staff won't have to compensate for unexpected variations."
In spite of myriad stories featuring plant-based alternatives, the National Restaurant Association reports (2022 What's Hot Culinary Forecast) that traditional proteins, including beef and chicken, continue to rank highly. Additionally, global flavors remain influential, especially those from southeast Asia, South America, the Caribbean, North Africa and West Africa.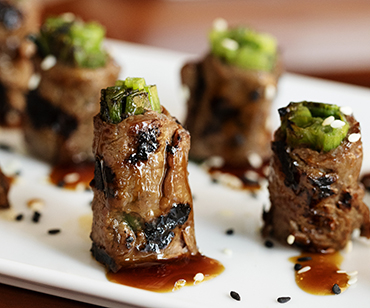 Datassential1 reveals similar findings, reporting that Americans have an unmistakable love for the taste and flavor of beef, along with a desire to increase their protein intake. These factors are responsible for an unwavering demand for beef. When asked what would motivate consumers to increase their consumption of beef, the introduction of new menu ideas was at the top of the list.
Sterling Silver Premium Meats are available in cuts that chefs understand, opening up opportunity for creativity and experimentation. As such, innovative menu items featuring beef, from centerpiece applications, handhelds and pastas to salads and snacks, can be developed for all dayparts. In addition, dishes that draw inspiration from international cuisines are undeniably appealing. Whether used in grilled, braised, skewered, stews or other hearty configurations, the end results are consistently flavorful and satisfying.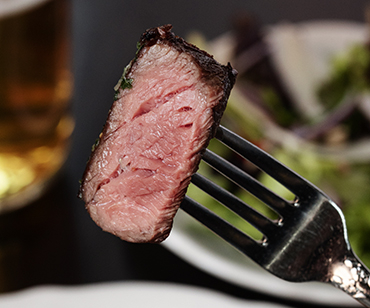 While chefs tend to focus on sirloin and center cuts, Geoghegan suggests, "The consistency, quality and performance in Sterling Silver Premium Meats is the same all the way through the beef. As such, lower-priced sirloin cuts, including sirloin flap, ball tip and tri tip as well as cuts from other parts of the animal, help manage costs without sacrificing performance."
Experience Sterling Silver Premium Meats first hand.
Schedule a cutting.
Chefs are also exploring ways to maximize the utility of a limited number of cuts, effectively reducing inventory and minimizing waste. While the versatility of beef makes this feasible, Sterling Silver Premium Meats employs "Center of the Plate" specialists who can help chefs select the best possible cuts and make the most of them.
For chefs seeking new menu ideas, or who want to see how other chefs are benefitting from Sterling Silver Premium Meats, or to simply explore what's available, CLICK HERE.
1Datassential is the industry's leading food research and insights firm.