Drink
Han Suk Cho is Redefining N/A Cocktails
It's a good idea to dine at a restaurant before working there. So the first time Han Suk Cho and her husband, Kyle Kawashima, had a meal at SingleThread, they went all in, splurging on nine drink pairings for the 10-course tasting menu. They had initially planned to stick with a brut cuvée poured just after they took their seats, but when the beverage director mentioned a nonalcoholic flight option, Cho was intrigued.
A brigade of lacquerware, hammered titanium, and clay vessels followed, each filled with different mixtures of cold-pressed juices, teas, and infusions. By the eighth course—grilled lamb with asparagus—all Cho could think about as she sipped her hibiscus kombucha with roasted onion juice, allspice, and borage was her mother.
Growing up, Cho noticed adults clinking glasses of beer and shochu at birthday parties and weddings, and then her mother, who doesn't drink, with a cup of ice water. Cho wished something more celebratory had been available for her.
By the time I arrived in Healdsburg in the summer of 2018, the last leg of a research trip for my nonalcoholic-cocktail cookbook, Good Drinks, Cho and Kawashima were both working at SingleThread, he as a line cook and she as a "nonalcoholic beverage specialist."
"I kind of demanded the job," she later told me.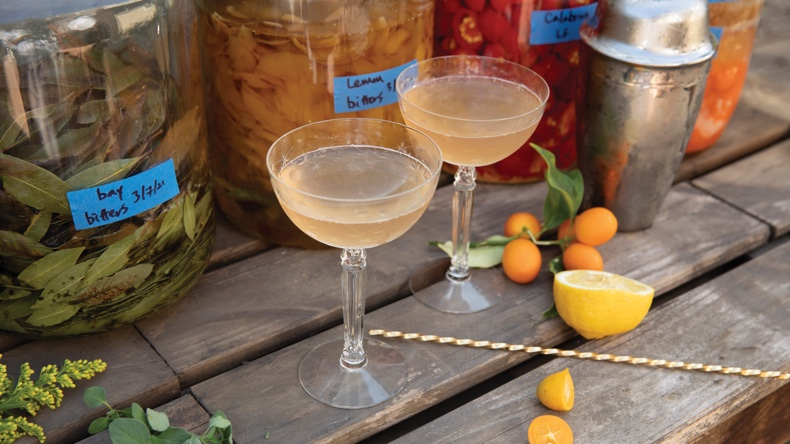 Countless stories about Dry January and the rise of alcohol-free beer, wine, and spirits attribute the Sober Curious, Neo Moderation, call-it-what-you-will movement to wellness, but for Cho, nonalcoholic drink-making is about pleasure and inclusivity. And, she admits, it's also about control. "I don't have to purchase a bottle and hope the product is good," she says. "I can make all my own components."
As I sat in SingleThread's wood-paneled dining room, Cho brought me a mixture of strawberry and shiso syrups with chilled white verjus. Then, alongside a salad of housemade silken tofu with blanched cherry tomatoes from SingleThread Farms, came a warm mixture of sesame milk and ginger syrup. "One of my favorite things to eat is tomato and tofu salad with sesame and ginger dressing," she said as she put it down in front of me.
Later that night, Cho placed a pot filled with sun-dried corn silks, grilled corn kernels, and a drop of liquid shio koji next to diners in preparation for their sixth course. She filled it with 212-degree F filtered water and walked back to the kitchen. One minute and 20 seconds later, as servers landed plates of roasted tilefish with puréed corn and arugula vinaigrette on the table, she strained the infused umami-kissed liquid into a mug.
After SingleThread, Cho moved to Southern California, where she became the nonalcoholic beverage director at Dialogue in Santa Monica. Her creations there included muscat grape juice diluted with a Douglas fir pine needle tisane and seasoned with pine vinegar; elderflower tea with cloves, honey, beeswax, and eucalyptus that drinks almost like chenin blanc; and clarified quince and pear juices with sage, a pairing for rabbit leg confit.
Cho has read Dave Arnold's Liquid Intelligence, a bible for professional bartenders, and studied theories of mixology. Since then, she's developed her own formula: every drink must have one floral component, one fruit, and one spice. "That's my rule of thumb, though sometimes I go outside the box," she says, noting drinks like her mixture of toasted barley tea and charred corn husk syrup. One of the only drinks she has ever served in a rocks glass, it reminds Cho of autumn in her South Korean hometown.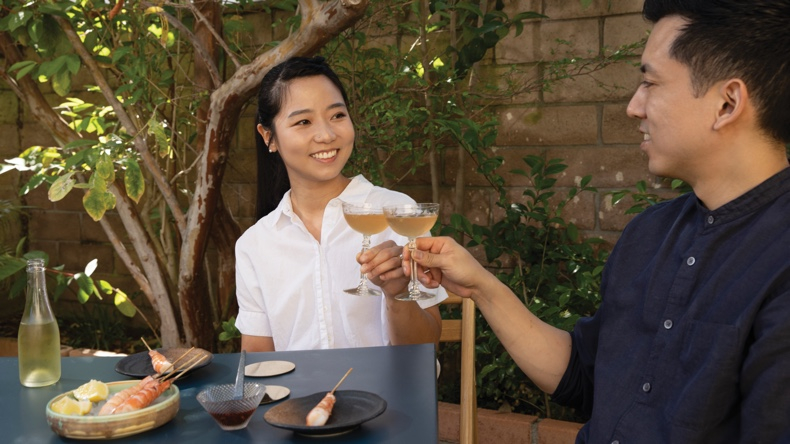 Modern nonalcoholic cocktail books didn't exist when Cho started, and there aren't templates for these drinks unless you count Shirley Temples and Arnold Palmers. It's all still relatively new, in other words. "It's challenging bartenders," says Iain Griffiths, a former partner at Mr. Lyan Ltd. "You kind of have to burn down everything you learned previously and start again. There could be people who weren't bartenders before who kick the shit out of established bartenders in this category."
Cho is discovering she's one of those people. She continues to make her own way, just as she did as a child in South Korea.
"The first time I thought about sexism was when I started playing guitar in the sixth grade," she says about growing up. "A lot of the parents of my friends would tell their kids to not hang out with me, because I'm a girl who plays guitar." What that said to them—Cho explained—was that she was a rebel, masculine, maybe even a slut. "Eventually, kids would say those things to my face. They were so mean." It pushed Cho to become a loner.
Was she sad, I wondered? "No," she laughs, "because I had my guitar!" She cut her hair short, becoming the only girl in school who didn't wear a long braid. She played Jimi Hendrix and Pink Floyd, and thanked the universe for giving her a mechanical engineer father and a feminist mother who had studied sociology in the U.S., both of whom encouraged her passion for music.
By age 15, Cho was living by herself in Seoul and attending the prestigious Lila Art High School. While many of her female classmates were getting plastic surgery and aiming for K-pop stardom, Cho was studying composition and playing the piano, guitar, and contrabass.
Unbeknownst to her parents, she was also working as a prep cook on the weekends. "School was all about music, so I was never stressed out about homework," she says. "I just wanted to experience working."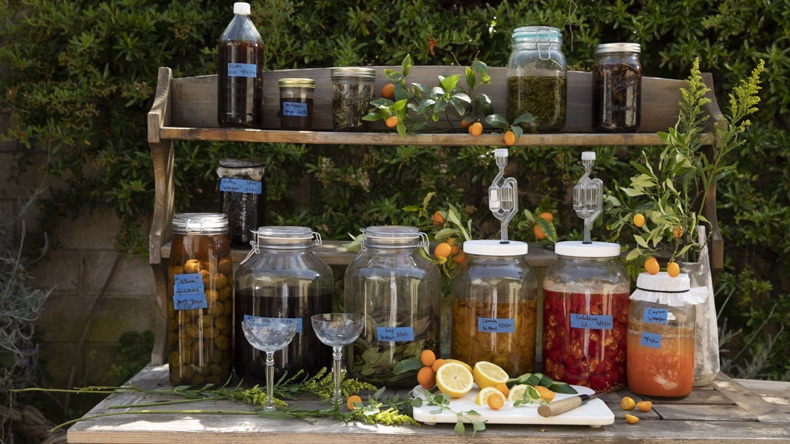 After high school, Cho studied music composition in college for two years, then bought a one-way ticket to America. "I wanted to live somewhere where sexism wouldn't make me so angry so often," she says.
What wasn't certain was a career as a professional composer. "It takes at least six months to make the orchestral or choir music I wanted to make," she explains. "After I compose, I have to gather 20 people and teach them to play before even the first stage of execution."
She returned to cooking while she figured out her career path, but this time, it wasn't just a weekend gig, and Cho was a grown-up. "When I started working in the kitchen," she says, "everything felt right."
These days, Cho is a sous chef at n/soto, a sister restaurant to n/naka, and an entrepreneur: in January, she launched Zero Proof Bevs, a line of bottled drinks that she delivers within the Los Angeles area.
"It tasted like a $20 cocktail I would get at a bar downtown," says Rosa Kim, a customer, of her first sip. "That grapefruit-chamomile concoction? It was not too sweet, perfectly balanced, and had a slightly bitter aftertaste. After that, I bought every single flavor Han makes and I always have them in the fridge."
At dusk on most weeknights, Kim sets up a camping chair in her backyard. "That's where I do my ritual." She gets a frosted crystal rocks glass from the freezer, adds two large ice cubes, and slowly pours a drink from one of her custom bottles. Then she sits outside in the chair and sips in silence. "I really like to take my time with it."
When we last spoke, Cho was offering a lilac shrub made with lilac syrup and black rice vinegar and a drink she calls Rosy Cheeks, with sumac, hibiscus, and tartaric and lactic acids in the mix. She also sells what she calls Citrus Blossoms, a nonalcoholic champagne she worked on for years (at one point, she let out all the gas of her favorite toasty, bready Champagne so she could better compare it to her base recipe). Apple, lemon, lime, grapefruit, orange blossom, lemon blossom, tarragon, angelica, reishi mushroom, fennel vinegar, sea salt—in the end, it's 11 ingredients and a CO2 tank and voilà! Citrus Blossoms.
Cho shows me various bottles and tools in her two-car garage while she explains these drinks. There's kumquat syrup, 40 pounds of ume plum, and a mock-cola made with black tea, sarsaparilla, cherries, vanilla, lavender, a little bit of brown sugar, lemon, and lime, among other ingredients and supplies that have taken over the garage.
On their days off, Cho and Kawashima like to get outside. "We're both indoors for 12 hours a day, so when we can, we'll pack our lunches and take them on a hike to get more sun," she says. Just the other week, they brought two-dozen oysters to the beach, shucking as they ate, and washed them down with a couple glasses of Citrus Blossoms.
Julia Bainbridge is a New York City-based writer and author of Good Drinks: Alcohol-Free Recipes for When You're Not Drinking for Whatever Reason.