Drink
Toast the Season with Frozen Eggnog, Mexican Christmas Punch, and More Holiday Cocktails
Holiday-themed pop-up bars have been on the rise over the past few years, with Mace's Miracle Bar leading the charge with pop-ups in cities like Atlanta, Chicago, and Manchester, Vermont. But you don't need to completely swap out your regular menu for a holiday focus—many bars offer just a themed cocktail or two, with plenty of bartenders opting for flavors or presentations that can stay relevant throughout the winter season. Whether you're looking for Christmas-themed drinks, fresh takes on hot toddies and eggnog, or festive sparklers for New Year's Eve, we have a cocktail that can help inspire your own holiday menu.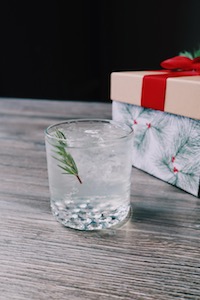 Tilden on Ice, The Douglas Room, San Francisco
At The Douglas Room, the bar at Tilden Hotel, the Tilden On Ice is made with a base of gin and aquavit and accented with aloe, peppermint, and vermouth blanc for a refreshing cocktail that offers a hint of herbal flavors.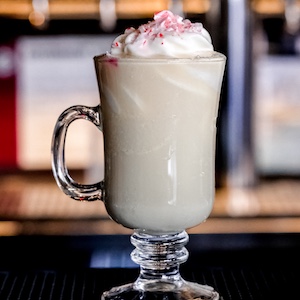 Eggnog Shake-Up at Urbanbelly, Chicago
Eggnog is a holiday favorite, but Urbanbelly gives it a twist—by serving it frozen. It's definitely a strong sip, with bourbon, rum, and brandy forming the base and nutmeg and cinnamon adding warming spices. Peppermint dust is added on top for a bit of crunch.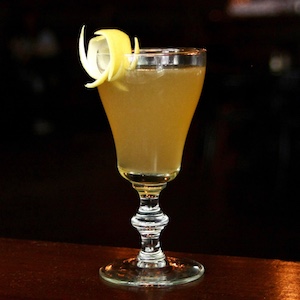 Hot Toddy at Esquire Tavern, San Antonio
Hot toddies are a winter staple, but Esquire Tavern puts a smart spin on theirs by letting bar-goers select their own spirit. Apple brandy, bourbon, or the Esquire house rum blend are all on offer and available to add to the base of honey syrup, lemon, and allspice dram. Hot water finishes the drink, which is garnished with flamed lemon zest pierced with cloves.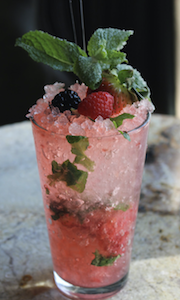 Jingle Bell Julep at the Round Robin Bar, Washington, DC
You don't need to start your holiday cocktail menu from scratch—mint juleps are the signature cocktail at The Round Robin Bar at the Willard InterContinental, so for the season, bartender Jim Hewes gives the classic julep a colorful twist. He adds raspberry liqueur and triple sec to the bourbon and muddled mint, adding bright fruity flavors to the drink, which is served over crushed ice and garnished with mint.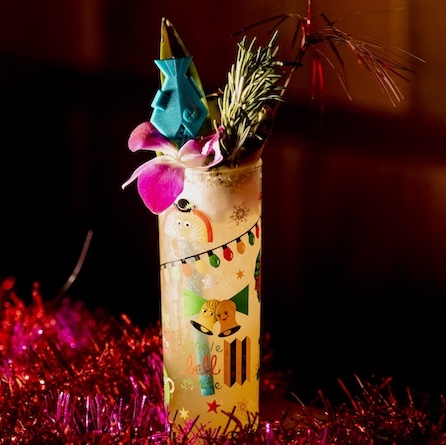 Giddy Up Jingle Horse at Lost Lake, Chicago
Chicago tiki bar Lost Lake goes all-out for Christmas—their Jingle Bell Square pop-up runs from the day after Thanksgiving to New Year's Eve and includes a slate of new cocktails, from a small pour of eggnog to drinks like Giddy Up Jingle Horse, with a gin base along with dry vermouth and genepy for some herbal notes. Cacao adds richness and the pineapple shrub and lime cut through the flavors to add some acid. Mole bitters finish off the drink.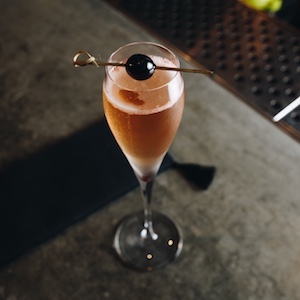 ​
Don't Dream It, Be it at Double Take, Los Angeles
For a sparkler appropriate for New Year's Eve midnight toasts, Double Take serves a cocktail made with prosecco, orange liqueur, and peach liqueur for a punch of fruitiness. A dropper of Angostura bitters adds some spice notes and pulls the drink together.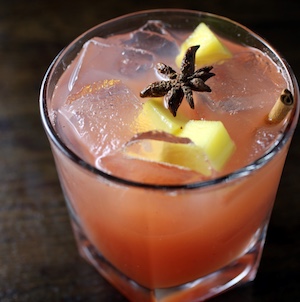 Ponche Navideño at Maya, New York
The Mexican Christmas punch at Chef Richard Sandoval's New York restaurant features a tequila base along with fruits like apple, mango, and pineapple, with cinnamon and star anise for spice. The recipe is inspired by Las Posadas, a celebration that runs in Mexico for the nine days leading up to Christmas—punches are a regular part of the celebrations.