Chefs
We Go Hunting for Morels with The Inn at Little Washington's Patrick O'Connell
"It's a good thing you're here, because you might have missed the boat." Patrick O'Connell, chef/proprietor of The Inn at Little Washington, the celebrated Michelin two-star nestled close to Virginia's Blue Ridge Mountains, was ready to go. "Today could reach 90 degrees and yesterday was in the 80s. They cannot take heat or dryness."
The five-time James Beard award winner was talking about morel mushrooms, one of the most prized wild ingredients in the Old Dominion state, revered for their meaty texture and deeply earthy flavor. The locals call them merkels or "miracles," depending on the thickness of their Southern accent.
The rare fungi with tubular honeycombed caps come out for a just short burst of time during the spring—and only if the conditions are just right. They love damp, cool mornings and afternoons that are sunny but not scorching. If all elements are in accord, morels can grow two and a half to four inches in a day. "You could have gone out yesterday and not seen anything," O'Connell said. "Then you go out today when the conditions are perfect, and they will have popped."
These elusive treasures usually first start sprouting up sometime in April, depending on the harshness of the winter and when spring decides to arrive. O'Connell makes a big to-do when morels become available, because they're a recurring favorite with guests and their presence is fleeting. Sometimes the season only lasts for a week or so; other years it stretches for a month or longer. Foragers can command $20-25 a pound for them at the beginning of the season, or all season long if they're scarce. O'Connell says he thinks of morels as American truffles: "it's the exact same cult and feeling when you find them."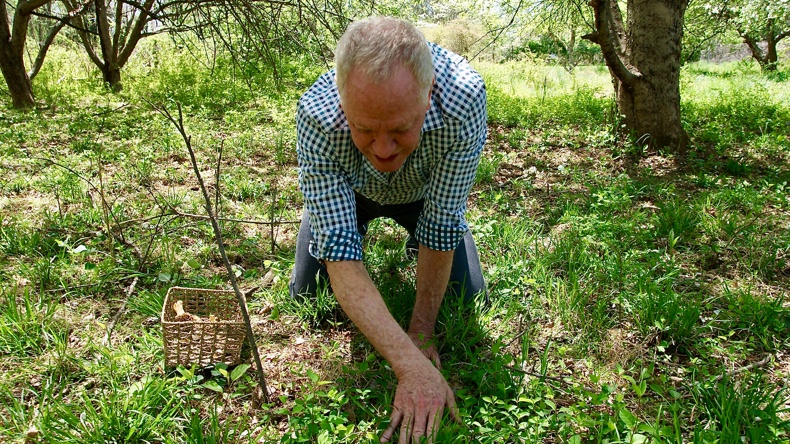 He's been searching for morels since learning about them when he moved to the area in his early twenties. After working as a caterer, O'Connell bought a broken-down garage on the corner of Middle Street and Main Street in a sleepy little hamlet in Virginia's Rappahannock County, fixed it up, and debuted The Inn at Little Washington in January 1978. He served 70 people on opening night.
After receiving a glowing review in The Washington Post, the restaurant became a dining destination and the chef's star ascended meteorically. Over the years, he has won almost every culinary award you can name, even earning the nickname "the pope of American haute cuisine."
This year marks the Inn's fortieth anniversary, so O'Connell is making the most of the milestone with a series of celebrations, including a 1700s-inspired dinner at George Washington's Mount Vernon Estate and Innstock, a Woodstock-inspired food festival featuring 40 former chefs from The Inn this fall.
But on this sunny day in early May, O'Connell was simply hunting for morels in an abandoned apple orchard. They seem to like the shade of the fruit trees, though they also appear to be partial to growing under poplars. I'm not allowed to reveal his preferred location; morel patches are closely guarded secrets passed along only to family members or highly trusted friends. O'Connell's Dalmatian, Luray, who the chef is trying to convince to become a morel sniffer, accompanied us.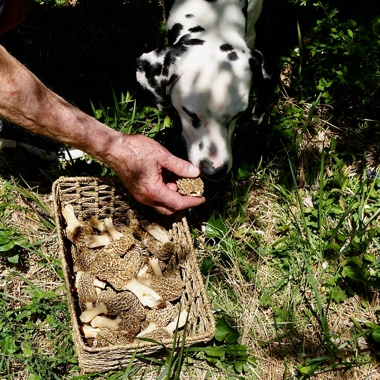 The midday heat was intense, but standing under the shade of the bowers, it was more than bearable. The light filtered through the leaves above to dapple the ground. Tufts of golden grasses and snarls of wild raspberry brambles interspersed the patchwork quilt of dead leaves. Since morels range in color from brown to blonde to gray, it can be tough to spot them; they tend to blend right in with the landscape, hiding in plain site. You could be right next to one—or even standing on one, if your luck is rotten—and not realize it, no matter how hard you are looking. "The best way to look is to be on all fours," says O'Connell, getting down on the ground to rustle through the undergrowth.
We hadn't been looking for more than a couple of minutes before we saw one poking up from the earth, a sentinel standing guard over hollowed ground. "Oh my. Yes, he's beautiful," exclaimed O'Connell, carefully plucking it and placing it in a woven basket.
A few minutes later, I spotted a morel with a spray of green grasses splayed out behind it like a headdress. "There's one," I practically shouted, before spotting another. "And there's one."
I carefully eased them out of the ground, the dirt still clinging to the bottom of the stems, and added them to the basket. Finding a morel is an electrifying rush of joy, quickly followed by the desire to find another one as soon as possible. It's the foraging equivalent of Easter egg hunting.
We patiently worked our way through the orchard, slowly filling the basket. Each discovery is different. Some of the morels were slender, some zaftig; some were out in the open practically begging to be plucked, others lay on their side under the leaves like demurring sleeping beauties. After 45 minutes, we accumulated more than a pound. "The kitchen is going to be amazed," O'Connell noted.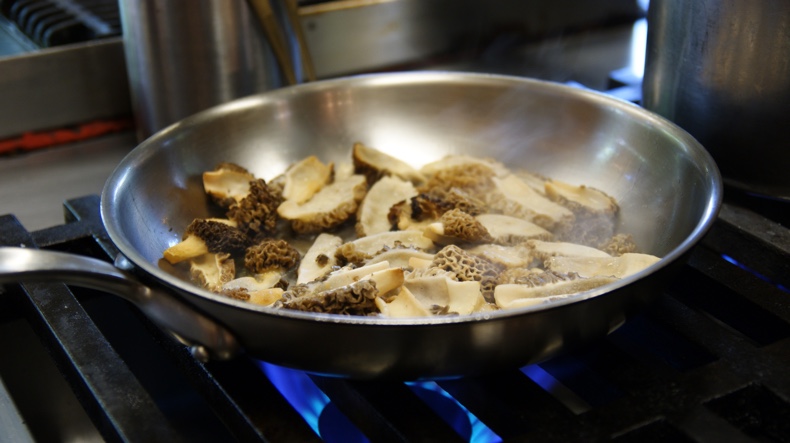 Our path turned towards The Inn to enjoy a lunch featuring our finds. Locals often batter and fry the mushrooms, adding a little beef stock to make a thick gravy that goes perfectly with venison or a steak. Or they sauté them and add them to their scrambled eggs. O'Connell prefers keep his preparations simple; he has stuffed them with minced morels and cheese, and used them as an animal protein substitute to make mock meatloaf and crustacean-free crab cakes.
Back in the kitchen under the gleaming copper and brass hood, O'Connell sautéed some morels to be tossed with spaghetti, while others went on a springy pizza finished with ribbons of Virginia country ham. Sitting down to eat with O'Connell at one of the chef's tables, which overlooks the intensely focused bustle of the cooks prepping for dinner that evening, I savored their flavor. They're supremely earthy and yet unearthly–a secret taste of the woodlands, and a rare delight.