Chefs
Robert Stehling Explains How He Knew It Was Time To Shutter the Iconic Hominy Grill
Robert Stehling was 33 years old when he opened Hominy Grill in Charleston in 1996. His mission was specific: He wanted to create a neighborhood restaurant serving Lowcountry dishes touched by skills he'd honed working in Chapel Hill and New York City kitchens.
He succeeded, and for twenty-three years, the restaurant thrived. And then, he decided it was time for his next adventure. On Sunday, April 28, Stehling closed the doors for good.
"In some ways, my goals and what I started out to build are history now," he says of how Charleston's evolving hospitality scene affected his restaurant's evolution. Stehling started cooking as a college freshman in Chapel Hill, an environment he remembers as full of pedigreed PhD's at the time. "Everyone in the kitchen was way more interesting than anybody I was hanging out with at the dorm," he says of the working-class crew in comparison. "It was the island of misfit toys. I was home." When he opened Hominy Grill in 1996, there were no cell phones around. He didn't own a computer. He loved the isolated camaraderie of this eclectic workplace.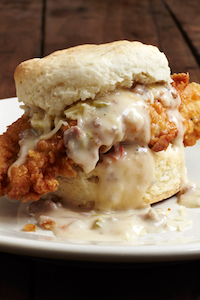 ​
He notes that today is very different: Charleston's dining scene and the overall hospitality environment are far more middle class than when he started cooking. More cooks have culinary degrees, and the continued increase in tourism push diners' expectations and restaurant price points. New hotels with deep pockets open every season and pull staff from the mainstays who helped create the visitor boom. Then there are the massive Instagram accounts, online customer reviews, and other outside influences "muddying the waters," as he says. "You get past a certain point and are like, 'OK, I've got this very different thing than what I started with,'" he adds about the contemporary chef/owner's daily considerations beyond the menu.
Throughout that evolution, Stehling made sure his menu stayed true to his original principles of Lowcountry cuisine, regardless of external pressure to expand his focus. His shrimp and grits and coconut cake became local staples. His fluffy house-made biscuits filled with fried chicken, Cheddar cheese, and gravy garnered national attention. Pimento cheese, pork belly, and boiled peanuts celebrated his love for the South; folding them into dishes like huevos rancheros and curried chicken salad gave neighboring chefs confidence that diners would welcome incorporating other perspectives into southern cuisine.
"Certainly, I worked with that for years and years, and that was fun and exciting," Stehling says of helping promote classic Lowcountry cooking. He won a 2008 James Beard award for Best Chef Southeast as a result, and Hominy Grill became even more of a destination. "But after years and years, you feel like you know every room in the house.
"There's a cycle to the restaurant," he explains. "Summers are really busy. You come off the summer exhausted. Then you're like, 'Okay, I get a break over the winter and then start up for the summer.' At a certain point, I just felt like I didn't want to go around again. I wanted to find the best way to not do that."
And so, he decided it was time to close—not because of rent hikes, financial issues, exterior industry pressure, or from the effect of a family crisis or partnership squabble.
The decision started as a gentle want for something new. Then it became a push. And then a weight, as the pressure kept building up. He talked to his wife about it, and she agreed philosophically, but he says it took a while for the idea to become real. He told his daughter about his plan, and then, prepared to announce the decision to close to his staff—some who had been with him for decades.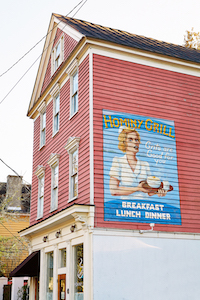 When Stehling cut dinner service back in 2017, he didn't plan how he would announce the news. "We very abruptly pulled the staff together at the end of the night and said we would not be doing any more night shifts," he says. "That [approach] was just painful. It felt wrong. We wanted to correct that this time." This time, he took more time, and announced the news to his staff three weeks before closing. Most people were shocked. Many were sad. Some were angry. A few stopped working immediately, "but you pretty much knew who they were going to be," he notes. After a few days, those who stayed seemed to be more understanding of his decision and motivated to work together for a strong closing. "That was really gratifying, to have those people stay with me," he says. "They didn't have to do that. That was my main concern and motivation, not hurting all these people in the closing."
After he announced the closing on Instagram, locals poured in for final meals and media buzz increased. His wife overheard people talking about it in casual conversations at the airport. "To have people step up with so much depth of feeling, and the thought people put into their responses in writing about the restaurant closing… it was very kind of surprising and reinforcing in some way," he says. He focused on controlling the rush and getting his staff ready for their future. "I didn't have the bandwidth to be worried," he says about his own next steps.
He's only a little worried now, a few weeks after closing, as he cleans out the restaurant with no next step planned. But mostly, he's feeling good.
His first few days not standing at the pass were all about self-care: He got a massage, had acupuncture, and went to physical therapy. Pondering the future, he's considering healthier dishes, different aesthetics, and an expanded pantry—possibilities now released from under the rock of his intentions with Hominy Grill. And despite a longing for simpler times, he's not against opportunities afforded by digital platforms. "It's a lot of unwinding or unscrewing," he says of this brief, unstructured time. "I have a feeling that things are going to look really different to me in a couple more weeks. I want to be able to make a decision then and not be already started down paths that are maybe not where I want to be."
He compares it to the way he plays pool: He hits hard with his best shot and then waits. "Something good will happen, something bad will happen," he says. "You just have to be able to sort them out."