Chefs
Chefs to Watch 2019: Ashleigh Shanti, Benne on Eagle, Asheville, N.C.
September 16, 2019 1:55pm
The framed black and white line drawings on the walls at Benne on Eagle, located in Asheville's Foundry Hotel, are more than decoration, although they complement the sleek, industrial space. Drawn by a local artist, the portraits celebrate four women who have impacted the local black community there. For Ashleigh Shanti, those faces are a source of inspiration. "I'm one of the few black chefs in the area," she says, adding, "It's powerful to be executing this vision, because they paved the way for me."
Benne on Eagle is located in a neighborhood known as "The Block," a once-thriving epicenter of African American culture and community in the early 20th century through the 1960s. The Block's restaurants and clubs offered the city's African American community spaces where they could enjoy one another's company and food. Shanti makes sure her front- and back-of-the-house teams learn the history of the area and the stories behind the portraits on the wall, so they can answer guests' questions about who these people are. "It's an easy entryway for guests to find out why we're here," she says.
Shanti's menu is the culmination of her upbringing in Virginia and travels to Denmark and Kenya, all of which influenced the way she sees food. When she was growing up, her family visited farmers markets and bought produce and seafood from local farmers and fishermen who were family friends, something she thought was the norm for most families until she traveled. "Looking back, it taught me the importance of the connectivity with your food source," she says, noting the local producers highlighted on the menu.
Shanti's cooking combines the influences of Appalachian and West African cuisines with the seafood and produce of the Eastern seaboard of the United States on a menu that speaks to her personal history. "I take many different cultures and put it on one plate, including Asheville's," she says about transforming classic Southern dishes like fried chicken and waffles and collard greens into fried catfish and waffles, potlikker-braised chicken wings, and an oxtail red rice bowl with rum dressing (recipe). Her goal is to create a shift in the way people view not only soul food, a term she doesn't like ("People have a very limited view of what soul food can be, and I want to change that," she says), but also the history and legacy of chefs that have made this food across the South for generations. "When we talk about the food black Americans cook, it's more than fried chicken," she says. "It has influences from Africa; it's actually very global."
She researched these cuisines and identified the regional differences, impacted by hundreds of years of history and specific communities throughout the country. For her, ingredients are paramount, and seasonality guides what is used in each dish. And so, dishes at Benne on Eagle, like her ogbono pork ribs that reference the classic Nigerian stew made with ogbono seeds, are served with cracked-corn spoon bread and a pepper-vinegar barbecue sauce, creating a direct line of influence between the foods of the South and of West Africa, two important parts of her own lineage as a black Southern chef. "The food I cook is soulful to me because it's an expression of me and what I like," she says.
Before taking the chef de cuisine position at Benne on Eagle, Shanti worked with Vivian Howard of Chef & the Farmer in Kinston, N.C., an experience that she says highlighted how important it is to convey a message on the plate. "Vivian really has the gift of storytelling and her guests don't just get food, they get a story about the South," Shanti says. She knew she wanted to do the same with her menu. "In order to do that, you have to be intentional and thoughtful, and Vivian really showed me that."
Sankofa, a Ghanian symbol of a bird looking backwards, also informs Shanti's cooking, and is the core principle of the restaurant's culture. In its written form, it means "Go back and get it," encouraging those who hear it to look to the past for inspiration and bring what they find to the present moment. It requires research and an inquisitive nature, two things Shanti embodies as she creates more menus of dishes that speak to where she's from and who she is in this moment.
"I think my cooking is just kind of exploring my life: my roots in West Africa, the South, the Caribbean, and Appalachia," she says. "I want to keep exploring my own history and the history around me."
Related:
Click here to see the full list of 2019 Chefs to Watch.​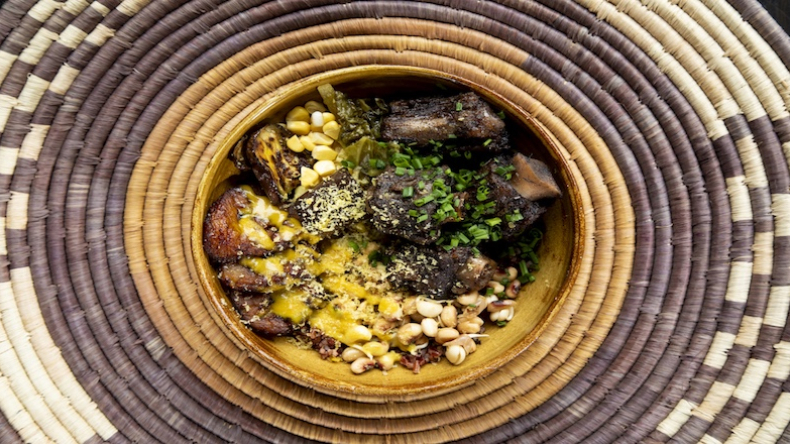 Q&A with Ashleigh Shanti:
​What cookbook is most important to you?
A friend gifted me the book Domestic Cook Book: Containing a Careful Selection of Useful Receipts for the Kitchen by Malinda Russell, and it's become the most important cookbook for me. The recipes are crazy simple and Russell feels like an underdog, someone who history erased. She was from Appalachia, and it was similar to what I do with my cooking. There's even beauty recipes for salves and bug sprays, which is me, too, because I make things out of what I forage
How do you describe your food?
It's a thoughtful expression of who I am and where I come from. I would also call it a nuanced expression of Appalachian and African cuisine with Southern influences. I describe it as an expression of myself, because I have many parts of myself.

Where do you find inspiration for your menu?
In the women in my family, in really old cookbooks and travel. I have conversations with my mom and my grandmother about their upbringing and what they ate. I'm also inspired by the flora and fauna of nature in North Carolina around me.

What do you do to take care of yourself?
I would say stretch and chug a glass of kombucha. I guess the answer is that I don't take care of myself and I'm trying to figure that out but kombucha provides a balance to my gut and prevents me from craving the things I shouldn't need. And I've done yoga since high school because it's calming and helps you get in a good headspace.

How do you take care of your staff?
I always make sure everyone takes a seat to chat, mentally prepare for dinner service and enjoy staff meal on a daily basis. No matter how insane my day gets, I make it a point to put on the brakes if my staff ever needs a listening ear or advice. I'm also mindful of the hours they work. It's very rare for my line cooks to work over 40 hours, which is really rare [in the industry].

What restaurant is your dream stage location?
Ovima restaurant in Gabon. I was on a plane flipping through a magazine and saw a story about the restaurant. I Googled them and was impressed by the food, which is African fine dining.

What's your bucket list restaurant to visit?
Sean Brock's new restaurant when it opens. I feel like he'll be unearthing some Appalachian culinary gems.

What is the next cooking challenge or technique you want to try?
I want to learn about nixtamalization, the process of removing alkaline from corn. They use this technique in parts of Africa and I think it'd be useful in my food.
Korsha Wilson is a food writer and CIA-grad based in the New York City area who has been published by The New York Times, The Washington Post, Bon Appétit, Food & Wine, and Eater.