Chefs
Chefs to Watch 2018: Samantha Fore, Tuk Tuk Sri Lankan Bites, Lexington, Ky.
I first came across Samantha Fore while flipping through Instagram late one night. Amid all the food porn and vacation pics was a post from someone called TukTukLex that caught my eye, largely because I couldn't believe someone was doing interesting Indian food in my hometown in Kentucky (let's just say I remember when the Olive Garden opening was a big deal).
I followed the account, and soon exchanged messages with Samantha Fore, the chef behind Tuk Tuk, and got to meet her at Brown in the South, a dinner series hosted by Indian chefs cooking in the South. And once I got to eat the food at one of her pop-ups, and saw how much her Sri Lanka-meets-the-South cooking appeals to the crowds that line up an hour before they start, I quickly got over my surprise that a Sri Lankan restaurant could thrive in a small, Southern town.
"There's something to Tuk Tuk being in a college town in Kentucky that is part of why we are successful; it means I have the luxury of being the only one doing Sri Lankan and Southern food," she points out. "The people here are supporting us and are our megaphones."
Fore understands a lot about appealing to target markets, having switched careers to cooking after getting her master's degree in marketing and developing websites for chefs including Jamie Bissonnette, Ken Oringer, and Edward Lee. They are among the chefs who have taken Fore under their wings; fellow Kentucky chef Ouita Michel is another fan and mentor, as are the Brown in the South chefs, especially Maneet Chauhan, Asha Gomez, and Vishwesh Bhatt.
When you find Fore at one of the group chef dinners that fill her calendar, she's usually in the center of everything, but always watching, eager to learn from others. She learned Sri Lankan cooking from her mother, and supplemented that education by reading and cooking from Larousse Gastronomique and obscure Sri Lankan cookbooks. But she says the hands-on experience is what made the difference.
"Cooking with my mother is the best education I could ask for," Fore says, noting that her mother once lamented not opening a Sri Lankan restaurant herself. "We're so accustomed to cooking these huge portions because it's what we've been raised to do. Dinner for 40 is easy; it's just how we cook."
Those flavors can take the traditional form of beet curry (recipe) or string hoppers (Sri Lanka's famed rice noodle nests) or her Southern-inflected dishes, like coconut curry deviled eggs with a spicy onion relish, curried fried chicken, and meatball curry. These dishes have proved to be popular enough for Fore and her partners to take the plunge to open a brick-and-mortar restaurant in early 2019. In the meantime, she'll keep cooking for sold-out pop-ups and sharing her culinary point of view.
"If I can make people understand the roots of where I'm from, that means the flavors I grew up with and love will have a chance to be out in the world," she says. "Cooking makes me happy and brings other people joy. These are the flavors I grew up with at home, and food from home is what resonates with people. Southern and Sri Lankan food are not the same animal, but they have a common thread of hospitality."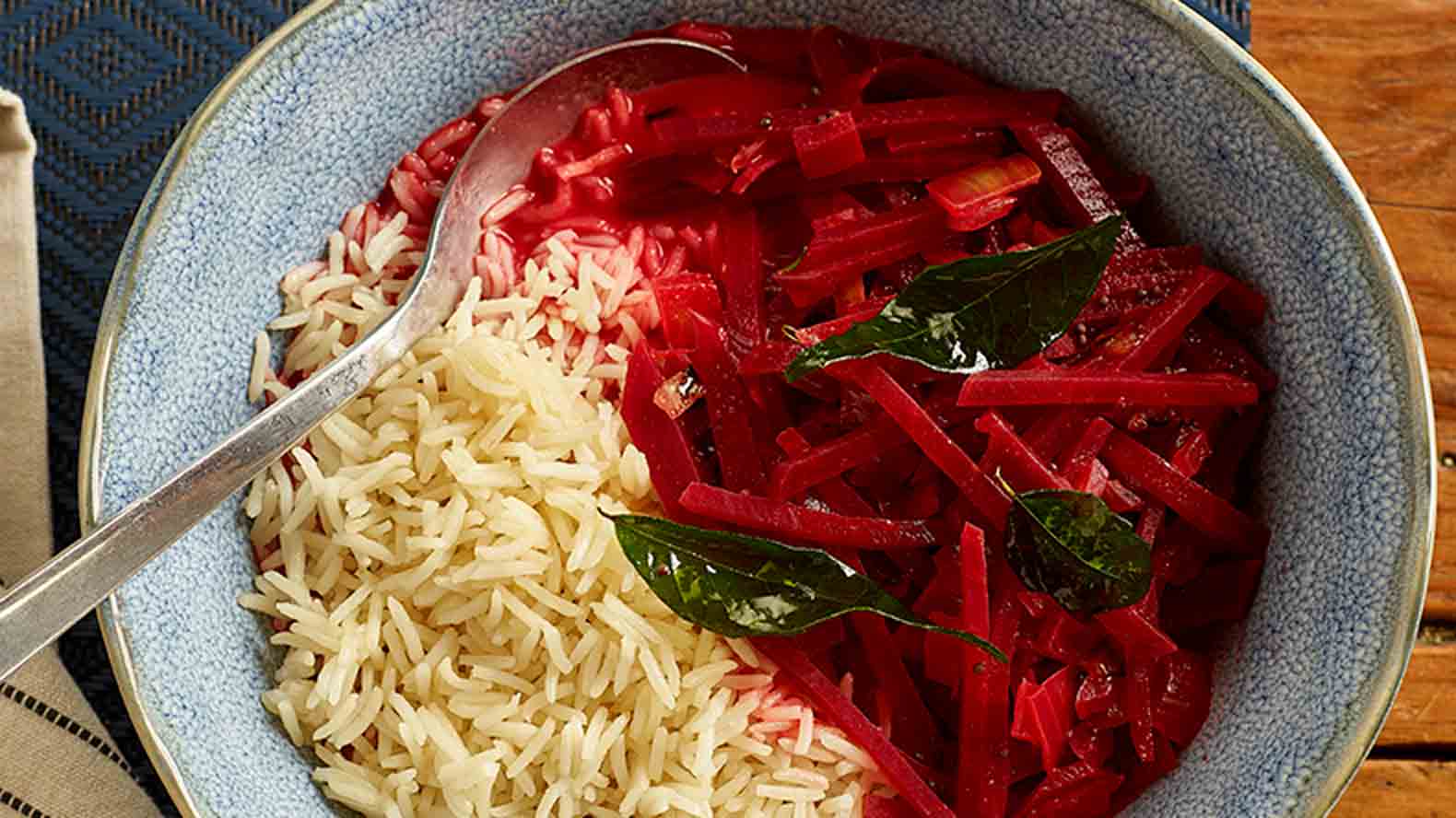 Q&A with Samantha Fore:
What is your favorite ingredient?
Tamarind and lime. Both bring different qualities of sour and sweet, but can amp up dormant flavors. We use cumin and coriander in the brine of fried chicken, and when we add lime, it brings out the flavors of the spices.
How do you describe your food?
It's like an auntie met an old Southern lady and they decided to cook together. When I was younger, my mom had surgery, and an older lady named Frances took care of me after school. She's this amazing Southern cook, who is family now. She taught me what chitlins are, and about Southern food. I want to cook like someone's grandma.
What cookbook is most important to you?
There are two Sri Lankan books I keep going back to: Ceylon Cookery, by Chandra Dissanayake, and The Ceylon Daily News Cookery Book, by Hilda Deutrom. And I also love old church and Junior League cookbooks.
Where do you find inspiration for your menu?
I like to hear what people had when they grew up, especially if they are from Kentucky. I know what auntie cooks the best curries, what food people think about. I take what is on their wish lists and riff on them until I get the food to the point where it is ready. It took six iterations for the ribs, probably 16 for my fried chicken. But I want it to be good enough where you are thinking of it two hours after you eat it.
What do you do to take care of yourself?
I snuggle up with my dogs, sometimes with a glass of wine and a movie. And I do like a manicure; people look at your hands so much when you are cooking for them. They are small things, but self-care is important. This job pulls you in so many different directions; everything is happening so rapidly. It's hard to keep up, but I don't want to stop. I know I'm in for a roller coaster ride, so I take care of myself as much as I can.
What is your pet peeve in the kitchen?
Negativity and rudeness. Hospitality is not a hat—you can't take it on or off. I've definitely met people who think they can be rude if they think less of the people cooking around them. I have time for everybody—I don't care if it's the dishwasher who wants to learn how to cook something.
How do you describe the vibe in your kitchen?
Relaxed, welcoming. People sit at the counter and I make snacks. Everything smells good all the times—it smells like cumin and coriander. It's a place where people gather.
What career would you have if you weren't a chef?
I have a master's degree in marketing, and I'm good at understanding what makes people tick. And everyone needs marketing. But if cooking doesn't work out, I just want to travel and listen to people tell me stories.
What restaurant is your dream stage location and why?
Ministry of Crab in Sri Lanka, so I could work with Dharshan Munidasa and the incredible seafood in my homeland. In the States, maybe something along the lines of Commander's Palace in New Orleans or Canlis in Seattle. They are totally different but both unique in my memory.
What's your bucket list restaurant to visit and why?
I just want to eat around Japan. I want to go to tiny izakayas and sushi joints, and places like Sushi Taichi in Toyko. And Ginza Bairin—it's a little curry house people line up for hours to get a curry. I went to the one in Hawaii, and would love to check out the one in Japan.
What city is your favorite eating vacation?
Paris. I like going in the tiny cafes and getting unpasteurized cheese, steak tartare or mussels and wine, then walking for an hour and doing it again. I still think about the mussels; I haven't had ones that good since I was there six years ago.
What is the next cooking challenge or technique you want to try?
South Asian pickling is a different animal, and I want to learn more about making achars and super-awesome mustard pickles and lime pickles. And I want to learn more about lamprais and the other more complicated curries that take days to make. There's so much to Sri Lankan food, from colonization and all the different cultures there. Mastering the entire country is going to take me a lifetime.