Chefs
Chefs to Watch 2018: Ryan Santos, Please, Cincinnati
Last year, Ryan Santos, chef/owner of Cincinnati's Please, did something that few chefs in his adopted hometown would ever dare to try: He took the city's favorite regional dish—the holy trinity of spaghetti topped with Cincinnati-style chili and a pile of Cheddar known as the 3-Way—and he messed with it. Messed with it good.
Santos started with a painstakingly created vegetarian broth that used the same flavor profile of the Mediterranean-inspired chili—a mixture of cinnamon, allspice, chocolate, and other spices—then poured it over ramen noodles before topping the dish with the requisite cheese. "It took a lot of effort to figure it out," he says. "But I think it was pretty well received."
Santos wasn't trying to show off. A native of Akron, Ohio, he respects his adopted hometown traditions and knows any elevated version of a local favorite could never replace the real thing. Then again, he also understands that Cincinnati isn't just a Midwestern meat and potato town. Santos says there's always been an appetite here for fine dining, and that Cincinnati diners want the same things as people in New York or Chicago or L.A. And right now—by using ingredients that are foraged, fermented, and often grown in a garden he keeps a few blocks away—he is delivering; the Cincinnati Enquirer named Please its best restaurant of 2017.
Santos says the two things he loves most about Cincinnati are its architecture and its food. So when he moved his popular pop-up dinner series into a long-abandoned 19th-century building in 2016, he made sure the diminutive 30-seat dining room, which was lauded by Dwell magazine last year, was as impressive as the food.
That design focus has roots in his degree from the University of Cincinnati in graphic design. Santos spent just a few months working in his chosen field before he started wondering if he could apply his love of design with his love of cooking. Although he didn't grow up cooking or attend culinary school, he started cooking while in college after he was diagnosed with Crohn's disease and had to dramatically alter his diet. After turning his attention to food, he worked at restaurants in Cleveland, Pittsburgh, L.A., and elsewhere and trained in Copenhagen at Relæ.
You find both design and culinary technique in his food, which is so friggin' beautifully plated that it could perform double duty as an exhibit at the city's museum of contemporary art. Santos offers two tasting menus—one vegetarian, one not—plus an à la carte menu with options like fluke ceviche hidden beneath an enormous caraway cracker and his take on spinach gomae, in this case a sesame tahini dressing tossed with pickled green strawberries or apples (whatever's in season) and rolled into locally grown collard greens. He also offers æbleskivers—Danish pancake puffs—stuffed with apple butter and served with maple caramel and gjetost cheese (recipe) that walk the line between savory and sweet.
Santos believes he's offering something entirely new: food that's worthy of the city's long-thriving arts scene. "Cincinnati has always been seen as conservative, but there is a strong support of the arts here," he notes. "The visual arts, the symphony, and the ballet. But it surprised me that there wasn't a culinary version of the arts here. I wanted to tap into that and see what happened."
If the crowds lining up at Please are any indication, the support is definitely there.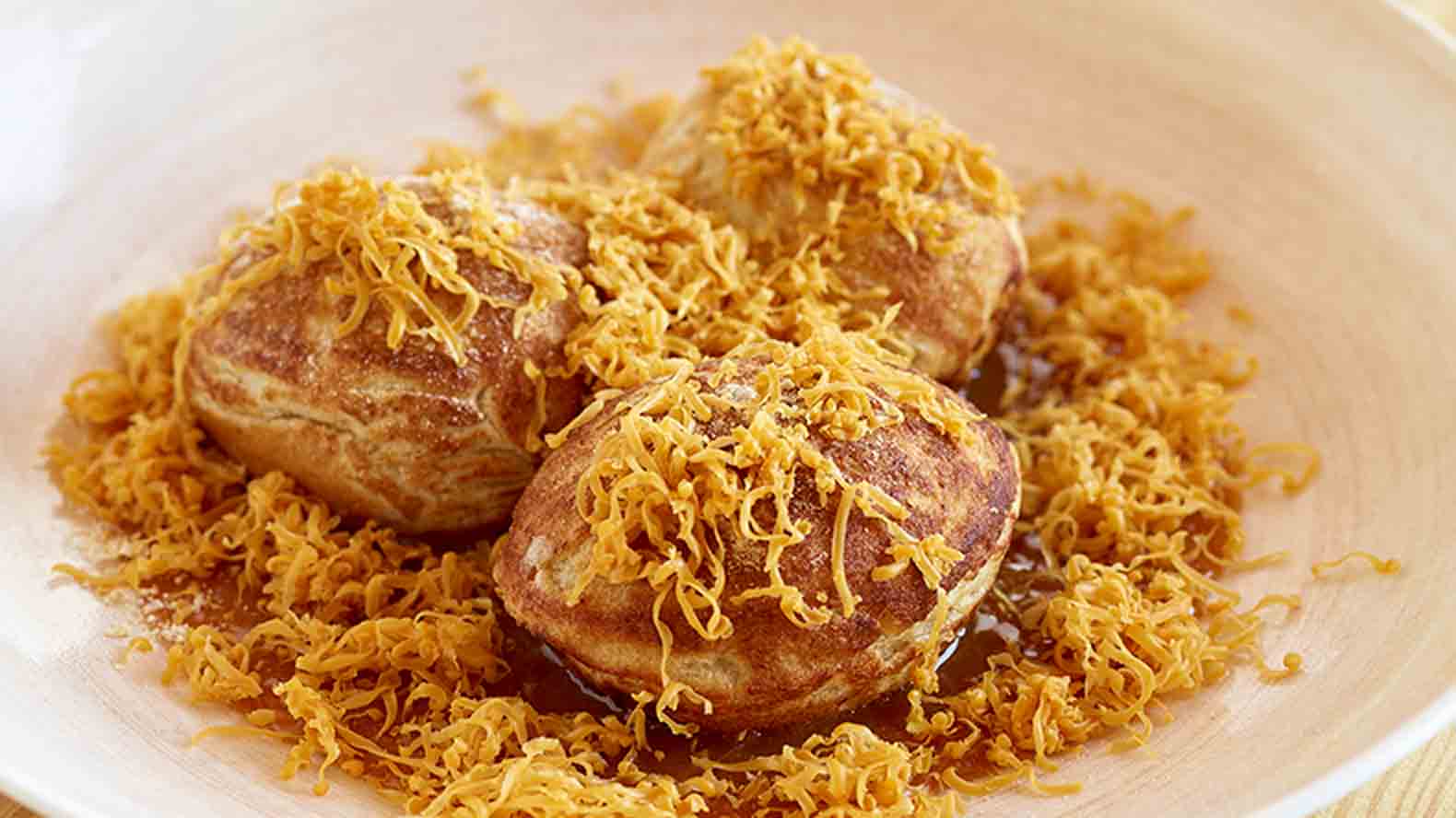 Q&A with Ryan Santos:
What is your favorite ingredient?
Potatoes. The scope of what can be done with all of the different varietals is endless. They're a constant on any menu in all forms—from savory to sweet.
How do you describe your food?
Our goal is to make creative and delicious food. It's a combination of being in the Midwest, and sourcing things here. I filter everything through an Ohio/Midwestern perspective and am influenced from my travels to places like Paris and Copenhagen, and places I've yet to see (like Japan and Mexico).
What cookbook is most important to you?
Larousse Gastronomique is always my first stop for inspiration.
Where do you find inspiration for your menu?
Inspiration can come from a lot of places. Usually it's a seasonal ingredient or a flavor we build from. Sometimes tasting a combination at a Japanese restaurant or taco cart clicks on the light bulb for me.
What do you do to take care of yourself?
I spend as much time as possible hanging with my two dogs.
What is your pet peeve in the kitchen?
Slamming refrigerator doors.
How do you describe the vibe in your kitchen?
Focused but laid-back. I let the cooks manage their prep lists and ordering, and allow them to come back with ideas on how we can do things smarter, faster or better. I welcome the whole kitchen staff to participate creatively in what we do.
What career would you have if you weren't a chef?
A winemaker.
What restaurant is your dream stage location and why?
I'm probably past my staging stage of my career, but it'd be at Elske in Chicago. Staging around friends who make some of the most creative and interesting food in the country would be a dream.
What's your bucket list restaurant to visit and why?
Though it may not be the largest source of inspiration, it would probably be Noma—just the perspective change on sourcing, ingredients, philosophy, and influence on cuisine over the last decade-plus. I'd love to experience it in person.
What city is your favorite eating vacation?
Paris, hands down.
What is the next cooking challenge or technique you want to try?
We're in the midst of summer right now, so letting local produce shine is our mindset, but I'm looking forward to returning to fall and getting more technique-driven with our dishes.