Chefs
Chefs to Watch 2018: Nathaniel Reid, Nathaniel Reid Bakery, Kirkwood, Mo.
Nathaniel Reid studied pastry at Le Cordon Bleu in Paris. He worked at Joël Robuchon in Las Vegas and also as executive pastry chef of the St. Regis in Dana Point, Calif. But one of his best inspiration moments took place mid-flight over the Midwest. "I was flying to L.A. from St. Louis for a class I was teaching for Valrhona. I might've been over Kansas or Nebraska, and I was looking out the window and noticed the irrigation crop circles," Reid recalls. He later worked the immaculate circular designs into the top and sides of a caramel, hazelnut, and milk chocolate mousse cake, using ring cutters dipped in gold luster and syrup. "Inspiration is all around," he notes.
Today, he's channeling what he's picked up from his travels, consulting jobs, and experience cooking in kitchens all over the world into his suburban St. Louis bakery, which he opened with his wife, Lee Lee, just a few days before their daughter was born. "For some reason, chefs also like to have a baby when we open a business," he laughs. But the new role as dad only helped ground Reid, who was done with the "nomadic chef lifestyle" he'd lived before he moved back to his home state five years ago. "It's nice to be able to settle down and really enjoy life a little bit and be in a place you love and around people you love," he says. And having a home base also gave him a place to showcase his dizzying roster of sweet and savory pastry items. Influences from Europe, Japan, and the Midwest show up in flaky croissants, poppy flower macarons, elaborate mousse cakes and entremets, canelés, quiches, and more. Reid's love of tropical fruits inspired the Polynesia, a sunny, mango glaze-enrobed cake with layers of coconut mousse, banana cream, and almond cake (recipe). "It exemplifies my style a little bit," says Reid. "I think it's sexy and sophisticated, but it's not overdone."
That same philosophy and attention to detail applies equally to Reid's rustic goodies, like chocolate chip cookies, financiers, snickerdoodles, tarts, kouign-amann, and bear claws, all baked fresh daily. "It's sugar, flour, salt, butter, yeast, milk, every day," says Reid. "Every day we shape, proof, bake, finish, and put them out. At the end of the day if they don't sell, they go somewhere else. Everything's fresh and on point. It's a lot of labor and time, but we love what we do and if I do something, it's done the right way."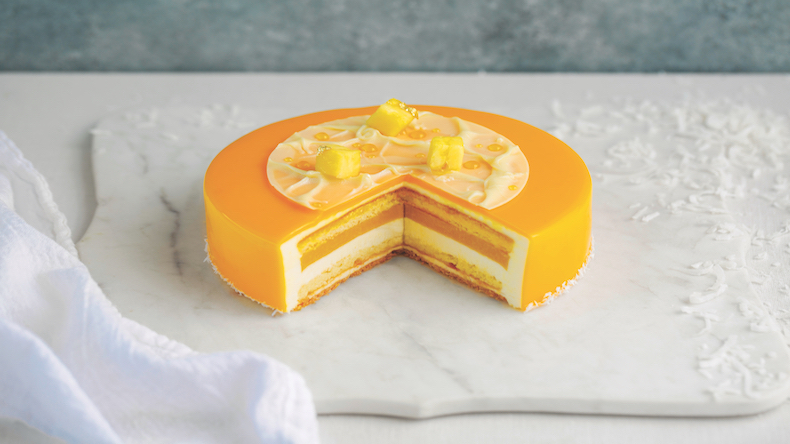 Q&A with Nathaniel Reid:
What is your favorite ingredient?
Chocolate. It's not only one of my guilty pleasure snacks in the kitchen, but you can do so much with it. Whether it's milk or dark, it's pure pleasure. Chocolate is so versatile, and every kind is different—just like wine or coffee. With the different flavors of fruit and cacao and varying perfumes, it's a unique experience each time you taste.
How do you describe your food?
We specialize in both contemporary and traditional baked goods and pastries with perfected European techniques.
What cookbook is most important to you?
The Best of Gaston Lenôtre's Desserts: Glorious Desserts of France's Finest Pastry Maker. He's the godfather of pastry and set the foundation for our industry today. I love studying the innovators of the past as they have a huge influence on everything. Even with advancements in technology and artistic expression, nothing is brand new and someone like Gaston set the foundation.
Where do you find inspiration for your menu?
Inspiration is all around. I'm inspired by walking in the woods, the texture of the bark on a tree, or picking an apple off a tree. I'm mindful of the life around me. For example, my wife and I took a trip to New Orleans and I was inspired by the intoxicating smells of pralines in the streets for our amber tart.
What do you do to take care of yourself?
As much time as I spend in the bakery, my family is the most important thing to me. No matter what, I don't compromise on time with my family.
What is your pet peeve in the kitchen?
Fake ingredients like margarine. Why would you ever use the fake stuff? We use this beautiful butter from Wisconsin that wasn't available in St. Louis until we brought it to the market to open the shop. The cows in Wisconsin make the best butter and cheese. There are a lot of false claims about using "the best ingredients," so I encourage consumers to ask people what is in the products that they eat.
How do you describe the vibe in your kitchen?
Very productive, focused, efficient, and professional. Communication is key, and teamwork is crucial. Our entire team is committed to keeping a clean and organized kitchen so we can focus on creating the best product each and every time. We probably operate more along the lines of a fine-dining kitchen than a bakery.
What career would you have if you weren't a chef?
I would be a biologist—a herpetologist, to be exact. That's what I was originally studying in college.
What's your bucket list restaurant to visit and why?
When I cooked in Japan in 2010 at the Cirque Culinaire (Peninsula Tokyo), I cooked alongside Makoto Ishii of Le Musée In Sapporo. Even surrounded by Michelin-starred chefs, his food stood out to me and was unreal. The annual Cirque Culinaire is a four-day showcase of epicurean excellence. I would love the opportunity to sit down and eat at his restaurant, and I'd already be in Hokkaido, which is on my travel bucket list.
What city is your favorite eating vacation?
Anywhere with a beach and lots of great seafood.
What is the next cooking challenge or technique you want to try?
​I have a lot of experience and history with chocolate, but I'd like to continue to expand our chocolate line with enrobed ganaches and bonbons.