Chefs
Chefs to Watch 2018: Jonathan Whitener, Here's Looking at You, Los Angeles
It's a few hours before dinner service at Here's Looking at You, and Jonathan Whitener is hunched over a 25-pound shark pulled from nearby Santa Monica Bay. Two sous chefs watch closely from the end of the counter as Whitener lobs off the tail with a whack and then flops the shark over before his knife slicks through two more fins. "Feel this," he says. The sous chefs imitate their mentor, outlining a soft, fleshy section at the base of the head with their fingers. "That's all meat," Whitener notes, making a deep triangular incision before liberating the head completely. Whitener's careful knife work saved a few portions for that night's dinner service. It also taught two young chefs a lesson in efficient butchery.
It wasn't long ago that Whitener was learning his own, more formative lessons. "My entire background, for the most part, was refined French places," he says, describing ornate preparations that required a culinary brigade to assemble. His previous job at Animal, the meaty L.A. restaurant known to attract chefs as much as civilian customers, challenged these conventions, shifting his focus from hyper-refinement to outright deliciousness. Whitener worked to create what he calls "craveable" dishes like pork buns and organ meats. "I got to let loose and really hone in on what ended up becoming my style of cooking," he says.
At Here's Looking at You, that means vegetables smacked with pungency from tuna, fish sauce, and bonito and big, meaty plates rocked with acidity. Whitener cooks octopus hush puppies that recall takoyaki ( recipe) alongside thinly sliced yellowtail seasoned with Fresno chiles. The tamarind, halloumi, and serranos in his pantry might point to a kitchen with a global identity crisis, but Whitener only sees a mirror image of his city. His cooking reflects the collection of multicultural restaurants and neighborhoods that define L.A.
To filter out the noise, Whitener leans on the staff in his kitchen. "We're all in this together," he says, describing the creative process that supports his evolving menu. "If I'm the only one that likes something and everyone disagrees, my ego's not going to get hurt."
Whitener looks to the random foods he craves as a chef to create a dish, like that takoyaki. To avoid the intricate preparation and special pan typically required to make the traditional Japanese street food, Whitener looked to a simple hush puppy recipe. When the results weren't fishy enough, he added powdered dashi to amp up the Japanese flavors. The fritters are finished with Kewpie mayo brightened with lime and topped with shaved bonito. The results would be difficult to serve from a cart, but it's an artful tribute to the original.
For the inspiration of an entirely new concept, Whitener is looking to a decades-old counter scene. "Imagine, like, a dope diner for adults," he says. "A place where you can get a patty melt and a pistachio malt topped off with Smith & Cross rum." His second restaurant will open in Silver Lake sometime this fall. "We're good at coming up with funny names, so it's going to be called All Day Baby," he says. Here's hoping for all night, too.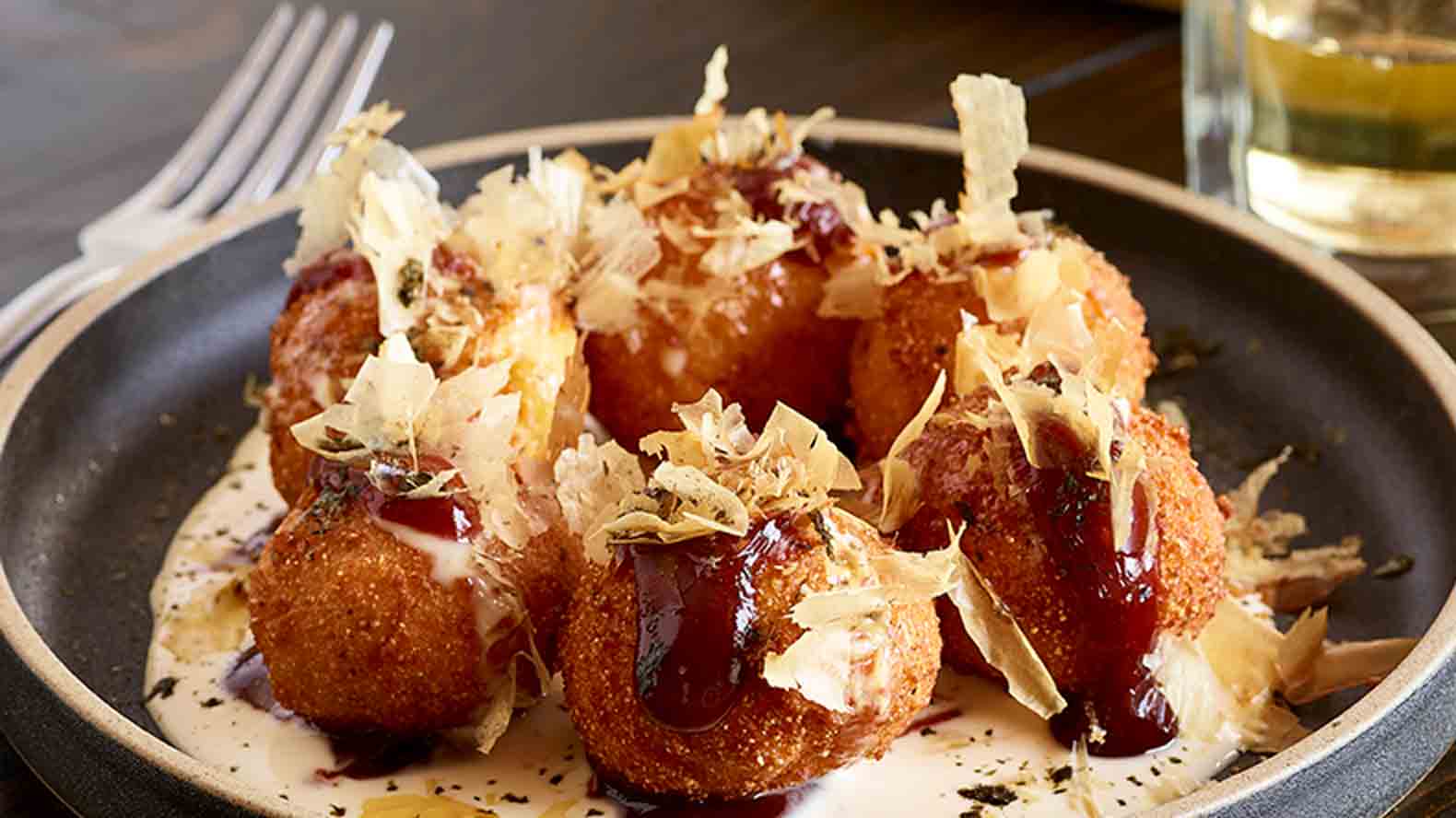 Q&A with Jonathan Whitener:
What is your favorite ingredient?
Chilies. We use a lot of chilies. I think Serrano chilies are probably my favorite and the most versatile. We use them in crudos, salads and to finish things off with a little bit of heat.
How do you describe your food?
The food here is a love letter to L.A. because a lot of our food expresses so much internationalism. L.A. is the ethnic food capital of the world, and there's nothing you can't find. I fuse all of these different ethnicities and cooking techniques together.
What cookbook is most important to you?
It would probably be the Grand Livre De Cuisine, which is the Ducasse book. It's packed full of traditional technique. What's cool about Ducasse's cooking is that it's so elegant and refined from the building of layers to the way his recipes work.
Where do you find inspiration for your menu?
Everywhere. Going out to eat. Eating a lot of ethnic food at home.
What do you do to take care of yourself?
I don't work out. I'm always here. I take some time off. I like to go target shooting at the range to blow off steam. I go to tiki bars.
What is your pet peeve in the kitchen?
Apron wipes. It's a habit when people salt something, they don't grab a towel, they just go...(wipes his fingers on his thigh). And then they'll have these stripes on their apron. I can't stand it.
What career would you have if you weren't a chef?
Besides cooking, the only other things I got into when I was younger were anthropology and dealing furniture in high school. I'd probably be an antique dealer.
What restaurant is your dream stage location and why?
Michel Bras' restaurant. His book is 20 years old and it's still relevant today. It's timeless. He was way ahead of his time.
What's your bucket list restaurant to visit and why?
Kikunoi in Japan. One of my other obsessions early on was Japanese cuisine. Most people think if they go to a Japanese restaurant and they get a tasting menu it's Kaiseki but it's not. Kaiseki pertains to a specific type of cuisine. There are different courses and they all have a name and guidelines you're supposed to follow. It's ceremonial food.
What is the next cooking challenge or technique you want to try?
​There's stuff I want to do, but it's not practical. I'd love to have a $20,000 freeze-drying machine....but no.