Chefs
Chefs to Watch 2018: Jeremy Umansky, Larder, Cleveland
When Jeremy Umansky opened Larder in Cleveland in the spring of 2018, he was very clear: It is a delicatessen, not a deli. "A delicatessen carries unique finds that are all their own," explains the chef/owner, who operates the eatery with his wife, Allie La Valle-Umansky, and Kenneth Scott. "We wanted to harken back to what a delicatessen was over a century ago, and what it still is in most of Europe."
At its philosophical core, this means everything is made in-house. You won't find any purchased deli meats, mass-produced breads, or pedestrian pickles. Instead, Umansky showcases his love of fermentation, foraging, and baking to create left-of-center takes on delicatessen favorites.
Pastrami usually takes a week or longer to make, but he cuts down the time to a few days by curing the Angus beef brisket with koji, an ingredient he works with extensively. His kosher dill pickle rotates with the season, so it might be a carrot or a tomato rather than the usual cucumber. And the housemade rye bread features an outsized flavor, thanks to an abundance of rye flour and a spice mix that includes everything from wild carrot seeds to mustard seeds and toasted yeast. It provides enough flavor to match all the components in his koji venison sandwich, which boasts a cherry-chanterelle marmalade, koji-cured venison, and black cheese made in-house with more koji (recipe).
The unconventional delicatessen is the culmination of a far-from-ordinary résumé. Just before he was bar mitzvahed, Umansky began working for his grandmother, a kosher caterer in the Cleveland area. As a teenager, he held jobs in pizzerias, ice cream parlors, and restaurants, but left kitchens to get sober when he was 19. "I stepped out of kitchens, because they weren't a good environment for me," he says.
He then worked for his uncle as a mortician and studied cultural anthropology at a local community college. Ultimately, he realized neither pursuit offered him a path he wanted to take in the long-term. Food was still his deepest passion, so he enrolled at the CIA. Though he left shortly before graduation, he says it was still a highly influential experience. While in school, he became a land manager for a farm in the Hudson Valley, and was heavily involved in the campus garden and slow food societies.
As Umansky's interest in foraging grew, he found some impressive mentors over the years, including legendary mycologist Gary Lincoff and Leda Meredith, a botanist with the New York Botanical Garden who literally wrote the book on the edible wild foods of the northeast United States. These days, Umansky works with 140 species of wild mushrooms and 350 wild plants at Larder.
After leaving school, Umansky moved to New York City for gigs at Brooklyn's Fairway Market, Brooklyn Fish Camp, and Whole Foods. When he moved back to Cleveland, he took a formative job with Jonathon Sawyer at Trentina, which further ignited his interest in all things microbial and foraged.
At Larder, he keeps pushing the envelope. He's experimenting with electrified foods by combining a wild amanita vaginata mushroom, which is high in zinc, with salt water and lemon. "When you put it on your tongue, it gives you a little zap," he says.
It's not your usual delicatessen fare—and that's the point.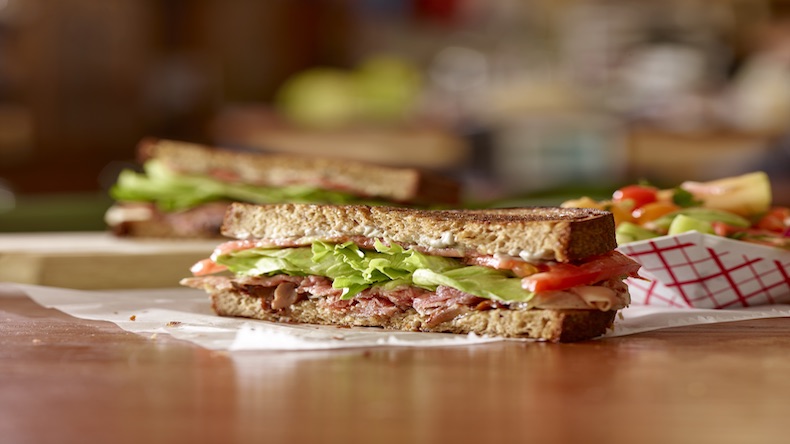 Q&A with Jeremy Umansky:
What is your favorite ingredient?
Anything I can't se, so anything bacterial or fungal.
How do you describe your food?
It's what I enjoy.
What cookbook is most important to you?
On Food and Cooking by Harold McGee and The Wilder Shores of Gastronomy by Alan Davidson and Helen Saberi.
Where do you find inspiration for your menu?
Everywhere.
What do you do to take care of yourself?
I don't know if I do much of anything at this point. I like to eat caviar, that's my treat.
What is your pet peeve in the kitchen?
When people don't understand the difference between cleanliness and sterilization.
How do you describe the vibe in your kitchen?
Intense.
What career would you have if you weren't a chef?
I'd be Indiana Jones.
What restaurant is your dream stage location and why?
I would prefer to study underneath a koji grower with Higuchi Moyashi in Japan.
What's your bucket list restaurant to visit and why?
Noma. One of my good friends, Jason White, is the assistant director of their research lab. I don't even need to eat there; I just want to see the lab.
What city is your favorite eating vacation?
Bar Harbor, Maine.
What is the next cooking challenge or technique you want to try?
I want a rationale oven so I can make bread in it, sous vide, grow bacteria, and mold cultures. Everything I do I could do in one appliance. It would be game-changing.