Chefs
Wildair's Jeremiah Stone and Fabián von Hauske Valtierra Serve Playful Food Designed to Go With Natural Wines
In the wine world, everyone has an opinion about the word "natural." For some writers, educators, and sommeliers, it represents the correct, historic way—a throwback to winemaking's roots. Others think it's a fad, an abomination, a way for winemakers to hide flaws and off flavors. Still another faction accepts or even likes these wines, but they're bothered that it's a word without definition, and can we please just have some consistency?
At Wildair, none of that matters. In this sleek, unfussed New York City dining room, as guests sit at high-top tables and sip pétillant naturel from the French Alps with their fried squid and lemon, or a wine-based aperitif infused with hazelnuts to complement a chocolate hazelnut tart, rules and definitions become a little less important.
This genteel lawlessness (a step further, in both directions, than "casual refinement") is cultivated. Jeremiah Stone and Fabián von Hauske Valtierra opened nearby Contra in 2013 to much acclaim. The tasting-menu-only spot is innovative and precise, each course exciting and perfectly paired. Oh, and it's $89. Quietly and immediately, Contra became a favorite of restaurant and media professionals. But a casual weeknight hang it was not.
"We always wanted the bar at Contra to have more of a casual vibe where you could just come by, grab a snack, and try some interesting wines," Valtierra says. "People really were into the tasting menu so that never really caught on, and the inspiration for Wildair came from that."
It came to life about a year and a half later. If the restaurant's menu feels eclectic—Little Gem salad dressed with pistachio cream (recipe); beef tartare with Cheddar and horseradish; maitake with chicken skin and stracciatella—it's because the owners have lived and worked in so many types of kitchens, they are unbound by any one culinary tradition.
Valtierra grew up in Mexico City, while Stone is from Washington, D.C. They met at the French Culinary Institute and spent a few years doing young-chef things before getting together to open a restaurant: Stone cooked for Bocuse d'Or contestants, Valtierra worked at Noma and Fäviken, Stone helped create the initial menu for Ginny's Supper Club in Harlem, Valtierra went to Australia to cook under Ben Shewry at Attica, Stone helped Ignacio Mattos open Isa. The pair assembled the kind of impressive list of credentials that seems to be a prerequisite to open a restaurant in a major city in the 21st century.
But the aesthetic of the food is unique to them. While reviews and listings often categorize it as New American, it clearly contains bits and pieces of all their travels and kitchens past. Most of all it's defined by its liveliness, and serving only natural wine is a vital part of that ethos.
"The way we think about food is the way the wine producers we serve think about winemaking," Valtierra says. "Everything is meant to highlight the ingredient in the most simple way possible with minimal transformation."
Let's back up a bit. The question still hangs—and it's important to what's happening at Wildair—what is natural wine? Like Valtierra says, it's wine with minimal transformation. That means not much is added or taken away during the winemaking process. Often, natural wines will be made with wild yeast, and they won't be filtered, leaving them cloudy with sediment. Preservatives, the sulfites that have been blamed for so many headaches, are generally off-limits. Sometimes organic or biodynamic farming practices are used in the vineyard. Sometimes natural wines are funky and murky, more akin to a Normandy cidre than a New Zealand sauvignon blanc. Other times, you might not know you're drinking a natural wine until someone tells you. And it's not uncommon for one to start out closer to the latter and morph into the former before your very eyes.
Stone and Valtierra crave that element of surprise, tempered by a romanticism that Wine and Beverage Director Sam Anderson sums up well.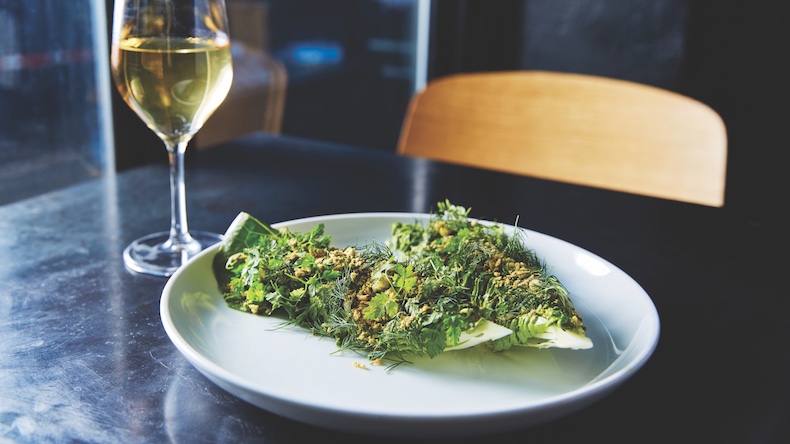 "Great wine is a bit like looking in the mirror and seeing one's own life trailing off in the past in memory but also toward the romantic future," he says. "Transcendent wine, though, is capable of transporting you right out of that mirror and teleporting you to the Canaries or Banyuls or the Dolomites."
Anderson came to Wildair from Mission Chinese and is fired up about natural wine.
"Elementally, natural wine is a living, evolving substance and speaks to me on that level," he says. "Wine is about the most woke and complex thing you put in your body. I know that sounds a bit out there, but wines do have spiritual homes; they have languages; they have good days and bad; they have attitudes about the states of affairs; they have the ability to transmit their surroundings and the maker who was involved in their birthing; they have loves and losses; they have a beginning and an end."
Part of what makes Wildair so special is that the food menu really doesn't change a lot. That approachable bistro feel Stone and Valtierra were after means that the restaurant needs staples, even if they're staples like a $108 Wagyu steak for two, as opposed to, say, a burger. By contrast, the wine menu changes frequently.
"There's a lot of room to play, less pressure," Anderson says. "So this is where I feel there's a bit more of a freewheeling nature to the food and wine matching."
It's this distinction—wine as the playful star, food as the (admittedly, still playful) stalwart—that tips Wildair from being a restaurant with a great wine list to a wine bar with great food. It's the commitment to natural wine, and Anderson's dedication to getting customers excited about its pairing potential, that makes it so noteworthy.
"The wine is going where it will, and we just need to pay the best attention we can," he says.
The same can be said of Stone and Valtierra's growing empire. In addition to Contra and Wildair, they're partners in Una Pizza Napoletana, helmed by Anthony Mangieri. In October, they released A Very Serious Cookbook (the foreword written by comedian and natural winemaker Eric Wareheim). Next up, they're said to be expanding to the Market Line food hall in Essex Crossing, near their restaurants. Although he was talking about pairing the right wine with the right food for the right customer, Anderson here, too, has a succinct and poetic phrase for the alchemy in Wildair's orbit:
"When it all works, it's pure magic." ​
Layla Schlack is senior editor at Wine Enthusiast. She is open to tasting all sides in the natural wine debate.