Chefs
Family, Local Farms and Heart Come Together at Sonoma's Valette
It's not uncommon for up-and-coming cooks to spend years in various kitchens, gaining skills, patience and connections. They take away a technique here, a philosophy there and absorb the delicate nuances—and total chaos—behind running a disciplined kitchen. And then it's time to break away and show what they've learned, as when Dustin Valette opened his namesake restaurant, Valette, in Healdsburg, Calif., with his brother, Aaron Garzini. He was clearly paying close attention to his mentors: The restaurant is brave and bold, combining the freshest Sonoma County ingredients with classic French cooking fundamentals, techniques and style, layered with a dose of Valette's flair for surprise.
Opening Valette was the realization of a longtime dream for Valette and Garzini. "We talked about it for twenty years at every family event," says Valette, who spent those years developing as a cook and leader. He's a CIA graduate who honed his culinary skills at some of the West Coast's most celebrated restaurants, including Bouchon in Yountville, but says his stints with Laurent Manrique and Peter Armellino at San Francisco's Aqua are what gave him the foundation of classic French technique with Michelin-star restaurant-level sophistication. "Three years with them transformed me from an eager cook into the more structured chef I am today," he says. Following his time at Aqua, Valette spent six years running Charlie Palmer's Dry Creek Kitchen in Healdsburg, fine-tuning his management skills while focusing on making dishes consistent, crafting more refined composed plates and making each component pop.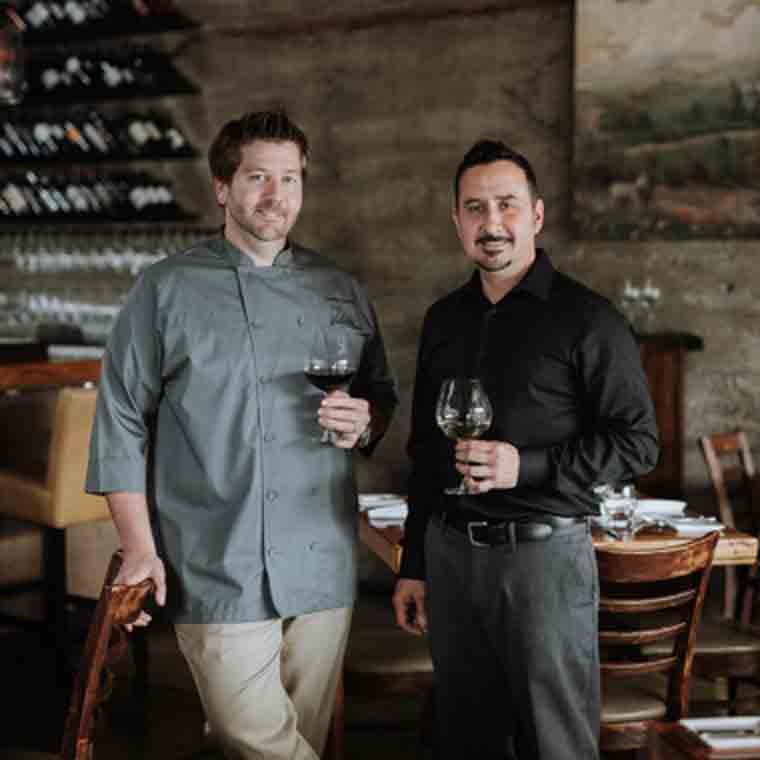 Garzini, on the other hand, spent those years working as a front-of-the-house professional and wine program director at highly regarded restaurants including Sonoma's John Ash & Co. and Rustic (at Francis Ford Coppola's winery), and San Francisco's Betelnut. In 2015, the brothers finally felt ready to consolidate their respective skills, and opened their dream restaurant.
The restaurant's Healdsburg location is key to their vision. Valette's years working in and around Sonoma provided him with a first-hand opportunity to develop deep relationships with the Sonoma farmers and purveyors who are his lifeline today. "Ninety-five percent of the produce we use isn't just from Sonoma; it's from gardens located less than a single mile from the restaurant," he says of products like Strong Arm Farm's kombu, which he features in his dish of Hawaiian Ahi poke style, with kombu, wakame salad in soy kombu emulsion and crispy avocado. He sources peaches from nearby Dry Creek Peach & Produce, and much of the rest of his produce from Myrna Fincher's Early Bird Farms. Several of his smaller garden suppliers are owned and maintained by his restaurant staff, who also oversee growing microgreens in-house.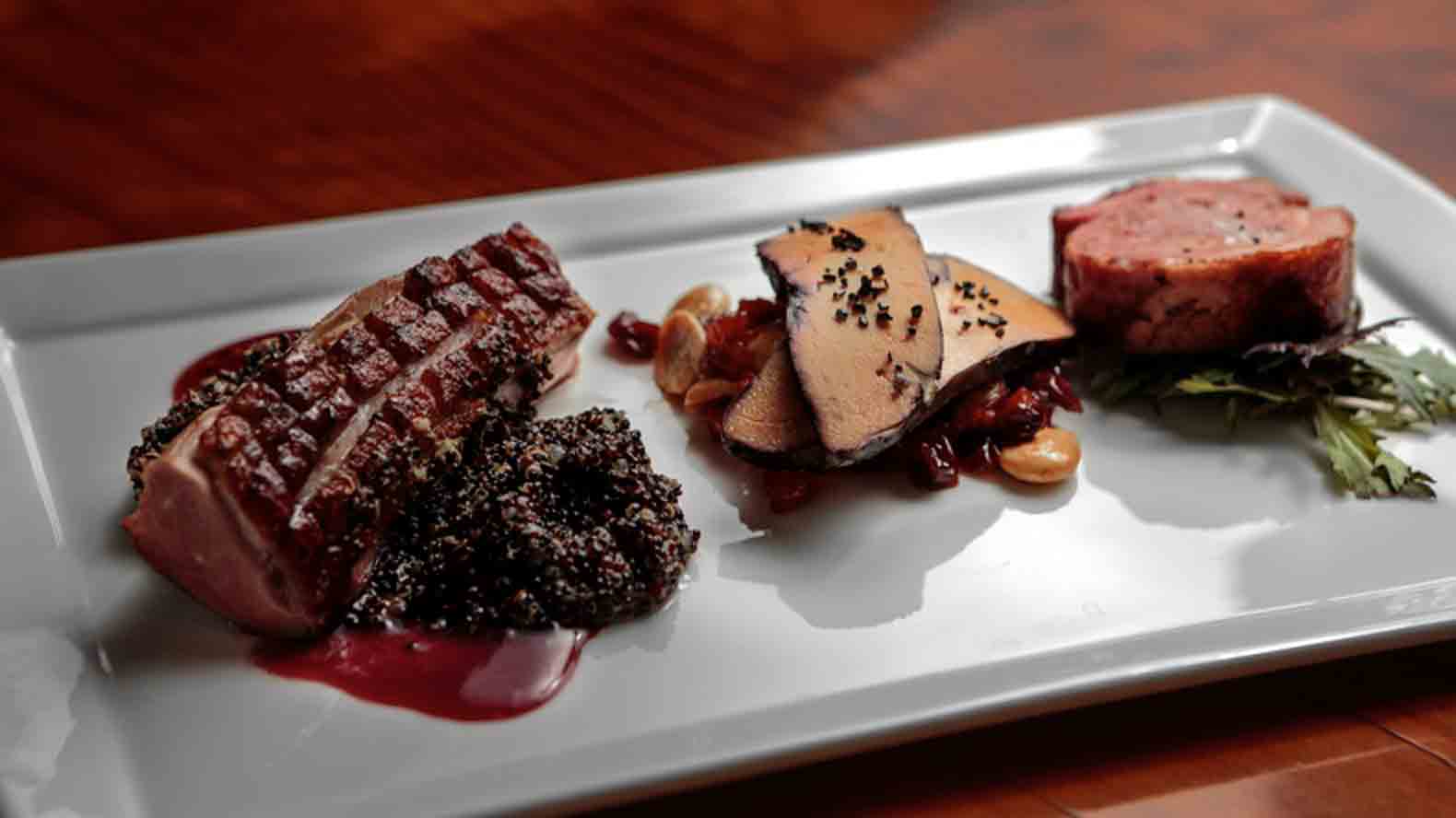 Even his meats are local, the duck coming from Liberty Duck in neighboring Penngrove. "They produce a Pekin duck cross that is by far the best I've ever had," Valette says of the product that inspired his Liberty Duck duo: a star anise cured and crusted duck breast and a cocoa nib roasted confit. Meat from local pasture-raised pigs, many of which are of heritage breeds, is also cured in-house; Valette is one of just a few people in the area licensed to cure meat and create handcrafted charcuterie. "It's a lost art and we wanted to bring back the artistry," Valette says of his passion for house-made charcuterie. He uses an old fashioned salt-cured process, in a 14-by-7-by-4-foot double stainless steel, airtight curing box custom welded by another brother, Les Garzini of Garzini Welding. Hanging inside are prosciutto, coppa, lomo, lanzo, and salami, aging anywhere from 1 1/2 months to 1 1/2 years.
"We enjoy supporting the local artisans," Valette remarks, and that ethos extends beyond the kitchen. The majority of Garzini's wine list is local and even the redwood slab tables are crafted by a local artisan. "We're living in the midst of an incredible bounty and community of producers," Valette notes. "We're dedicated to showcasing the flavors and ingredients unique to the region and the local craftspeople."
His "Trust Me" menu allows him to free form new dishes daily, based on the ingredients available. Inspired by an omakase sushi meal he enjoyed in Los Angeles a decade ago, the courses (guests have to commit to a minimum of four) change on a whim. "This takes away all of the decision-making," Valette says about the menu. "You just come in and you're in la-la-land. Customers walk in, sit down, let us know if you have any allergies or dislikes then say 'Yo, send me food, send me wine.'"
Recent offerings include Kobe beef tartare with a 64-degree F warm egg yolk, green peppercorn emulsion, pink peppercorn powder and toasted brioche; seared foie gras with Meyer lemon relish, marcona almonds and a strawberry vanilla rhubarb gastrique; and crispy skin black cod, over an olive and roasted garlic hash sitting atop a piquillo pepper puree then finished with a saffron vinaigrette.
The constantly changing nature of the menu drives Valette's passion in the kitchen. "It's a chef's dream come true," he boasts, adding that he finds that the best way is to appreciate art is through the artist's eyes and that this menu is designed to help guests appreciate a meal through his eyes.
Clearly, it's the art of cooking more than the science or routine that motivates Valette. "They talk about painters and musician who have the muse, the je ne sais quoi," he says. "It has to be exciting and authentic; it has to just come off the cuff, too, and not be over-planned. When a farmer brings in the freshest, sweetest seasonal produce, it gets you motivated, excited and fired up."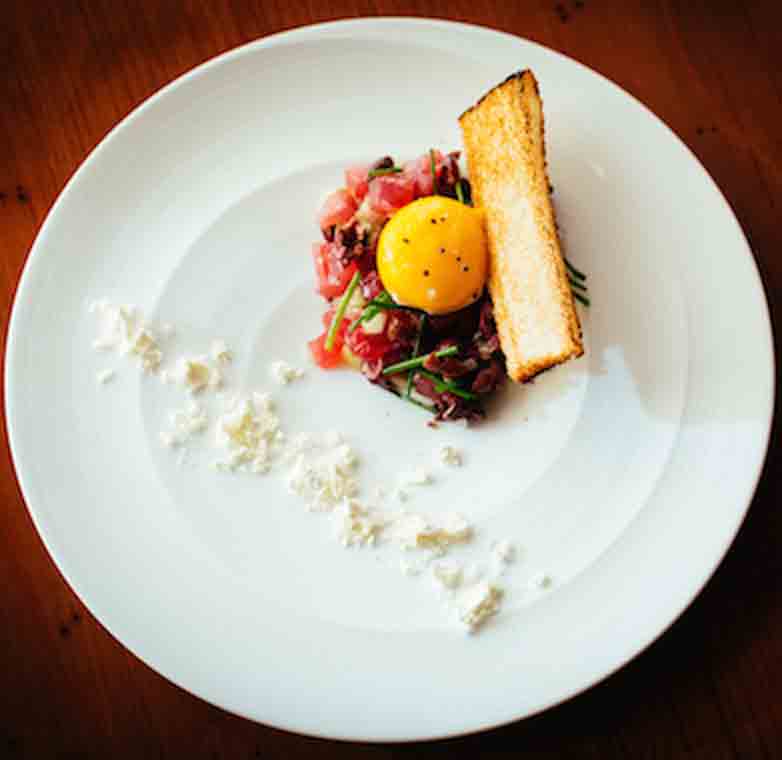 Valette also finds inspiration in his everyday life at home; at present, he's working on a mac-and-cheese inspired dish, "because my almost 2-year old daughter Charlotte has wanted nothing but this lately," he says. But mostly, he follows his heart. "My culinary style is a combination of timeless technique layer with my own passion for creating surprise 'out-of-the-box' flavor profiles to add depth and complexity to my cuisine," he says. By constantly learning and experimenting, he remains passionate about every new day in his own kitchen.
"All told, it's all about flavor for me," Valette says. "I really love to play with and manipulate flavors and love seeing the interaction between textures and acids and making them all sing." A recent Instagram post sums it up nicely: "Playing with a new salad... candied kumquats, warm goat cheese, charred orange vinaigrette." It's playing, not working, for Valette, and his infectious upbeat vibe fills his restaurant.