Chefs
Dave Beran Embraces the California Life at Santa Monica's Dialogue
Dave Beran looks relaxed. The James Beard Award-winning chef, who I had last seen a few years ago in the pristine, hushed kitchen at Chicago's Next Restaurant, is behind the kitchen counter working side-by-side with three other chefs in a tiny space in a Santa Monica food court, cooking, plating dishes, and smiling as he tells stories and serves diners. Beran opened his restaurant, Dialogue, in 2017 with 18 seats (eight counter seats and three tables) and a tasting menu. It has a livelier and more playful vibe than Next, but the menu has the same precision, attention to detail, and envelope-pushing flavors.
Beran announced his departure from Next, which is part of the Alinea Group, and his intention to open his own restaurant in April 2016. While there, he racked up accolades, including winning the Beard award for Best Chef Great Lakes in 2014. He spent five years at Next, starting with its opening in 2011, but his tenure with the Alinea Group began in 2006—he worked his way up to chef de cuisine at Alinea, before moving over to Next.
The long relationship with the Alinea Group and Grant Achatz was on Beran's mind when he was deciding where to open his restaurant; he wanted to first approach them with a concept before considering other options.
"I put together a packet and talked to Achatz about it and ultimately we decided not to work together," Beran says. "They just have too much on their plate in Chicago, and if I were staying there, I wouldn't want to compete with them."
So he started looking elsewhere. Los Angeles wasn't his first choice—he was looking for spaces in New York while also spending time in Napa coaching the Bocuse d'Or competition team and visiting San Francisco. But Los Angeles became a possibility after he went there to visit his friend Mike Simkin, a film producer who ultimately became his business partner.
"Mike helped me understand what the concept of my restaurant was, what the numbers were and where it should be," Beran says. He moved to Los Angeles without a fully fleshed-out restaurant concept, and immediately began negotiating a lease for a space that ultimately fell through.
"When it failed, it was a blessing in disguise," he acknowledges. "We'd done nothing to invest in L.A. or understand it. I was just some outside chef who was showing up here trying to open a flagship restaurant. When it fell through, we decided to hit the brakes and try to do more to understand the city and become a part of it."
So he began working at Wolfgang Puck's R&D kitchen. It was more than a job; Puck knew the ins and outs of California restaurants, and Beran got to talk to him daily about the city and its restaurants.
"I had six months of immersion in the L.A. dining scene where no one cared who I was or what I was doing, because I was just working for him and I wasn't in front of the public," Beran says. He used the time to visit farmers' markets that Puck suggested and check out different neighborhoods. He dined out and saw diners pay attention to mold-breaking concepts, like Jordan Kahn's Vespertine.
"I think with L.A., the deeper you dig, the more gold you find," he says.
Armed with a better sense of the Los Angeles dining scene, Beran said yes when the Gallery, a new food hall in Santa Monica, approached him with a space across the hall from an ice cream stand. It was much smaller than the 10,000-square-foot former bank he had initially been looking at, which appealed to him. Beran and Simkin kicked around various concept ideas, including a sandwich shop and French restaurant, but he decided to stick with modern fine dining, as the small space would allow him to do the things he really wanted to do—prioritize the food and meet L.A. diners.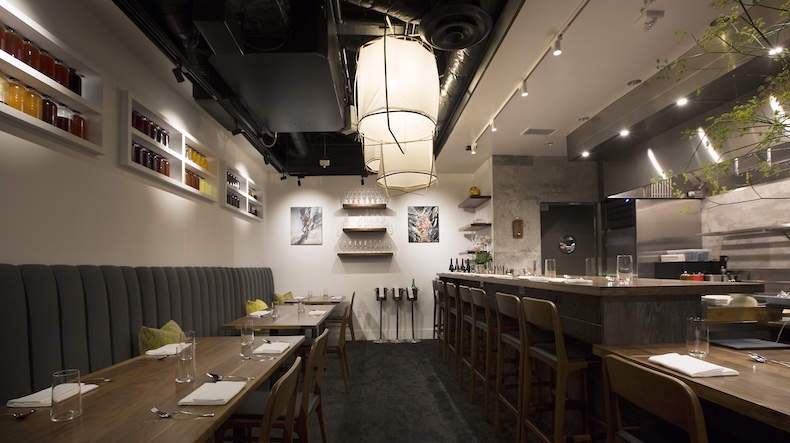 "We said, 'What if we pare it down and focus on the food, start interacting with guests, and build relationships with the city and the dining scene and learn about the scene here as a whole?'" he asks. "That became Dialogue."
Beran and Simkin also discussed some of the challenges surrounding restaurant culture and how they might approach management differently, especially how to treat staff.
"The restaurant industry as a whole is really divided," Beran notes. "You have the chef in one column and all the cooks and other employees in the other. There was always a separation of the front of the house from the back of the house; there was the cook who was making $600 every two weeks who couldn't afford to live anywhere. There has to be room for some evolution of how the industry treats people. We started talking about the model and realizing that cities like New York and San Francisco were just too expensive."
That the cost of living in Los Angeles is lower than other places Beran had considered opening helped make this new restaurant business model feasible.
"We wanted to give our staff a sense of ownership and make sure the quality of life was good, both from a paid perspective, but also in the hours that they work," he says. "You can't have people working 18 hours a day, five days a week, and burning themselves out. We do four-and-a-half services a week, so one day we'll do one seating instead of two to give people an early evening."
"Now that our restaurant is paid off, we started profit sharing with our whole staff," he says. "It was an opportunity for us to focus on the culture, not just from the way we're treating our staff from an emotional perspective, but monetarily and providing a sense of real, tangible reward."
"I didn't want to come out here and be known as someone who is just doing all the old Alinea tricks or all the old Next tricks," he says. "I wanted to focus on developing my own style. I think the most important thing was stripping everything away; not that the tricks are all gimmicks, but they're the things that these other restaurants are known for."
At Dialogue, the 20-course tasting menu builds on the seasonality and relationships with farmers that Beran explored during his first months in California, and moves fluidly, building connections as the meal progresses. Modeled after kaiseki, it covers three seasons, beginning with the previous season and ending with the upcoming season. An ingredient from each course is carried over into the next course. This approach allows Beran to explore California's longer growing seasons and the way ingredients he'd never seen available at the same time in the Midwest, like strawberries and stone fruits, overlap. It also gives the menu forward momentum, which Beran strives for.
"We really wanted to take it to where each one of our menus is a story, where every course feels like a chapter in that story," he says. "So every course on its own, the reason they look forward and backward, is because we want the courses all tied together. Course three is better because of two and four. And they have an ingredient that attaches them, so if you remove one, it changes everything around it."
The menu also intersperses savory courses with sweet, which are served at the end of each "season."
"It's 20 courses over two-and-a-half hours, and more often than not, you're going to forget what course 13 is, or course seven," he says. "So if we throw a plot twist in there along the way, that gets you back into the game with us. We have your attention."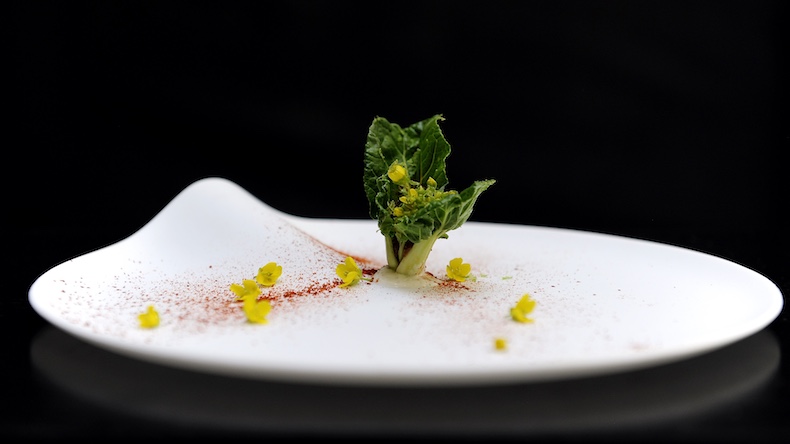 There's plenty on the plates to hold a diner's attention, like the compressed baby choi sum, which has leaves filled with a blend of burnt strawberry and nam prik pao. Finished with chili, lime zest, strawberry powder, and palm sugar, it's a single bite that highlights a vegetable at its perfect moment of ripeness, while packing in surprising flavor combinations.
"I didn't want to come out here and be known as someone who is just doing all the old Alinea tricks or all the old Next tricks," he says. "I wanted to focus on developing my own style. I think the most important thing was stripping everything away; not that the tricks are all gimmicks, but they're the things that these other restaurants are known for."
There would be no edible balloons or desserts plated Jackson Pollock-style directly onto the table, as at Alinea. One holdover from his time at Next that appeared at Dialogue was a vintage duck press, a striking tool that allowed him to press a duck carcass in front of the diner and then make a sauce with the juices. For Beran, the first step to developing his style was drilling down to the ingredient level.
"I was seeing some of the best produce I'd ever seen in my life anywhere," he says of being in L.A. "It led to starting to play with techniques like fermenting and barrel-aging and pickling. When you're in a super busy restaurant, you don't have time to make 10 gallons of vinegar and then forget about it for six months. Our goal in opening a restaurant and doing all these fermentations and things was just to build a pantry that no one else has."
He also wanted to focus on simplifying the food and work with the produce "without taking away the identity of it."
"I wanted to try to do things that really only have like three different flavors to them," he says. "If you can add a reason or a sense of purpose or a perspective to it, then people relate on a level further than just their mouth, or just satiating cravings."
One of Beran's main learning experiences at Dialogue hasn't been about the food—it's been serving guests and interacting with diners.
"At Next, you either met the best ones, because they want kitchen tours and they're fun to chat with, or you hear stories about the worst ones," he says. "But you never hear about the average diner. Doing this, you're learning about everything. You're learning about people's habits, how to break the ice, and how to engage someone that is maybe not on your side at first and kind of win them over. A restaurant is 70-percent of what it will become until the diner gets in there. The diners change how you serve tables, how you interact—it changes everything."
Dialogue is also part of a continuing conversation Beran is having with himself, his business partner, and cooks about how to evolve and grow the company while keeping true to the culture they've developed.
"Despite the lack of room—because we couldn't fit another cook in there if we wanted to right now—I really like the small dynamic in the kitchen," he says. "It limits what we can do. It definitely shortens our opportunity to do crazier and more elaborate dishes, but we have intentions to move and grow Dialogue."
That closeness has set the stage for Beran's future as a mentor and partner with his cooks.
"Everyone in the kitchen has worked together before, and we have intentions of opening restaurants with them—not as my restaurant that one of them will run, but with their name on the door," he says. "So this is really an opportunity for us to develop the culture of our company and how we want to run things, the standards and consistency, before they have their own."