Chefs
'Burn the Place' Takes Readers Inside a Lauded Chef's Fantastical Mind
Iliana Regan can recall the exact day she decided to become a chef. She was five years old and on her first midsummer chanterelle mushroom hunt in the rural Indiana woods.
"My dad said the chanterelles would smell like the earth but also sweet like apricots and spicy like peppercorns," Regan, the Michelin-starred chef/owner of one Chicago restaurant and a bed and breakfast in Michigan, recounts in her just-released memoir, Burn the Place (Agate). "I said these things quietly. Back to him and to myself."
In rich, terrifying detail tinged with a child's magical realist memories, she recounts losing her father in the woods as they scour the sandy ground for the little fluted mushrooms. She's scooped up by her uncle, a Vietnam vet who smelled of stale beer and would sometimes whisper in her ear what a pretty girl she was.
"Here he was, with his big arms wrapped around me. I may never be found again," she writes, her fear in that moment palpable to the reader.
Reunited with her father and on the way back to the car, she's swept up again inside a sandy cyclone and thrown into a hay pile, with the chanterelles buttoned up inside her coat. Just as abruptly, the dark clouds and vulnerability pass; we're back in the kitchen's warm embrace where Regan and her dad cook the little orange flutes with fresh thyme in butter and red wine.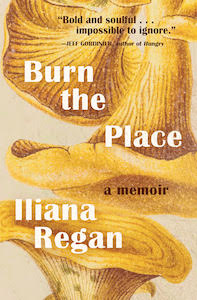 "When we added a splash to the pan the sweetness of the mushrooms wafted up and around us. I imagined I was a multitude of Russian nesting dolls all made of mushrooms," Regan writes. "This was the day I slighted fate and became a chef."
Burn the Place is a beautiful, heartbreaking and relatable coming-of-age story and look inside the mind of one of the most imaginative culinary minds of her generation. Regan is the owner of the fine dining new gatherer spot Elizabeth and Milkweed Inn, an all-inclusive bed and breakfast in Michigan's Upper Peninsula that she and wife, Anna Hamlin, opened this year. (She just closed Midwestern kaiseki restaurant and pub Kitsune and Bunny Bakery and Workshop in Chicago).
Nature holds a profound influence on Regan, and is a big part of her story, especially her childhood. Growing up on a farm the youngest of four sisters, she had a knack for finding the last ripe dewberries among the dying gasp of late-summer fruit. She fed and named the pigs that her dad raised for slaughter, and made fresh pasta from scratch with her mom. She was a good shot with her pearl-handled handgun and thought she might be a boy; sometimes she stuffed her shorts with a pair of socks.
Sitting inside Kitsune, her hands covered in elderflower pollen, Regan, now 40, tells me that being inspired by ingredients found in nature has always been easy for her. The elderflowers are bound for that night's omakase menu, topping lilac ice cream with rose kombucha granita. She wonders how much pollen she'd have to collect to do something with it.
"I never have to worry about the creative part," she says. "Thinking about food and creating is a coping mechanism for me. If I'm sad, I'm just going to think about food. It's my way of escaping."
This comes partly from growing up in a place where time's passage is tangibly demarcated by the arrival of ingredients: The lilacs bloom after those first nice days at the end of the school year. Then come the morels, then the strawberries blossom. It also comes, as she recounts in the memoir, from being painfully shy as a child, growing up queer in a less tolerant place and time, and being a woman in a man's world.
As she grows into an adult, Regan got her first restaurant job at 16, and was an alcoholic by 18. She writes with tenderness and startling candor about unexpectedly losing her sister Elizabeth ("Bunny") to alcoholism, while Regan was working for Grant Achatz at the now-shuttered fine-dining restaurant Trio in Evanston, Ill. She's equally candid about how her sister's death helped her get on the path to sobriety through Alcoholic Anonymous, and channel her obsessions in a positive way through her passion for food.
Working for herself, Regan gained a following selling handmade pierogi at an Indiana farmers' market and hosting an underground dining series in her Chicago apartment, which became a laboratory for her self-education as an avant-garde chef working with foraged ingredients—jerry-rigging sous vide machines and mimicking the ice cream stabilizers she'd had easy access to when she worked at places like Alinea and L20.
"I think my education was better than most people who've gone to cooking school," she says of that time. "Not just as a self-taught chef; I taught myself how to run a business. Having small businesses like these, you can't have somebody else do all your stuff. But I'm grateful because now I know I can do anything, as far as this goes."
These days, creativity is the subliminal hymn that quiets Regan's mind amid the realities of running multiple small businesses: the always-full inbox and mountains of paperwork, checks to sign, IRS calls to make, employees to manage, endless dick jokes to endure. "What was that, I try to recall," she writes. "Add more acid to the sabayon because the aeration dilutes the flavor."
Even now, as the self-described boss lady and face of her restaurants who rarely minces words, Regan says she struggles to be heard.
"I still feel like everyday, it's hard to get people to listen," she says. "Maybe that's a woman thing? A chef thing? Or woman/male thing? I get so tired of saying it over and over. Right now at Elizabeth, it's, 'You guys have to taste the food.' Didn't these people go to cooking school? Don't they teach that? What the fuck did their parents pay thousands for?"
Then there's the pressure this five-time James Beard Award semifinalist faces, maintaining Elizabeth's Michelin star, keeping the lights on in a city of climbing rents, and staying relevant when there's always a hot new opening to thwart people's attention. While the strongest parts of the book are her memories on the farm, learning to forage and cook while discovering who she is, in the last few chapters, she struggles to reconcile her feelings about the past decade working as a professional chef and business owner—which reads a little tortured at times.
Her anxieties flow out like a drumbeat: "I need to get better. I can't mess up. I can't get away. How would that look? How would that affect my business?" she says. "All these things can become too much."
It's enough to make this introverted chef and farm kid want to leave it all for the rural Midwestern woods. Regan and her wife are halfway to realizing this dream as they pack up their airstream with their three dogs for their first sold-out season at Milkweed Inn, the weekend-only retreat on 150 wooded acres where they'll cook with foraged and locally procured ingredients.
She's all but established her business mise en place back home. At Elizabeth, Chef de Cuisine Shannon Martincic will work alongside guest chef-in-residence Jenner Tomaska on his ugly fruits and vegetables tasting menu for the summer. By 2020, Regan aims to make Elizabeth a seasonal restaurant closed in the summer, so she and Hamlin can be at the inn or on the road that time of year.
Sometimes she wonders, though, why even bother? In the book's prologue, a fictional Regan blithely burns the restaurant to the ground one night at the end of service. "I step out of myself, objective for a moment, and think, 'Do I want this? Do I want to change my mind?' But I don't," she writes. "I pull away and with the flick of the butt, it's all gone."
By the epilogue, we're privy to her morning ritual on the cusp of the bed-and-breakfast announcement. She's on her knees, whispering a prayer to be a loving and understanding wife, family member and employer, to stay away from the devil's drank another day. (She'll be 10 years' sober this December.)
But Regan—sleeved in tattoos of a gun spraying bullets on one arm and white rabbits and foliage on the other—has always given a voice to the omnipresent darkness.
Now she keeps the power for herself.
"When somebody close to you dies unexpectedly, it makes you appreciate that life is short, and you're really able to think, 'How do I want this to turn out for me?'" she tells me. "Some people don't get a chance to, like Elizabeth didn't." She pauses before repeating a phrase a friend said to her in the book. "What are you waiting for, permission? Just do it."