Sponsored Content
Chefs Inspire a World of Flavors
Bringing authenticity to every table
When looking to enhance your menu with global flavors, look at chefs who grew up in those kitchens and whose hearts and souls are intertwined with their cuisines. That's what new US Foods Scoop Chef Advisors Sameh Wadi, Diana Dávila and Thai Dang are bringing to the table in US Foods' Fall 2019 Scoop lineup. Their food has inspired new products that make authentic global flavors accessible to chefs and restaurants in all segments, of all sizes.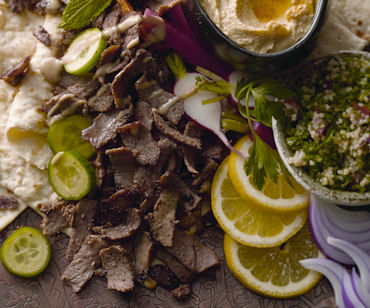 ​Sameh Wadi, executive chef and owner, World Street Kitchen, Minneapolis, Minn.
A love of Middle Eastern flavor is on display in each of Sameh Wadi's restaurants – with some twists from other parts of the world. Expect to taste cardamom, coriander and cumin along with fish sauce, olive oil and chilies. "I tend to cook without borders," says the acclaimed chef. "Authenticity comes from the heart."
"I'm really excited for the opportunity to share the culture and cuisine with a broader audience," says Wadi, about working with US Foods. He took the US Foods culinary team on a tour of Middle Eastern markets and restaurants in Dearborn, Mich., a hub for Middle Eastern food in America. One of the results of the chef collaboration was the Chef's Line® All Natural Beef Shawarma, that Wadi says is not just for Middle Eastern restaurants. "It's extremely versatile," says Wadi. "You can use it to make tacos served with a Middle Eastern-inspired pico de gallo and tahini sauce, or crisp it up and put it in a salad."
Diana Dávila, executive chef and owner, Mi Tocaya Antojeria, Chicago
Dávila's cuisine is inspired by home-cooked meals and memories of childhood summers spent in Mexico. The Chicago native grew up working in her parents' Mexican restaurants and advanced her career at Boka and Cantina 1910 in Chicago and Areo and Jackie's in Washington D.C. However, her "moment" of inspiration came when she only wanted to cook Mexican cuisine. At Mi Tocaya Antojeria the cuisine is hers alone.
"Working with US Foods is an opportunity to contribute to a larger audience," says the 2018 Plate Chef to Watch. Dávila led the US Foods chefs on a Chicago tour of Mexican restaurants and markets serving home-style Mexican food. "Calling upon chefs who have dedicated their professional careers to these cuisines is really important," she says.
Dávila collaborated on new Latin American-inspired items, such as Chef's Line® All Natural Al Pastor, del Pasado® Refried Black Beans and del Pasado® Mini Chile Rellenos. "These foods take a long time to make from scratch, but now you can save on labor while still honoring the heritage of the product," she says.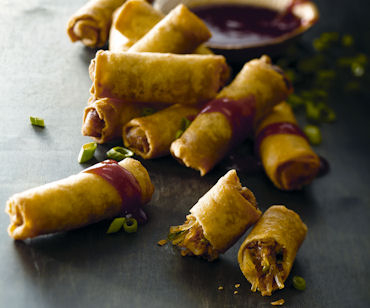 Thai Dang, chef and owner, HaiSous Vietnamese Kitchen, Chicago
Thai Dang loves to elevate traditional Vietnamese food and showcase it in a modern way, according to his own vision.
"I had a large family and learned to appreciate dining together," says the 2018 Plate Chef to Watch. "I learned the value of food and how meals came together to tell a story."
For Dang, inspiration can come anywhere and anytime, but time spent alone is when creativity flourishes. A recent visit to France allowed him to see how France influenced Vietnamese culture and vice versa.
Dang led US Foods chefs on a tour to Asian restaurants and markets in the Washington D.C. metro area. He's proud of his contribution to new products such as Chef's Line® All Natural Bulgogi Beef and Pacific Jade® Korean BBQ Style Spring Roll.
"I love US Foods' way of thinking, and what they bring to chefs."
For more information and to shop the products visit USfoods.com/fallscoop.