Chefs and Restaurants
Why San Francisco's Wildseed is the Model for Plant-Based Dining
Language matters. Chef Blair Warsham doesn't call Wildseed, which he opened in San Francisco in September 2019, a vegan restaurant. It's plant-based, thanks very much. "We try to keep the politics out of it," says Warsham. But make no mistake: Despite references to burgers, bacon, eggs, and cheese on the menu, there's not an animal product to be found in the place.
And, for the record, Warsham doesn't see the food coming out of Wildseed's kitchen as falling under the "dietary restrictions" rubric. "When I think of dietary restrictions, I think of restraint, denying our body things. That's not what this menu is about," says the 43-year-old. "It's not restrictive but it is nutritious." The takeout and delivery message on the website during the shelter-in-place order echoes that sentiment, noting how difficult it can be to find fresh, plant-based meals while under quarantine. It was a gentle reminder that you don't need heavy, cheese-laden indulgence while sheltering in place, and that a light, flavorful plate of food can also soothe the body and spirit.
Wildseed intentionally accentuates the positive. There's no righteous, zealous, or abstinence messaging here, as is the negative vibe some associate with vegan activism. No dire warnings about the end of the earth (hello climate crisis) or earnest appeals about animal abuse. Simply a call to eat food that's good for the body, soul, and planet. If there's any preaching, it's couched in gentle language about making "better choices" and "good decisions."
A self-described omnivore who finds himself eating less and less meat for both health and environmental reasons—he admits to dabbling with an occasional carnitas taco—Warsham went vegan for a month while researching the menu for Wildseed, which is part of Adriano Paganini's Back of the House restaurant group in San Francisco. His menu strives to avoid the dreaded three Bs of stereotypical vegan fare: bland, boring, and beige. These are artfully arranged, well-seasoned dishes with colorful and appealing plating designed to tempt the taste buds. The restaurant interior, like the food, is light and bright: it features blonde wood, white walls, teal accents, and a lot of potted plants. A vegan wine list and cocktail program leaning towards herbs, shrubs, and fresh juices round out the experience.
The Bay Area seems like an ideal launching pad for a plant-based restaurant, located as it is in a region known for its abundance of farm-fresh bounty and a crunchy-granola-meets-nut-meatloaf hippie history. These days, the Golden State also boasts a bunch of venture-capital-funded startups obsessed with creating sought-after meat substitutes and several niche plant-based food businesses.
San Francisco already has a grande dame of garden-based eating: Annie Somerville's Greens Restaurant, which has served mostly plant-based meals to diners since 1979. Fast-forward 40 years and Wildseed is a prototype for what a restaurant looks like today without meat at the center of the plate. The menu—divided into snacks, salads, bowls, plates, sides, and sweet stuff—is meant to be shared. Proteins that sub in for meat offer supporting roles. The vibe is fresh and fun, not earnest.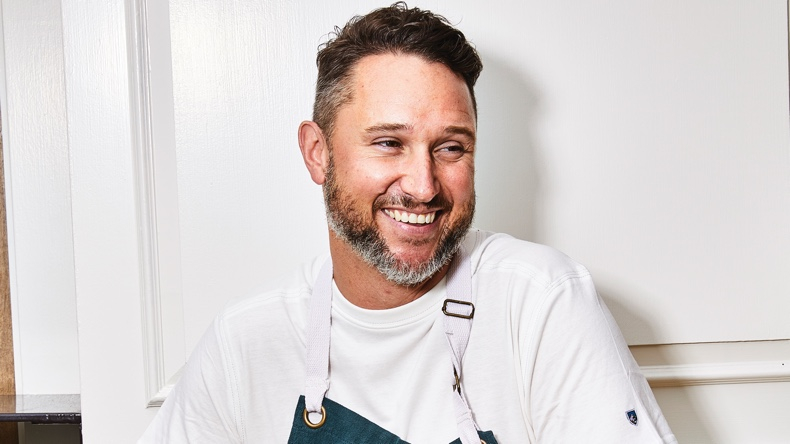 Warsham says he thinks the 2018 documentary The Game Changers, which focused on the benefits of plant-based eating for elite athletes, helped catalyze a cultural shift to a vegan diet. But the impetus for a switch for him was closer to home. "Having a kid really changes your perspective on the world," says this father of a three-year-old. "It makes things like climate change feel far more urgent, and you find yourself wanting to do something about that."
The chef has been surprised by his clientele: he thought the concept would appeal most to millennials, but the restaurant has attracted a boomer demographic as well. It attracts vegans from outside the neighborhood in addition to locals who want to experiment with plant-based eating. "We've had a lot of occasions where a group at a table orders a bunch of things off the menu—and even though our servers walk diners through the list—there will be one person at the end of the meal who says: 'Oh, I didn't even realize this was a plant-based menu.' We take that as a compliment."
Plant-based cooking at Wildseed is enhanced by the menu's spin around the globe. The kitchen offers dishes inspired by traditional Japanese donburi, Mexican corn cakes, a Middle Eastern mezze plate, Italian rigatoni Bolognese, and Indian masala "neatballs," which are made with lentils and mushrooms ($15, recipe). "When you narrow the scope of ingredients and techniques in a kitchen, you want to open it up to a world of flavors," Warsham says.
Desserts sans traditional ingredients such as standard eggs, cream, and butter proved challenging. "I tried to do some classic desserts like crème brûlée, but the taste and texture were terrible," says Warsham, who grew up in Atlanta and attended Johnson & Wales University's College of Culinary Arts, which was in Charleston at that time. "Even with all the research and working with different emulsifying agents and ratios—at the end of the day I would just rather have a plain, traditional crème brûlée, so we just decided to skip it." That said, guests will find a version of "a cheesy 1990s molten chocolate cake" on the menu.
Warsham is keen to tinker with the evolving menu. On a typical summer menu he'd like to debut a tomato and plum dish that features shiso, stinky (fermented) tofu, and silken tofu. "When you do it right, it tastes a little like mozzarella or burrata; it's a take on Caprese salad." Given his Southern roots, he'd also like to add a barbecue dish: some wood-fired vegetables, barbecue sauce, corn, a bean dish, coleslaw, and potato salad.
This chef has had an eclectic career: He worked at the Charleston Grill for seven years and staged in high-end restaurants in Europe. He's opened a restaurant in Sonoma and one in San Francisco, and done stints at fine-dining restaurants such as Campton Place and The Restaurant at Meadowood. He's run a pop-up, and even dabbled in underground dining.
But the future of food is here, he says, and it's vegan. Make that plant-based. "The fact is we have to eat less meat. And we have to find interesting ways to do that. I think we're trying to prove the model for what a solely plant-based restaurant in the Bay Area looks like," he says. "We're an example of how you can offer a no-meat menu that's creative, delicious, accessible, satisfying, and adventurous."
Sarah Henry is a Bay Area writer who has eaten mostly plants for most of her life.