Chefs and Restaurants
Advocacy is the Order of the Day at Washington, D.C.'s Immigrant Food
Washington, D.C.'s Immigrant Food is a fast-casual restaurant serving grain bowls and sandwiches with a healthy side of advocacy. Opened last fall by Italy-born Peter Schechter and Venezuelan chef Enrique Limardo, the restaurant—located just half a block from the White House—has a mission to support, uplift and celebrate America's immigrant communities and minorities. It's a sentiment needed now more than ever. By offering a charitable, socially conscious "engagement menu" alongside its food menus, cooking up comforting odes to international cultures and working with local non-profits, Immigrant Food has been able to weather the COVID-19 storm while boldly embracing its altruistic mission. Schechter and the restaurant's Belgian-born Director of Communications and Outreach Téa Ivanovic spoke with us about the restaurant and its purpose.
Can you tell me about the ethos and vision behind Immigrant Food?
Schechter: I had a long career in political consulting and policy communications, and I've invested in many restaurants; I was one of José Andrés' first investors. Two or three years ago, I woke up thinking that there's a lot about America that I don't recognize, but above all, it's America's vision of immigration. My parents were both immigrants, and they came to America when my father was in his late 20s and my mom in her late teens. They had strong accents and clearly were not born or raised here, but nobody ever questioned their American-ness. My mom was a chain migrant; she was brought over here by her great aunt. A chain migrant is when someone who has become a nationalized citizen then brings their family over. There was, in particular, a lot of negative rhetoric around chain migrants, and I wanted to do something concrete, so I decided to bridge these two careers I had—restaurant ambassador and political communications guy—to create a restaurant that fused food from America's great migrations.
Immigrants have come to America forever, and one of the first things they do is open restaurants that show off their cultures back home. We wanted to open a restaurant that shows off the gastronomy that influenced American cuisine, but also does something different—it celebrates and advocates and educates on the issue of immigration. We partnered with five immigration service non-government organizations that help immigrants with everything from legal help to human trafficking to finding housing for people. Our space has two floors, and in pre-COVID times, we told organizations that if they want to use our top floor for citizenship classes, board meetings, etc., they were welcome to use our downtown space. The other thing we did is try to create a digital publication that would educate people on different issues, and so we created The Think Table. Both Téa and I have worked in think tanks before, and one of our frustrations is they speak to such a small, reduced set of elites on specific issues. We wanted to create a thoughtful publication that spoke to a much larger public. Every month, we slice and dice immigration issues, and we talk about things like farm workers or human trafficking or immigrants from Africa.
How does the food reflect your vision?
Schechter: Our chef and partner Enrique Limardo is a Venezuelan chef who has a fine dining establishment here in Washington (Seven Reasons), which was the number one new restaurant here last year. The great thing about him is he's lived all over the world. He cooks Latin food in a way that fuses with Arab food, with Asian food, with Indian sub-continent food.
What he always says is he wanted to create a cuisine that fired up your memory palate, but it's not like the Italian food your Nonna cooks, or the Chinese food your grandad cooks. It fuses tastes and cuisines in ways that your memory palate will recognize, but it doesn't try to imitate the food of your grandparents. The example he loves to talk about is a bowl called "Mumbai Mariachi," a fusion of Indian and Mexican. Just imagine a Mexican who has been parachuted into the middle of the Indian sub-continent, so he has to use Indian spices to create that Mexican meal.
What is the status of the restaurant right now?
Ivanovic: I call it the triple hurdle. When COVID hit, we were hit really hard and really fast, because of our downtown location. We're the last building before the White House, and that's great in many ways, because it's a dense business district. It's all offices around us, no apartment buildings or residential. We had a big happy hour crowd and lunch crowd. But in late February, the World Bank, which is our neighbor, received a note recommending people work from home. As soon as they started working from home, we just didn't have any more customers.
Secondly, COVID was difficult because we're a brand-new restaurant, and we don't have the name recognition that a lot of others have. Third, we're a fast-casual restaurant, and when COVID hit, people started ordering in more from fancy dinner places. We decided to close before our mayor made an announcement in mid-March. Then ten days later, our staff, who are all immigrants, said they wanted to reopen and work on commission and be delivery drivers; they were very scrappy. So we all pulled up our sleeves and reopened for take-out and delivery. We added in sandwiches, which we didn't have before, and when we were allowed to re-open the patio, we did that, with seven tables outside, six feet apart. Then last week, we were able to open our dining room at 50 percent capacity, so we have a few tables inside as well.
Have you been able to keep most of your staff employed?
Ivanovic: Since May 18, we've been partnering with World Central Kitchen to provide meals to Martha's Table each day. It's one of the oldest and largest shelters in D.C., and that partnership allowed us to bring a lot of our staff back.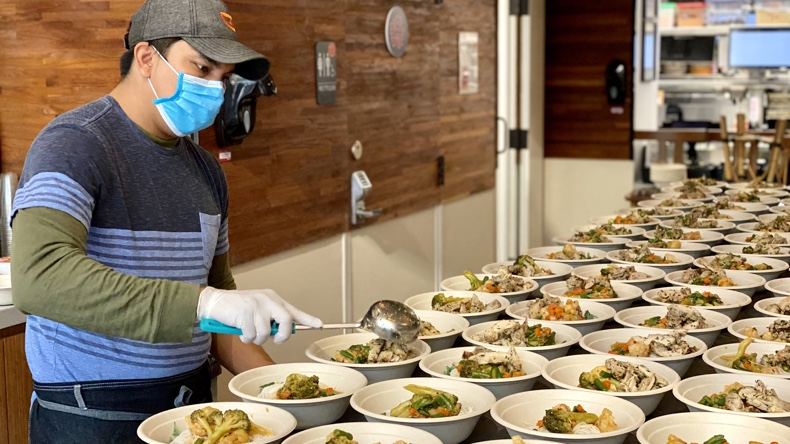 You mentioned offering sandwiches for the first time. How else have you shifted your menus?
Ivanovic: We had to be very creative about what ingredients we use and what ingredients compliment different dishes. Our purveyors are struggling too, so we couldn't get a lot of ingredients, and it was difficult, with that chain of operations. We used to have nine bowls, and right now we have five. We cut the bowls with the ingredients we couldn't get, and we added four sandwiches. We also added in desserts, like alfajores cookies, which are traditional Argentinian cookies. We're constantly reviewing all this, and it's day-by-day that we're trying to add new things and change it up.
Are there any other operational changes or incentives you've implemented?
Schechter: Téa's done a great job at trying to invent events. Before COVID, we had regular events that we called "Wine Wednesdays." Now, we had a virtual wine tasting, and we sell wines from different parts of the world, like wines from Morocco. The tasting had an amazing number of people join.
Ivanovic: And we have a speaker series on immigration, which goes in-depth with infographics and articles written by immigration experts, that we promote through social media. During African American Heritage Month in February, we had a professor at Howard University come in and talk about a new book she wrote about being an immigrant and an African American. We had about 100 people inside the restaurant, and that was really well-received, so we moved that to be virtual. We did a big event on Zoom on the DACA case, and we spoke with one of the lead attorneys on that case. So, we have this speaker series, but we make it fun over a glass of wine. We try to veer away from boring 'Washington old white men' kind of talk.
Schechter: Washington is in Phase 2, which means we're allowed to use 50 percent of our inside space. We had an educational event, where we launched an Iranian bowl that we did together with an organization called Tables Without Borders. They help immigrants and refugee chefs, and one of those chefs worked with Enrique to create this bowl. We invited Washington Post reporter Jason Rezaian, who was imprisoned in Iran for 500 days, to talk about foreign policy and culture and gastronomy. We separated tables, and since restaurants can take over sidewalks for seating, we used the sidewalk in front of us, with eight feet of separation between tables. We took reservations so there wouldn't be overflow, and we also did it over Instagram Live. We served that bowl to guests who signed up for that event, while connecting with real world issues having to do with immigrants and Americans who come from all kinds of different backgrounds.
Why makes restaurants a good platform for advocacy work?
Schechter: Immigrants have always come to this country, and part of their culture was always to open a restaurant. The American dining public like the idea of tasting foods from different cultures and places in restaurants. The food itself is a way to show off the multiple influences of different cultures in America. Secondly, I think it's at a moment when America and much of the world is in a time of crisis, and a crisis of trust in a lot of our leadership to be able to resolve problems. It's incumbent upon businesses to take a lead in trying to advocate for things these businesses strongly believe in. The new way of doing things is to be able to bake the cause right into the business model of the restaurant, to make immigration not only the past of America, but the future of America. This restaurant is organized around a social cause; we continue to believe that immigration is one of the top things that make America so fundamentally different from other countries. We fear that that's somehow been put into question. We wear that on our sleeve; we advocate for that right from the very beginning, and there's no better business to take leadership than restaurants.
You're located a block away from the White House. Was this intentional? Do you feel like this is symbolic in any way?
Schechter: I wish I could tell you we'd always planned to be 30 feet from the White House. We were looking for downtown locations, to say we were close to the White House, and we put in a couple bids that we didn't get. Then our commercial real estate agent found this spot. We never expected to be 30 steps from the White House, but it enhances our message. We were lucky on the address, and there's no doubt that it doesn't enhance it and make our message clearer. It allows us to be poignant about our message because it juxtaposes with a lot of the things that we believe are wrong with the immigration views of a minority of Americans. Every poll that comes out supports immigration has grown. The latest polls show that at least 75 percent of people support it. The address helps, but we were lucky.
In addition to your food menu, you also have an "engagement menu" that you provide guests. How does it work?
Ivanovic: We partner with five local organizations, and we help them in two ways. Pre-COVID, we'd give part of our space to them to use for their meetings and training sessions. The second way is that inside the restaurant, we want people to engage. Next to the food menu, there's an 'engagement menu,' so you could pick and choose how you want to engage if you want to. You can sign up to directly volunteer, you can donate with your check, you can sign petitions, and sign up for marches. We've now moved the menu online, so every Saturday morning, we send out our virtual 'engagement menu,' along with other immigration-related causes. We also focus a lot on Black Lives Matter. These are ways that people can engage in social justice causes, and it's been really well received. The causes are baked into the business model.
What has been the biggest challenge through all of this?
​Schechter: There are so many struggles for our restaurant now: lack of customers in the downtown area, restrictions on how many customers a restaurant is allowed to have, configuring menus for fewer clients, figuring out delivery options and worrying about COVID-19's resurgence. The future is so uncertain, but perhaps one of the most important parts of financial survival is how to pay the rent.
Many restaurants just cannot afford the rent right now. I understand that landlords have to pay mortgages and bank financing. Indeed, commercial real estate is one of the nation's sectors that is in great danger. But if landlords want their retail spaces not to go empty, landlords will have to work with restaurants to help make them financially viable in the aftermath of the public health crisis. Anybody who writes the COVID story about restaurants must include the fact that restaurants are struggling to negotiate with their landlords. For us, it's going to be a key thing.
Matt Kirouac is a regular contributor to Plate and the co-founder/co-host of Hello Ranger, a national parks podcast, blog and community app, along with his husband, Brad.