Chefs and Restaurants
Filipino Chef Tara Monsod Is a Leader in the Kitchen and Community
September 19, 2021 12:21pm
When Tara Monsod steps into the opulent, theatrical dining room of the Asian-American-inspired Wagyu steakhouse Animae, she's often greeted with a cacophony of cheers. "It's very, very weird," she says. The recently appointed executive chef of the San Diego restaurant admits that if she's not in the kitchen, she'd rather be hanging with her wife and their pets (a dachshund named Mya and a pot-bellied pig named Biggie Smalls) than stopping to snap Instagram pics with guests. "I didn't know taking this position would be such a big deal," she says.
"With everything going on, I think it was the right time."
Monsod accepted the executive chef position at Animae with some hesitancy. She felt like she had a lot to prove and was also nervous to bring Filipino influences to a menu as the only person of color on the leadership team. Almost six months later, she's finally settling into her title. "It's not as scary as I thought it would be. It can be a little intimidating when you don't look the same as everybody else, but it's also an opportunity to have a conversation, open people's eyes, and talk about things that can be uncomfortable sometimes, but necessary," she says.
Growing up in L.A. as an only child of Filipino immigrant parents, Monsod was instructed at an early age to "keep your head down and work hard." She initially started down a nursing career path, but was swayed towards culinary school after her cousin pointed out her innate love of food. ''It's all you talk about! Do you not see this?" she recalls being asked. Even after switching gears, she applied a humble mentality to her work in the kitchen, striving to keep a low profile and learn from some of the most respected chefs in San Diego. But it wasn't always easy. Like many women in the industry, she faced sexism and had to work twice as hard as her male counterparts to earn a place on the hot line. Personally, she navigated the ramifications of coming out as a lesbian to her traditional Filipino family. "I didn't come out to them until I was actually engaged," she explains. "They were super supportive but they were just worried about me having a hard life."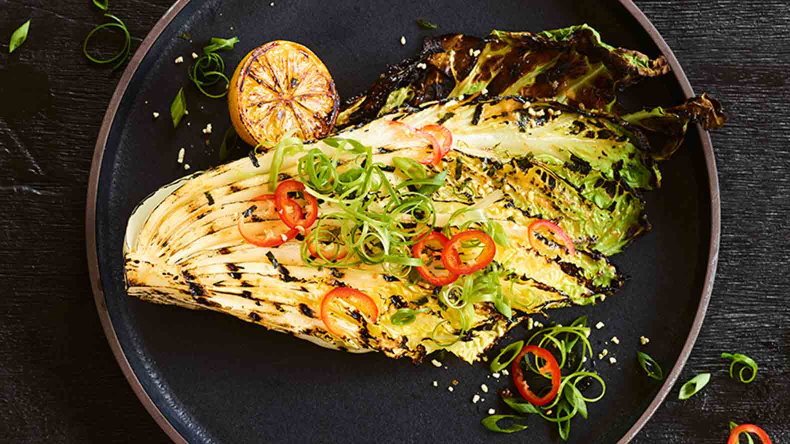 Monsod has long grappled with her identity in kitchens. "I'd be looking around and sometimes I'd be the only person of color and the only female. There are times where you'd doubt yourself and think, 'Oh, people aren't going to like this,' or 'It's too weird for them.' But then I'd also think to myself, well Japanese food was weird at one point, or Chinese food or Thai food."
At Animae, Monsod is inspired by all of these cuisines and more. She roasts cabbage over a coal fire before brushing it with miso brown butter (recipe) and plays with a mix of pan-Asian flavors in dishes like Chinese sweet and sour cauliflower with strawberries, peppers, and sesame, and serves a wildly popular Korean pork ragù with tteokbokki, gochujang, and mozzarella (recipe) and Cantonese char siu fried rice. When it comes to Filipino influences on the menu, Monsod "wanted to stick to what it is but elevate dishes in a way that people would still come out for them and [not have it be] something you could just get at home," she says of dishes like lumpia stuffed with Wagyu, roasted peppers, and pear sawsawan.
"I'm just proud of our culture and proud to be Filipino. I didn't know where I was going with it, but I knew I wanted to do something," she says.
Monsod has become a symbol of success for many in the Filipino community, and she's giving back through her food and cooking. She has hosted Girl Scout troops for lessons in making pandan malasadas (a Portuguese fried doughnut) and is learning to lead in a traditionally male-dominated space. When Filipino diners eat at Animae, they feel a deep connection to the dishes and the threads of Filipino flavor and culture that Monsod weaves into the menu. "At least, for my generation, it feels like I'm showing it's OK to go against the grain," Monsod explains.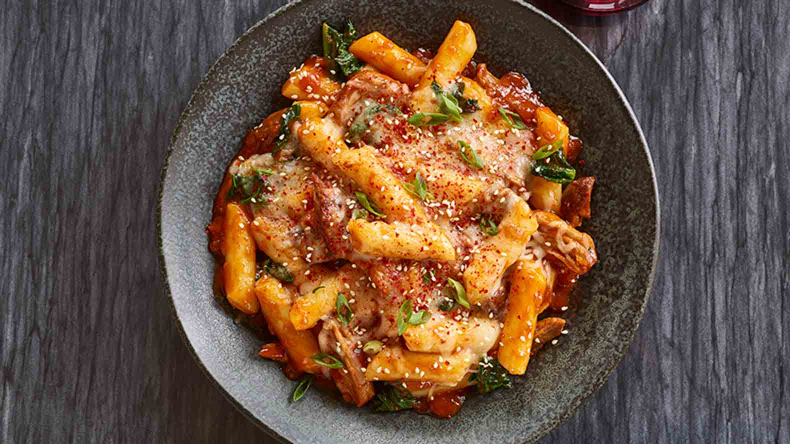 It's a powerful cultural lesson she learned while working at the now-shuttered Burlap under the guidance of Chef Anthony Sinsay, who passed away from a rare form of cancer earlier this year. "He changed my whole perspective on cooking," says Monsod. "He had a way of leading people and talking to us. We wanted to ride or die for him. " Many credit Sinsay for pushing Filipino food to the forefront in San Diego. "He was very proud of our culture and our food," says Monsod. "We didn't have to just be in the background."
Monsod left Burlap in 2013 to work at Pizzeria Mozza. While there, she heard that Richard Blais was helming the kitchen of a new restaurant called Juniper & Ivy. She sent in applications daily until she scored an interview. "I got hired for the cold side. Maybe it's because of my experience or because I'm a small Asian girl or just a lady. But if you look at the line [to open a restaurant], the whole hot side is men, maybe one female, and the whole cold side is all women. And usually it's like that in a kitchen. And then the women work themselves up as women start to leave."
Monsod eventually got to that hot line and well beyond. And even as she continues to grapple with self-doubt, she's leaning into her new role as a leader in the kitchen and her community. "I want to at least show that it's possible, whether you believe you're worth it or not," she says.
Sabrina Medora is a San Diego-based freelance writer.