Sponsored Content
Building A Modern Steakhouse
A new generation of meat-centric restaurants is transforming the traditional all-American steakhouse.
The American steakhouse is an institution. It has rules and rituals all its own, a timeless quality that marks meals that matter. But "timeless" should not mean "stagnant," and as the hospitality industry evolves, smart steakhouse operators are growing with it, seeking ways to meet new demographics and provide them with innovative meal options beyond the traditional steak on a plate.
How do you make a steakhouse relevant to today's sophisticated diners without sacrificing its core identity? For three notable chefs across the country, building a modern steakhouse is all about choice, variety, and telling a story through a meal.
An abundance of choice
At Chicago's Gibsons and Gibsons Italia, you can order a filet mignon with Béarnaise and pommes purée, straight out of 1965. But the expected Prime Angus cuts sit on the menu next to Japanese Kobe, Carrara 640 Wagyu, and Australian grassfed beef. Corporate executive chef Daniel Huebschmann notes he's seen nearly 50% growth in demand for those grassfed steaks, even from diners raised on grain-fed. "I think people crave variety," he says. The menu at Gibsons Italia is optimized for discovery; staff encourage sharing, and sides are often served family style. On any given night, it's not unusual to see a table of four guests sharing four different sliced steaks, comparing their tastes and textures. "When I eat at home, I don't want to be tied down to one dish," says Aaron Brooks, the executive chef of Edge Steak & Bar, Four Seasons Hotel in Miami. He finds the same is true of his guests, and he likens Edge's menu to a choose-your-own-adventure experience. Beyond beef, he pays special attention to alternative proteins, such as a composed dish of seared Australian lamb chops and housemade lamb sausage or a smoky cauliflower steak. "Some people come in for a three-course meal and you don't even see a steak on the table."
"…every steakhouse's protein selections make a statement about a restaurant's values."
Signature flavors
Variety and customization may be hallmarks of the modern steakhouse experience, but just as important is a restaurant's calling card. At Gwen, Curtis Stone's meat-centric restaurant in Los Angeles, that signature is the wood-fired grills used for all their proteins. Live fire can be unpredictable, chef de cuisine Juan Rendón explains, but "it changes your perspective of what you can do" in the kitchen, while adding a subtle smoky character to surprising dishes like lamb ribs with leek ash yogurt and grilled beef short loin.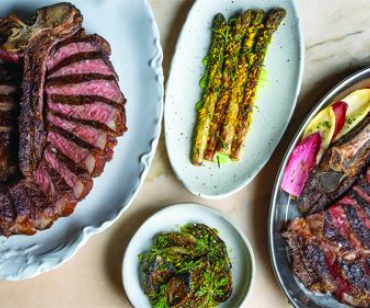 In a market where customers can mail-order cuts of Prime Angus beef to cook at home, Brooks says, steakhouses need to do more than sear a good steak properly. Adding distinctive elements is also a priority for Huebschmann, such as the superior flavor of Australian grassfed beef – "sweet, clean, and very beefy." Extended aging is another, and it allows him to build specific flavor profiles into his menus that can't be replicated elsewhere. Huebschmann and his team at Gibsons spent five months experimenting with their Australian grassfed beef before deciding on 75 days of wet aging, which includes the 30 to 55 days the meat spends in transit to the United States. Doing so "keeps the flavor as close to what it originally tastes like while maximizing tenderness and juiciness."
Meals that tell a story
"Our diners are well-traveled and eat out often," Brooks says of his Miami guests, "so they know what they want and they definitely have questions, especially about grassfed." With humanely raised animals, GMO- and antibiotic-free meat, and environmental concerns as topof- mind issues for customers, every steakhouse's protein selections make a statement about a restaurant's values, intentionally or not. Brooks, Huebschmann, and Rendón all insist that flavor is their top priority, but forward-thinking ingredients like pasture-raised meat speak to a substantial customer demand while contributing to a broader social narrative.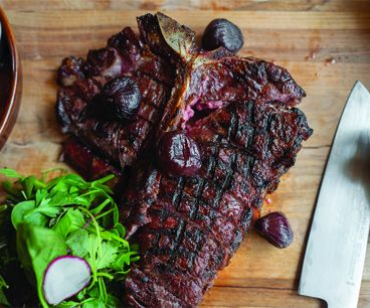 The Australian red-meat industry recently announced a commitment by its cattle farmers to become carbon neutral by 2030. It has also invested in a mandated all-of-life traceability program, which allows chefs to trace every animal to its pasture of origin. In Chicago, Huebschmann notes some guests have been especially interested in the environmental and health questions around red meat. Working with progressive producers gives him a meaningful way to answer those questions – without sacrificing quality.
"We weren't going to add grassfed beef to our menu just to appease that market," he says. "We wanted to find the best grassfed beef, period."
GRADING GRASSFED
Chefs who are used to buying steaks based on the USDA's prime/choice/select system are sometimes confused by the lack of such grades on grassfed beef. As those grades are based largely on the amount of marbling in a primal, irrespective of flavor or quality, they have little application to naturally leaner grassfed cuts. The Australian red-meat industry has come up with a solution: Meat Standards Australia (MSA), a grading system designed specifically for grassfed beef that relies on 16 holistic criteria, including breed, use of hormones, and even pH. Learn more about MSA grades at www.trueaussiebeefandlamb.com.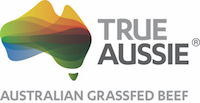 ​
​​
​