Food
Here are the Best Cookbooks of the Year for Chefs and Bartenders
For better or for worse, most of us will find ourselves with a lot of time on our hands this holiday season. It's all the more reason to get lost in a good book. Here are some of the best cookbooks of the year—sure to bring some much-needed escape, as well as inspiration as you rethink your menus for 2021. Tackle a new baking project with Kelly Fields' The Good Book of Southern Baking or Michelle Polzine's Baking at the 20th Century Café. Hop on the railways of India with Maneet Chauhan as she takes you on a colorful, delicious journey through the Indian street food in Chaat. Or maybe your inner food science nerd wants to get up close and personal with mold spores (check out Koji Alchemy) or learn the science behind great cooking from molecular biologist, Nik Sharma in his book, The Flavor Equation. To add some global inspiration to your recipes, let chef/author Alvin Cailin show you how to infuse Filipino flavors into your cooking as he does in Amboy, or get a peek into the kitchens of eight women in different parts of Africa as Hawa Hassan and Julia Turshen do in In Bibi's Kitchen. And if you're just looking for a healthy start to the New Year, check out Julia Bainbridge's Good Drinks, which proves that n/a drinks can be just as good (if not better) than the real thing. No matter what book you dive into, we hope you come out a little better as well, and ready for a new year.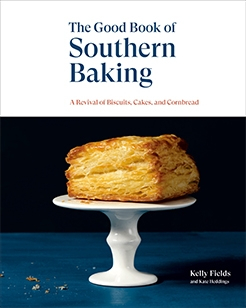 "I wrote this book to bury y'all in cornbread and biscuits," writes Kelly Fields in The Good Book of Southern Baking. We're totally fine with that, and everything else the chef/owner of Willa Jean in New Orleans shares in more than 100 recipes and stories. They range from Southern icons like hummingbird cake, to nostalgic favorites (her Aunt Jean's lemon chiffon pie), and the chocolate chip cookies that are among her restaurant's signatures. Fields also offers tips for how to properly crimp pie crust, her unexpected secret-weapon flour for the flakiest biscuits and more.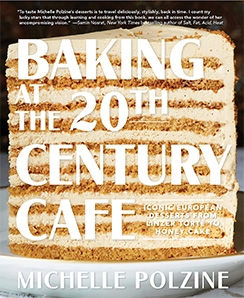 We can't think of a more iconic Eastern European dessert to grace the cover of chef/owner Michelle Polzine's cookbook than the 10-layer honey cake for which she is famous and is the best seller at her San Francisco bakery, 20th Century Café. It's just one of the dozens of recipes inspired by the grand cafés and pastry cases of Vienna, Prague, and Budapest Polzine shares in this beautiful volume. The recipes are accompanied by step-by-step photos that demo everything from stretching strudel ("become one with the dough," she advises) to delicately crisscrossing ribbons of dough to top a linzer torte.
"Black food is not just one thing. It's not a rigidly defined geography or static set of tastes. It is an energy. A force. An engine," writes Marcus Samuelsson in The Rise. The book is filled with recipes that honor and pay homage to Black chefs, authors, and historians he feels have contributed to and are still driving that force today. Featured are cutting-edge chefs who are defining the future of American food, like Jonny Rhodes and Shakirah Simley, along with icons like Leah Chase, Pierre Thiam, and Jessica B. Harris.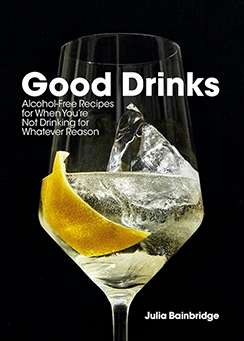 N/A cocktails are nothing new, but writer/podcast host (and Plate contributor) Julia Bainbridge wants to prove there can (and should) be more to making nonalcoholic drinks than just stripping out the spirit. For her book, Good Drinks, she set out (literally, in her Subaru) one summer to tap the country's top bartenders for more than 50 recipes that redefine alcohol-free drinks. Find out how tea bitters and chinotto can channel the bite of an Old Fashioned, how to use kefir whey to boost the body of a drink, why umeboshi vinegar helps with balance and lemon oleo saccharum adds brightness, and more. This book is filled creative ways to add complexity to drinks without relying on alcohol.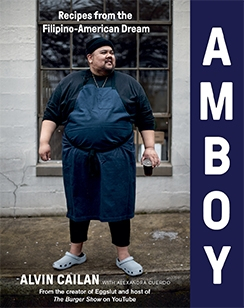 Alvin Cailan warns readers they won't find any "food porn-y" egg sandwiches in his new cookbook, Amboy. Instead, the founder of L.A.'s Eggslut focuses on his life before building his egg sandwich empire. "It's about a brown kid, from a brown family, whose roots are in Southeast Asia," writes Cailan, who grew up in a Filipino family who immigrated to East L.A. in the '80s. The thoughtful, funny, and personal text reveals what it was like to be "amboy" (a term for a Filipino raised in America) and how it's shaped him as a chef. Recipes range from his dad's tortang giniling (sautéed ground beef the family would add to omelets), to the street food he remembers from summer visits to the Philippines, and the ultimate Filipino-American mash-up—cheeseburger lumpia.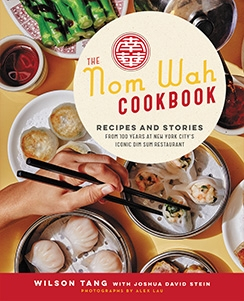 The cluster of people typically huddled outside Nom Wah Tea Parlor in New York's Chinatown tells you there's something special inside. Once you tuck into the 100-year-old dim sum restaurant's food, you realize it was worth the wait for silky dumplings, toothsome char sui bao, scallion pancakes, egg rolls, and other dim sum dishes passed down through three generations of owners. The latest, Wilson Tang, reveals these long-standing family secrets and recipes in this new cookbook, along with illustrations that demonstrate how to stuff bao, close eggrolls, and more.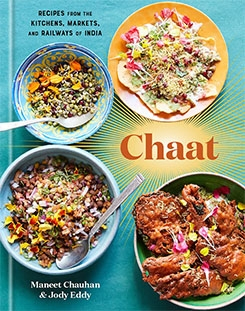 ​Growing up in eastern India, Nashville chef/restaurateur Maneet Chauhan remembers the grueling train trips she took with her family as being cramped and dusty—but mostly delicious. Each stop at new train station meant getting to try a different chaat, or Indian street snack, and Chauhan would drag her mom by the hand through crowds to the nearest bhel puri or vada pav vendor. For her cookbook, Chaat, she and co-author Jody Eddy returned to the rails to visit some of Chauhan's favorite vendors, and sample more than 600 crispy, crunchy, colorful dishes along the way. The nostalgic journey inspired dozens of delicious recipes from Mumbai to Mangalore, and the lively photos of markets, vendors, and food make you feel like you're right along with them for the spicy, tangy, crunchy ride.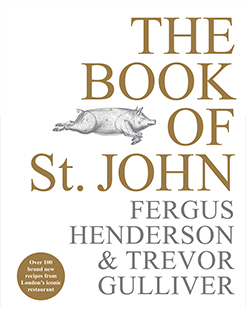 Chef's chef Fergus Henderson is back with a new cookbook about beloved London restaurant St. John, which he opened with Trevor Gulliver 25 years ago. The Book of St. John boasts 120 recipes, most of which have never been published before, and tells the story of the restaurant that popularized nose-to-tail cooking. Starting with a chapter on—what else—the pig, and ending with a chapter on Christmas Feasts, The Book of St. John is the perfect pick for all the meatheads out there.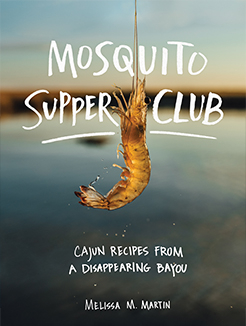 Chef Melissa Martin grew up on the South Louisiana coast, a part of the world that is literally disappearing, swallowed by rising sea levels and erosion. Her bittersweet Mosquito Supper Club tells that story, along with the recipes of her childhood and her career as a chef. Stunning photography by Denny Culbert accompanies.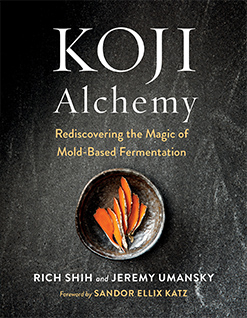 Koji: what is it, how does it work, and how can you use it in your kitchen? Chefs Jeremy Umansky of Larder in Cleveland and Rich Shih of the Museum of Food and Drink in New York City are among the foremost koji experts in the U.S., and have put together perhaps the most cutting edge, in-depth resource available on the topic. This volume contains extensive instruction on making your own koji, as well as 35 recipes and an introduction by renowned fermentation expert Sandor Katz.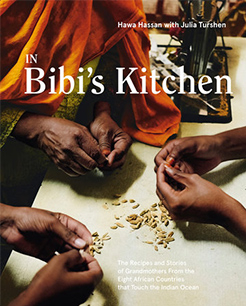 In their book, In Bibi's Kitchen, Hawa Hassan and Julia Turshen take us into the kitchens of eight women, each living and cooking in a different country in Africa. With each entry, Hassan and Turshen share that person's personal story as well as that of her food, driving home the point that African cuisine is not a monolith. The stories are accompanied by recipes and photos that will send you straight into your own kitchen to recreate this beautiful food.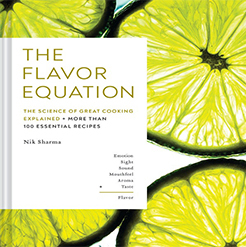 In his second cookbook, Nik Sharma combines his passion for food with his background as a molecular biologist to explain how aroma, sound, and texture help build flavor, and the science behind the memorable flavor combinations. This is a volume both professionals and new cooks will find educational and entertaining, and is almost guaranteed to improve your cooking.