Food
The Next Big Thing is a Big Platter of Meat
It's fall, it's chilly, the holidays are here, and customers are in the mood for large hunks of meat. Actually, the trend of serving shareable, meat-driven entrees for the table isn't necessarily dependent on the holidays, but this time of year is perfect for these special menu items, designed for large groups. The meals are served family-style with various breads, sides, and sauces, making it easy for everyone at the table to participate (and Instagram). It's a fun way to turn dinner into a communal feast; here are a few standout examples.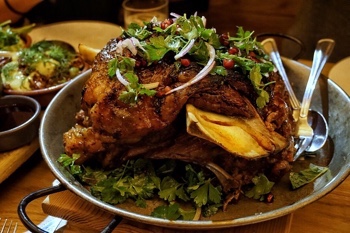 At Chicago's Avec, the lamb roti dinner features slow-roasted lamb shoulder as the centerpiece, with fresh-baked pitas, mezze, and sauces alongside. The meal serves 6 for $250.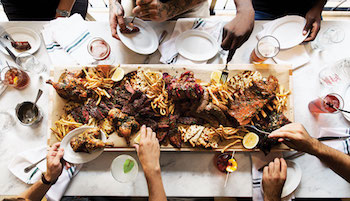 The name of the dish—The Trough—at Philadelphia's Butcher Bar, says it all. Order this option, and your table is heaped with rotisserie chicken, racks of wild boar ribs, house-made sausages, kebabs, house-smoked bacon, bone-in Korean short ribs, pitas, and fries. It serves 6 to 8 people for $300.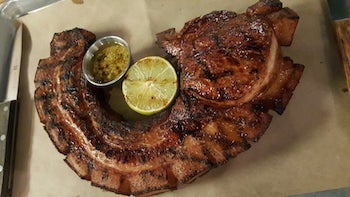 Andre Gomez of Atlanta's Porchlight Latin Kitchen made his reputation in part with his now-famous fried Can Can Pork Chop. Here, a two-pound chop with meat from the loin, ribs, and belly is grilled, then fried and served with citrus mojo. It serves 2 for $30 (or we like to just order it as an extra dish for a table of 4 or more).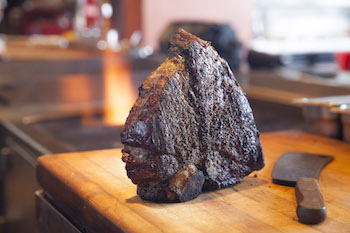 Order the bistecca Fiorentina at Chi Spacca in Los Angeles, and you'll have the option of two sizes of the dry-aged porterhouse, which is grilled for 45 minutes. The cost is $190 for the 36-oz portion, $225 for a 42-oz portion.
​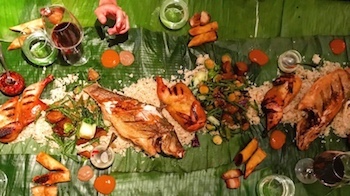 At Philadelphia's Perla, the Kamayan feast, available on Wednesdays and Sundays only, offers guests a sampling of Chef/Owner Lou Boquila's Filipino heritage. The feast served on banana leaves includes sinangag (garlicky jasmine rice), chicken inasal, a seasonal fried whole fish, lechon kawali (Berkshire pork belly), lumpia, pinakbet (vegetables including eggplant, beans, and bok choy) and dessert, with sauces alongside everything; it's $40 per person, minimum four guests.